Verizon IndyCar Series team co-owner Sam Schmidt has long been an inspiring figure for his determination, persistence and support of the series – and the Indy Lights Presented by Cooper Tires – for 15-plus years since he was paralyzed in an accident while testing at Walt Disney World Speedway.
Schmidt has also returned to the cockpit by way of the SAM (Semi-Autonomous Motorcar) Project on two occasions, initiated by ARROW Electronics, to drive a modified 2014 Corvette at speed around the Indianapolis Motor Speedway and streets of Long Beach, Calif. for demonstration runs.
Los Angeles-based CXC Simulations was tasked with integrating the highly-developed SAM 2.0 control systems – infrared motion-sensing cameras that read movement of the driver's "hat" to steer, the breath-sensing "mouthpiece" to accelerate and brake, and the computers and sophisticated software that convert their output to car control actions – with CXC's custom engineered hardware and software for the Motion Pro II simulator.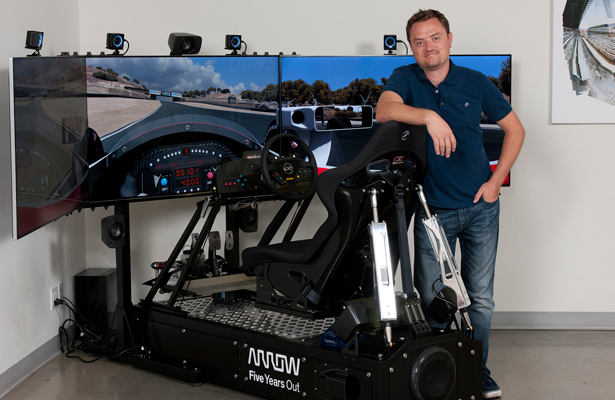 "It was a natural for us," says Chris Considine, CEO and founder of CXC, "the challenge of interesting new technologies, the chance to work with very high-tech partners, and the fact that it concerned a kind of driver training, what we're known for, was perfectly in line with the core interests and principles of our company."
Now, Schmidt's taking those skills to an active race for the first time, as part of the fifth annual iRacing Pro Race of Champions.
The event occurs on Wednesday night at 9 p.m. ET, broadcast on iRacingLive, and will donate $2500 to the Justin Wilson Children's Fund in the name of the winning driver.
Schmidt will join a stacked field that is scheduled to include Timmy Hill, Trevor Hopwood, Alex Gurney, Chris Dymond, Spencer Pumpelly, Tommy Kendall, Nick Tandy, Dominic Cicero, Ron Capps, Michael Self, Benny Simonsen, Michael Lewis, Joe Osborne, Barry Waddell, Igor Sushko, Stefan Wilson, Scott McGlaughlin, Bradley Philpot, Kyle Kaiser, Justin Bell and Ryan Eversley, with others possible.
Competitors will race digital versions of the GT3 class BMW Z4 for 20 laps on iRacing's laser-scanned replica of the Watkins Glen International "Cup" circuit (avoiding the Boot).
"It's an honor for not only myself, but also my entire team," said Considine. "I am humbled that I have been able to contribute to Sam being able to essentially complete the impossible by racing again. This is a huge step forward in technology, but even more so for how innovation will make huge strides in changing the lives of those affected by paralysis."
A teaser video for the event is linked below: