They can't run for daylight or shake off a tackler, but IndyCar stars Helio Castroneves and Juan Pablo Montoya were teammates with the Indianapolis Colts for at least one day.
More precisely, the two Team Penske drivers took part in the ninth annual "Shop With A Colt" event Tuesday, where members of the NFL team as well as the two drivers worked together to shop with needy kids in the Indianapolis area for very special Christmas gifts.
According to IndyCar.com, the Penske teammates joined several Colts players to not only take the kids on a $200 shopping spree each, but also for a giant pizza party.
For Montoya, it was his first time participating in the event.
"It's pretty cool, to be honest with you, and It's nice to give back," Montoya told IndyCar.com. "They do an amazing job here at Meijer bringing the players and drivers together with the kids. To help and support the community is pretty special."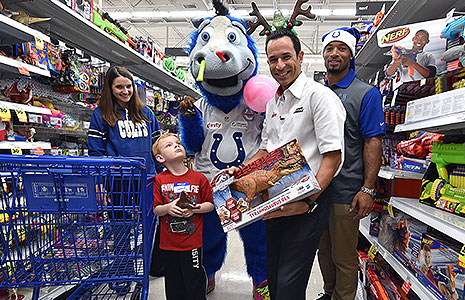 Castroneves has taken part in several Shop With A Colt events in the past. He dressed for the occasion, wearing a pair of reindeer ears.
"This is the time for us to reflect and look back and appreciate what we have," Castroneves said. "For me, to see the smile on all the little faces is a prize you can't describe. It's a time of the year to forgive and forget, especially all the bad stuff that happened. For me, it's a great opportunity that Meijer gives us to do this each year."
Added Montoya, "At the end of the day, it's not about us. It's about the kids and the experience of buying and getting presents. Just spending time with kids like Keshawn (the child he got to shop with), taking them shopping and spending time looking after them, is really cool."
Follow @JerryBonkowski