Statistically and versatility speaking, Juan Pablo Montoya is one of the greatest drivers of his generation.
He's won two championships (1999 CART, 1998 Formula 3000), 14 total IndyCar races over parts of four seasons including two Indianapolis 500s (received his likeness on Borg-Warner Trophy last week), seven Formula 1 races including Monaco in 2003, two Sprint Cup races, one Xfinity race, and three Rolex 24s at Daytona.
And that's before you get to all the pole positions (17 in IndyCar, 13 in Formula 1), fastest laps and other accolades over the years.
I bring up all these statistics a., because I'm a self-admitted stat nerd and b., so you know what they are.
Because Juan Pablo Montoya simply does not care about statistics.
He just cares about winning, and his passion for winning fuels him, still, at age 40.
"I don't do it for that, to say, 'God, I'm the man,'" Montoya said during Wednesday's Chevrolet champions celebration event at the GM Heritage Center.
"I like racing, I have the passion for it, I want to beat everyone else, do a better job than everyone else, work harder than everyone else, and that's it."
It's that passion that arguably burned him in the immediate moment of losing this year's Verizon IndyCar Series championship – the infamous "Dixon had a s*** season" line in the post-race press conference at Sonoma standing out the most. But, as he showcased the Monday night afterwards, he got over it rather quickly and was even poking a bit of fun at himself.
And it's the passion of his team boss, Roger Penske, that also continues to push him to do better.
Penske didn't grow to become the most successful car owner and one of the country's largest automotive dealers by standing still. He sought to win, at every opportunity, at all opportunities.
He's the last man in history to have ever assembled now a one-off special for the Indianapolis 500; the pushrod Mercedes-Illmor engine that dominated the 1994 race lives in history 20-plus years later in Jade Gurss' instant hit, "Beast."
Adding a driver of Montoya's caliber, who's similarly motivated to winning with nothing else mattering, was arguably one of the biggest coups – and greatest additions – in the last two decades of IndyCar.
"You know I am really excited to be a part of this," Montoya admits. "I never thought that I'd be back in IndyCar.
"But to watch the video (of the Indianapolis 500) is pretty exciting.
"Last year I was good, but it was my first oval back in IndyCar. This year I was a lot more aggressive. The NASCAR helped me to do 500-mile races."
Considering Montoya's open-wheel record on 500-mile races though (here we go with stats again) that seems a bit of a reach.
In 11 career open-wheel 500-mile races, Montoya has four wins, 10 top-five finishes, an average finish of 3.2, 2469 of 2500 laps completed, and 440 laps led.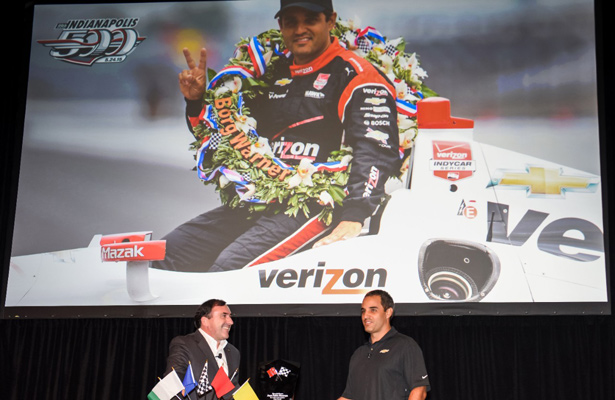 Asked what about Penske inspires Montoya, the Colombian had a simple answer.
"Him," he said, no hesitation.
"He's such an amazing person… as a driver to be with him, it's just unbelievable."
Montoya isn't necessarily drawing down his career – even at 40, he was one race away from his second IndyCar championship, some 16 years after his first – but he is fostering his own son, Sebastian, now 10, who has his own burgeoning karting career.
The elder Montoya says it's his job to stay out of the way and let Sebastian grow on his own.
"I try to keep it really cool for him, you know what I mean?" JPM said. "Especially at his age, he has to enjoy it.
"Part of my success is the passion I have for racing. So he needs to have that.
"When he turns 14, 15 and starts looking at girls, the car needs to be more exciting than a girl. That's where it's gonna be. It's gotta be fun.
"He loves it. He has a lot of passion. I try to keep it really down to earth. I don't want to put any extra pressure on him that he doesn't need. He's done good. Some weeks he struggles, some he does good."
Proof clearly the passion is in the pipeline from one generation of Montoya to the next.
And so long as Juan Pablo Montoya continues to have the passion for kicking ass and taking names as he continues to drive, whatever field he's competing in should be very afraid.