Sage Karam may not have found a shirt, but he has at least found a ride to attempt to qualify for this year's 100th running of the Indianapolis 500.
The 20-year-old, who dazzled in his race debut in 2014 and arguably should have won that year's rookie-of-the-year honors with a drive from 31st to ninth, will reunite with the same Dreyer & Reinbold Racing squad that ran him that year.
The Dennis Reinbold-led team has specialized itself as an Indy-only entry the last three seasons since dropping out of full-time competition after the 2013 Indianapolis 500.
Karam, meanwhile, has at least one portion of a campaign set in a year where his contract was not renewed with Chip Ganassi Racing.
Karam raced as a Ganassi development driver in 2014 and ran several IMSA sports car races along with the Indy 500, before racing in 12 of 16 events last year in a ride-share with Sebastian Saavedra. He brought a lot of excitement in his starts and perhaps unintentionally took on the role of IndyCar's needed "black hat."
The full release on the program, which features the same-as-in-the-past DRR and Kingdom Racing linkup with Davey Hamilton, and a new partnership with Gas Monkey Garage, is below:
—
Dreyer & Reinbold – Kingdom Racing announced today that Gas Monkey Garage will serve as its primary sponsor partner for the 100th Running of the Indianapolis 500 set for May 29, 2016 at the famed Indianapolis Motor Speedway with young star Sage Karam driving.
The highly-popular Gas Monkey Garage, featuring performance car builds in the global television show, "Fast N' Loud" on Discovery, makes its first appearance in the "Greatest Spectacle in Racing."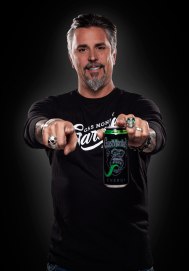 Led by Richard Rawlings (right), Gas Monkey Garage has been a successful automotive brand and collector car restoration business since 2002. The Gas Monkey Garage brand is one of the world's most visible globally within the automobile industry and will launch their new energy drink this year, using the Indianapolis 500 as a platform.
The distinctive look of the No. 24 Gas Monkey Garage Special will be the latest Indy 500 entry for Dreyer and Reinbold dating back to the 1930s with legendary car builder Floyd "Pop" Dreyer. Dreyer's grandson, Dennis Reinbold, has entered the Indy 500 dating back to 2000, successfully qualifying thirty-four entries in its history.
Karam, 20, is one of the top young open-wheel drivers in the world after an impressive young career with championships in Firestone Indy Lights and US Formula 2000. The Nazareth, Pa. native and former high school wrestling star made his Verizon IndyCar Series debut in the 2014 Indy 500 for Dreyer & Reinbold Racing with a sensational drive from 31st to ninth. Karam won the "Hard Charger" award for his stellar performance as well as he and his crew placing second in the Indy 500 Pit Crew Championship.
"We are extremely pleased to announce our Gas Monkey Garage Energy products and the association with the Dreyer & Reinbold – Kingdom Racing team for the historic 100th Indianapolis 500," said Rawlings. "The Indy 500 is the biggest race in the world and our Gas Monkey Garage brand ties in very well with the team and legendary race. We can't wait to see the Gas Monkey Garage Special on the track at the Indianapolis Motor Speedway."
DRR – Kingdom Racing, a past winner in the Verizon IndyCar Series, has recorded four top-ten finishes in the Indy 500 including fourth in 2012, seventh in 2010, eighth in 2008 and ninth in 2014.
"We are extremely excited and proud to partner with Gas Monkey Garage," said Reinbold. "We've been working very hard since last year's 500 to build a strong commercial and competitive program for the 100th Running. We believe Sage Karam is a very talented driver and we can't wait for the month of May. The Gas Monkey Garage brand is known worldwide and bringing them to the Indianapolis 500 for the first time is a thrill.
With my family's history at the Indianapolis Motor Speedway, this new venture continues Dreyer & Reinbold's legacy at the Indy 500 and we believe we'll have an excellent chance to run at the front of the field on May 30."
Kingdom Racing also returns as co-entrant for the 100th Indianapolis 500 for its ninth consecutive appearance at the Indianapolis 500.
"We, at Kingdom Racing, are extremely excited to be joining Dreyer & Reinbold Racing and Sage Karam for the 100th running of the Indianapolis 500," said Kingdom Racing's Managing Director Davey Hamilton. "We have past experience with Sage and have confidence we can be contenders for the win."
Karam returns to the Indianapolis 500 for his third appearance in the world's biggest auto race after competing in twelve events in 2015 for Chip Ganassi Racing. Sage scored his first IndyCar Series podium with a third at Iowa Speedway and also notched a fifth at Auto Club Speedway in Fontana, Calif. Karam has also competed in the Rolex 24 at Daytona and the 12 Hours of Sebring sports car events.
"I'm really thrilled to be associated with Gas Monkey Garage for the 100th Indy 500," said Karam. "It's exciting to return to the Dreyer & Reinbold – Kingdom team as well. We had a great run in 2014 at Indy. As a kid, Discovery Channel was one of my favorite stations and, mostly recently, I really got into the 'Fast N' Loud' show with the Gas Monkey Garage guys. I love cars and these guys are fun to watch. So I can't wait to work with them and drive the Gas Monkey Special in May."
In addition, Dreyer & Reinbold Racing will be making other specific sponsorship announcements for the 100th Indy 500 in the near future.
Karam and the No. 24 Gas Monkey Garage Special will take their first official 2016 Indy 500 laps Monday, May 16, in practice with qualifications set for Saturday, May 21 and Sunday, May 22. The famed 100th 500-mile classic will start at 12:20 p.m. EDT on Sunday, May 29.