The Pirelli World Challenge series opens its 2016 campaign this weekend at Circuit of The Americas with some key changes from an operational standpoint and a variety of big changes to the field itself.
If 2015 was the chance for World Challenge to build off an attention-grabbing 2014, which was the 25th anniversary season, it didn't maximize its opportunity. But it gets something of a do-over in 2016 with the fresh pieces in place.
Here's what to look for heading into the season itself:
SERIES CHANGES
The biggest change comes with the change up top. In Greg Gill, World Challenge has a man of good principles and, more importantly, good demeanor – who's worked his way from the publishing industry into a key marketing and communications role within World Challenge, then into general manager of the series, and now into the full position of President/CEO of WC Vision, the purveyors of the championship.
Gill's certainly less abrasive than his predecessor and where he will be tested this year is if or when any manufacturer feels they're getting "jobbed" by the process of Balance of Performance, or any other measure they feel isn't ideal to them as en entity. Luckily, in World Challenge Director of Competition Marcus Haselgrove, he should have a suitable buffer and leading hand himself, with Haselgrove leading the technical side of the operation.
The Sprint-X championship was announced last year as well, but the full details of which have only been finalized over the winter. The three-weekend series is set to debut at Canadian Tire Motorsport Park in May, with additional rounds in Utah and Mazda Raceway Laguna Seca.
An SRO partnership has also grown for 2016, but suffered a bit of a false start with SRO pulling the plug on a planned six-hour race at Circuit of The Americas in addition to the usual World Challenge races, due to a mix of a low entry and time constraints. World Challenge, however, still features 100-plus entries across its seven classes for the opening weekend.
SCHEDULE CHANGES
The only change to the GT classes is a drop of Detroit and a return to Lime Rock Park. There's a couple date changes, as well, but from a stability standpoint, it's good to see.
GT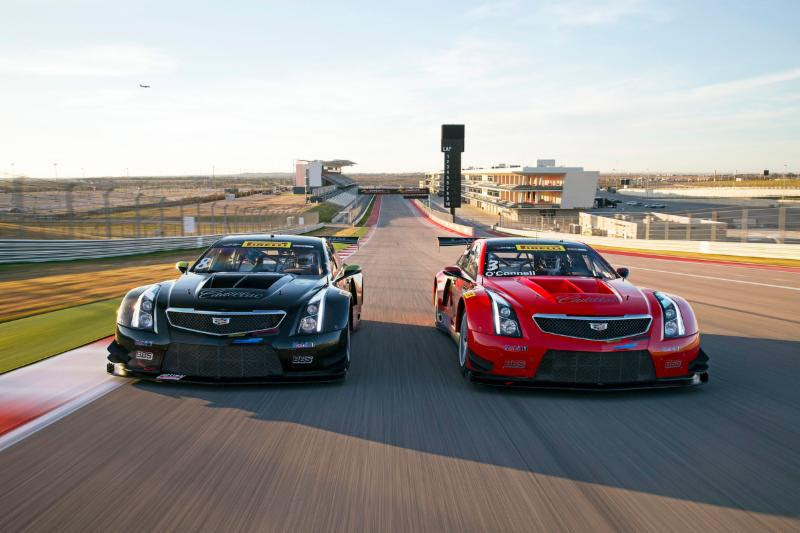 Johnny O'Connell has won the last four GT championships. The last guy not named Johnny O'Connell to win a GT championship is Patrick Long.
So, what better setup to the 2016 campaign than Long coming back to the series for the first time since his 2011 title-winning run to see if he – or anyone else – can topple "Johnny Red?"
These two might be the headliners, with O'Connell now in a red Cadillac ATS-V.R (above) and Long taking over from Ryan Dalziel in EFFORT Racing's new Porsche 911 GT3 R.
But to overlook the other story lines and manufacturers would be a mistake. To wit:
How does the new look K-PAX Racing fare? Alvaro Parente will be the undoubted lead dog but he'll have two young chargers pushing the hell out of him in Colin Thompson and Austin Cindric. The team continues with its technical partnership with the Flying Lizard Motorsports team, and a trio of McLaren 650S GT3s.
Long's EFFORT Racing team upgrades its tried-and-true Porsche 997 GT3 Rs to the new-for-2016 911 GT3 Rs. They got them late but the Stefan Pfeiffer-engineered crew should see Long and longtime friend Michael Lewis, a rising star and second Californian in his own right, win races.
Will the Always Evolving Nissans avoid the one mulligan? James Davison and Bryan Heitkotter were both impressive throughout 2015, and a technical infraction and loss of points at Barber was about what took Davison out of title contention.
How will Michael Cooper fare in the second Cadillac? The talented youngster has won both GTS and TC titles so he's a perfect embodiment of maximizing the World Challenge internal ladder. But stepping into the car previously driven by 16-year GM veteran Andy Pilgrim is no small task. He should come on later in the year for sure, if not sooner
Acura and Bentley play the wild cards. The RealTime Acura TLX-GTs switch to two-wheel drive to get in further alignment with FIA GT3-spec cars. Ryan Eversley and Peter "PD" Cunningham haven't forgotten how to drive. Bentley, meanwhile, has an entirely new team in the Asian Team Absolute, with two new drivers in Andrew Palmer and Adderly Fong. These four cars provide some seriously intriguing variables to the season.
Who stands out from the rest of the GT field? Whether it's Kyle Marcelli in a late deal in CRP's Audi, GTA champ Frankie Montecalvo in his Mercedes but with a new team, World Challenge veteran James Sofronas in a GMG Porsche, Calvert Dynamics' Andrew Davis and GAINSCO/Bob Stallings Racing's Jon Fogarty in their teams' first GT seasons and Duncan Ende in TRG-AMR's Aston Martin, these drivers all have talent and win potential to surprise at various points.
GTA/GT Cup 
The GTA field takes a bit of a hit for 2016, but unlike in 2015 there aren't any young pro "tweeners" classified as "ams." With Lewis, Heitkotter and Montecalvo in GT this year, GTA should be left to Martin Fuentes and newcomer Michael Schein as class favorites, with Tim Pappas and 2014 GTA champ Michael Mills likely to impress in limited schedules.
GT Cup maintains a good pro to am balance, with Alec Udell, Sloan Urry and Corey Fergus set to fight for the class title. Udell and Urry return for their second season, while Fergus steps up after winning the TC class.
GTS 
This class undergoes the heaviest shakeup in terms of machinery, with a variety of either GT4-spec or "kit cars" joining the American ponies and European exotics that have been recent staples.
On paper, unfortunately, the change in machinery has made for a reduced field in quality. Kia Racing and its two Optimas are gone, as are Jack Baldwin's tried-and-true two Porsche Cayman S cars and the trio of Phoenix Performance Mustangs.
It's left a situation where three-time defending class champions Blackdog Speed Shop and its Chevrolet Camaro Z/28.Rs are up against this crazy combination of cars: Ford Mustangs, Aston Martin Vantages, Maserati GranTurismo MCs, Lotus Evoras, Ginetta GT4s, SIN R1 GT4s and KTM X-BOWs.
There's not a ton of true pro talent and so Blackdog's Lawson Aschenbach – who returns after a one-year hiatus – must be installed as title favorite in search of his fifth series title (2 GTS, 1 GT, 1 TC). Brett Sandberg, Nate Stacy, Jack Roush Jr., Jeff Courtney and perhaps one of Kevin Buckler's TRG-AMR drivers could win races.
TC/TCA/TCB 
It speaks volumes of the work the WC Vision staff has done that the Touring Car classes – maligned only two years ago for low car counts with the TC field as low as 4 cars – has seen a significant increase in entries for 2016. There's nearly 50 cars between the three (23 TC, 15 TCA, 11 TCB) with TC boasting the highest car count in any class starting at COTA.
Handicapping the field, then, is a bit of a challenge given the depth and variety. Shea Holbrook's Shea Racing team makes a big commitment with two new Honda Accord V-6 coupes for her and Jason Fichter, while others such as Vesko Kozarov, Toby Grahovec, Adam Poland, Joey Jordan, Patrick Gallagher, Kevin Krauss and Ernie Francis Jr. could win races in TC.
TCA also has a decently deep field including the class' lone champion thus far, two-time champ Jason Wolfe in his Kia. Johan Schwartz, Jonathan Goring and Joey Bickers are also somewhat known. In TCB, PJ Groenke is the class' most veteran driver, now in a Chevrolet Sonic, up against a host of several others.