Few things are known "tried-and-true" quantities in the new-look GTS class for Pirelli World Challenge in 2016.
So Blackdog Speed Shop is going back to the future this year to bring back one of the most successful combinations in recent years: Lawson Aschenbach in its No. 10 Chevrolet Camaro Z/28.R.
In a weird twist, Aschenbach returns to the team where he won his two most recent of four World Challenge titles, back-to-back in 2013 and 2014 after a year out of racing full-time in the series.
He still was on site in a handful of races in a coaching role and also deputized for an unwell teammate Tony Gaples at Barber Motorsports Park in GTS, but Michael Cooper admirably stepped up to fill the seat en route to a GTS class title of his own. Cooper has gotten one of sports car racing's most plum promotions, into the No. 8 Cadillac Racing Cadillac ATS-V.R in the GT class previously driven by Andy Pilgrim.
Meanwhile for 2016, Aschenbach is in the Z/28.R that premiered in World Challenge the final weekend of 2014. Despite it being a different model Camaro than the previous generation SS Camaro Aschenbach drove in 2013 and 2014, the reunion with the Gaples and Ray Sorenson-led Blackdog team was like getting back on a bike.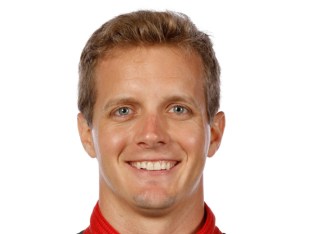 "It was pretty seamless, as I know Tony and Ray Sorenson well," Aschenbach told NBC Sports. "They have such a professional organization. It's realistically plug-and-play.
"But I'll be talking to someone new on the radio. They also brought in Ryan McCarthy as my engineer. He's a great asset to the team and in general, so I'm happy to be back and see everyone.
"The car's come a long way since Barber. We'll slowly transition the setups. We can gain a little bit each weekend."
GTS, however, has come an even longer way since Aschenbach last raced full-time in the category.
Gone are usual title rivals Jack Baldwin (Porsche Cayman S) and Mark Wilkins (Kia Optima turbo), among others, gone are a number of the same cars from 2013-2014 and more importantly to the racing, is the GT class within GTS races. Both classes raced combined through 2014, but as each class car count grew, they were split prior to 2015.
Aschenbach took an interesting viewpoint on the GT/GTS split.
"It's definitely better for GTS to be a single class race, and the racing is better," he said. "It should eliminate a lot of potential problems with GT overtaking slow GTS cars, which creates issues.
"Back in Houston '13 – it was raining – I almost lost that race, and the championship, because of a GT car limping around the track. So I'm a big fan of single-class racing, it helps bring a lot of clarity and eliminates confusion.
"We need to get eyes not just on GT, but also GTS; sometimes having a single class is better for drivers and fans."
GTS' newness is primarily with the range of GT4-spec cars, or "kit cars" entering for 2016. It's created a random variable with new cars such as the KTM X-BOW, Ginetta GT4, SIN R1 GT4 and Maserati GranTurismo MC entering the class along with a host of new drivers. Trying to pinpoint potential star cars or drivers, then, is a question mark.
"There's a lot of new names, faces, and cars that you mention, so realistically I don't know who's gonna be the guy this year because of all the question marks!" Aschenbach said. "(Director of Competition) Marcus Haselgrove has a tough job ahead of GT4 cars with current spec. He's smart and super gets it. Until that balances itself out, there's a little bit of a question mark.
"Guys like Brett (Sandberg) in the X-BOW and Dean Martin being strong in Mustang should be good.
"For us, I have no concerns regarding Blackdog. We're a very consistent car from the series standpoint. They have so much data, they know where we can be at each track."
Aschenbach – who as in past years will pull double duty with his IMSA commitments, this time in the No. 9 Stevenson Motorsports Audi R8 LMS (GT Daytona) he shares with Matt Bell – said the Z/28.R and Audi are closer to drive than the Camaro Z/28.R in the Continental Tire SportsCar Challenge and the previous generation Camaro SS when he was last in World Challenge.
"The difference in feeling from a GS car to GTS is quite a bit more than the difference between a GTD car and GTS car," Aschenbach explained. "In a GS car its extremely heavy, limited grip, not much aero. It's very different. Definitely changes your driving style quite a bit.
"The Audi and Camaro will be a lot easier this year, with good grip, good area, but similar driving characteristics. It's my third time of doing the double with Blackdog, and this time I'll have a better understanding compared to the past."
The past was successful, but Aschenbach is hoping he starts stronger and doesn't need to rely on the usual "Mid-Ohio starts Aschenbach's comeback" story. In his last four Mid-Ohio starts in 2013 and 2014, Aschenbach has three wins and a third place, to score nearly all possible points.
"I'm not gonna lie, I'm sick of coming from behind, trying to win at the last race," Aschenbach laughed. "But in the end, you take it as you get it. It would be nice to start the season better with a couple good finishes.
"The start is a little bit more of an unknown, as we don't know what to expect at COTA, but the goal is to win races right away. We have a great package. We'll be pushing like heck to make sure to get podiums.
"Wins will be important early, as the balance changes throughout the year. You have to try to really pounce, and get a win when you're capable of doing so."
For a guy that's been a big part of the fabric of World Challenge for nearly a decade, seeing Aschenbach back only revitalizes him – and the series – after his one-year absence.
"I'll tell you what, I wish I was around (last year)," he said. "Not only with the competition in GTS, but seeing the GT3 cars in GT was fantastic.
"It's an exciting time for the sport and for the series. You could see how many fans are aware of World Challenge. There were some growing pains. But they seemed to right the ship. Even better things this year.
"I think the series in taking that direction with the GT3 platform was obviously the right move. It was a long time coming. Every driver wants to be in GT, but GTS is good too.
"When I first started talking to Ray and Tony end of '12, we started talking. I knew what they were capable of, as it seemed to be a very fast car with Andy Lee driving at the time.
"I wanted to make this deal happen. We've got a really good legacy in place, with a long-term, stable program, for GM and Chevrolet in GTS.
"To come out first year with a championship, then fast forward and have the team win three straight championships, there's a great legacy being built. We have big expectations now, as we did every year."