One of the greatest drivers of his generation added another piece of machinery to his resume this weekend, as Scott Dixon made his race debut in the No. 67 Ford Chip Ganassi Racing Ford GT in the Mobil 1 Twelve Hours of Sebring Fueled by Fresh from Florida.
Dixon led 18 laps (from Laps 121 to 138) in the GT Le Mans class in the eighth hour of the race – the first time the No. 67 Ford GT has led laps in IMSA competition – and finished fifth in the car he co-drove with full-season drivers Richard Westbrook and Ryan Briscoe. The sister No. 66 car, driven by Joey Hand, Dirk Mueller and Sebastien Bourdais finished eighth and continued after Mueller hydroplaned off into Turn 1.
The race marked Dixon's, the four-time and defending Verizon IndyCar Series champion, first start in a GT car after all his past sports car starts have come in Prototypes – usually one of Ganassi's Daytona Prototypes but occasionally an LMP1 car, as was the case with de Ferran Motorsports' Acuras in the late 2000s.
For Dixon, now 35, he admitted there was a bit of a learning curve even as he had some success during the race, particularly with letting faster prototype class traffic by.
"It's just very easy to be over cautious. If you see someone coming in the mirror, you want to give them room. But the best thing you can do is race hard and focus on your own issues at hand," Dixon told NBC Sports post-race.
"It's definitely a different dynamic. Coming from Barber with a lot more power and a lot more grip in the IndyCar, it was quite a big adjustment for the first session or two. But then I got a rhythm. It's definitely a learning curve."
Dixon was off a busy week where he finished seventh at the IndyCar opener, the Firestone Grand Prix of St. Petersburg, in his usual No. 9 Target Chip Ganassi Racing Chevrolet, and then headed with most of the IndyCar teams and drivers to Barber Motorsports Park on Tuesday for a one-day test.
After being home for a day, Dixon headed back to Sebring to be with the No. 67 car on Thursday. Sunny and warm conditions dominated the opening two days of action, before rain swept in on race day – and it was similarly treacherous conditions to the nightmarish Petit Le Mans last October, which rained non-stop all day.
Dixon praised both IMSA Race Control and Michelin for their respective efforts – this was also Dixon's first start on Michelin tires since the American Le Mans Series days.
"It was pretty tricky. You never want to see a race get red flagged or stopped, but it was definitely the right call there," Dixon said. "They were gonna wreck a lot of cars. There's a lot of standing water at this place. Yeah when I got in the car, it was a little bit wet. Rainy a little bit. Then slicks.
"The car performed well in mixed conditions. The TC and stuff worked well. I was very impressed with the Michelin tires. Having done these races in the Prototype with the Continentals, it had been a bit tricky in the wet. So it was good to be on a good tire. I had a lot of fun out there. It was cool."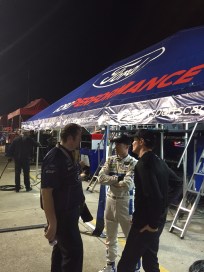 Dixon is under no illusions that the road to his 24 Hours of Le Mans debut this year, as part of the same lineup but the renumbered No. 69 car for Le Mans, will be an easy one.
He heads to France later this week for simulator work – a requirement for all rookie drivers – and then he'll have eight IndyCar races in-between (Phoenix, Long Beach, Barber, Indy GP, Indy 500, Detroit twice and Texas) before his next Ford GT start.
He'll miss out on the Le Mans Test Day on June 5, owing to the second race of the IndyCar weekend at Detroit. He can do so as a Platinum-rated driver by the FIA; rookie drivers who are Platinum-rated can miss that test.
A week later, he'll need to emulate Briscoe last year in leaving Texas straight after Texas and head straight to Le Mans for scrutineering, the two-day technical inspection in downtown Le Mans open to the public. Problem is, if Dixon wins Texas again like he did last year, it might be a bigger scramble.
But while the logistics might be challenging and the car a new one, Dixon knows most of the crew he'll be with on the Ford GT program. Brad Goldberg, who had been Charlie Kimball's engineer in IndyCar, is the engineer on this car and there's other crew members Dixon has worked with throughout his 14-year tenure with Chip Ganassi Racing.
"Yeah it does, man," Dixon said when asked if this feels like home. "A lot of these people I've worked with many a times, sports car or IndyCar. For me, it's the best scenario to go with this team to Le Mans. It feels very at home.
"To have the prep here at the 12-hour was important. The next time I'm in the car will be Le Mans. It's a long break. There's the simulator work to do, the safety procedures and protocols. I'll have to learn the track a bit too. Yeah, it's gonna be fun to appreciate the experience."
The 1966 win was achieved by two of Dixon's New Zealander countrymen, Bruce McLaren and Chris Amon.
"You couldn't have it any better with the history and delving into who won in '66 with two Kiwis," he said. "And then having it an in-house program with Ganassi, Ford and Multimatic.
"It just fits and it works, and it helps me maybe for later in my career doing some more races at Le Mans. It's the perfect situation.
"Obviously we have one goal, and that's to win, man. We have a lot of work to do, a lot to clean up and make it better and with not a lot of time.
"I'm excited to get there and be a part of that program. To be part of the history and what they have to try to do, to repeat the '66 win.
"For motorsport in general, this is a pretty big deal."