Ray Evernham is a firm believer in what's old can be new again.
That's part of the reason why Evernham's perfect restoration of Mario Andretti's 1965 Brawner Hawk took top honors at the famed Amelia Island Concours D'Elegance.
Andretti drove the Brawner Hawk to both the 1965 USAC National Championship, as well as 1965 Rookie of the Year honors (finished third) at the Indianapolis 500.
Now, Evernham's restoration of the car won Best in Class – Race Cars (1961-1967), as well as the Phil Hill Restorer's Award. According to a media release, the Phil Hill award "is an award created to honor the artisan whose restoration of a classic, antique, historic or competition car is judged the best new restoration in its first concours appearance."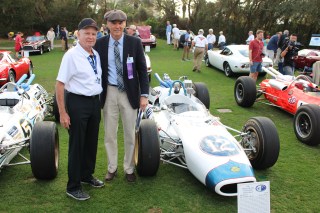 "From the historian's point of view, Ray Evernham's '65 Brawner Hawk is a pivotally important car," Bill Warner, founder and Chairman of the Amelia Island Concours d'Elegance, said in a media release. "It crystalizes a moment of monumental change in American race car design and construction: a true 'technological changing of the guard' — the first American-built rear engine car to win the national championship."
But the best is yet to come: Evernham's winning restoration will appear at the 100th anniversary of the Indianapolis 500 in May. An added bonus: Andretti will get behind the wheel of his rookie Indy Car for the first time in a half-century.
"I've been a lifelong fan of Mario Andretti," Evernham said. "I watched him race growing up and have always admired his talent, his business leadership, his commitment to philanthropy and his passion for the sport.
"To be able to restore his rookie Indy Car was truly a special opportunity. I can't thank (Andretti's crew chief in 1965) Jim McGee enough for leading the restoration of the car and am thrilled the Brawner Hawk was not only recognized for its historical significance but also for all of the effort Jim and the team put into it."
Follow @JerryBonkowski