Even though he's almost 75 years old and retired, Don Prudhomme is still the coolest guy in drag racing – and still has the coolest nickname of "The Snake."
Get Prudhomme talking about his career, the sport today and where he thinks it's headed, he still uses groovy words like "cool," "man," "hep (and hip)" and "cat" (as in fast cat or cool cat) and "I dig it."
And don't forget the ever-present shades that have long been a Prudhomme trademark. He made shades cool long before ZZ Top crooned about Cheap Sunglasses, giving The Snake a look that still makes other men envious and women still swoon.
Prudhomme retired as a driver after the 1994 season – it's hard to believe it's been 22 years since he stepped out of the cockpit for good.
"That was an important part of my life right there," Prudhomme told NBCSports.com in an exclusive interview recently.
And he's been quietly enjoying retirement since he ended ownership of his Top Fuel team after the 2009 season.
Well, it was quiet until Jan. 31, when Prudhomme, along with NASCAR notables Tony Stewart, Ray Evernham, Jeff Gordon, Greg Biffle and Hall of Famer Rusty Wallace, and noted car collector Ron Pratte, decided to have some fun driving sand rails in the Southern California desert.
Stewart got separated from the group and crashed, suffering a burst fracture of the L1 vertebra, sidelining the three-time NASCAR Sprint Cup champion for a still-as-yet undetermined period of time in what was to be his final season of racing in the series.
Prudhomme, Evernham, Gordon and Pratte found Stewart and worked to get him to a Palm Springs hospital for treatment.
Prudhomme was the first from the group to talk about Stewart's mishap, speaking exclusively to NBCSports.com.
The response from fans glad that Stewart wasn't more seriously injured was immediate.
But a large number of those fans were also intrigued about what Prudhomme is doing these days.
With that in mind, NBCSports.com once again reached out to Prudhomme to find out what he's been up to of late – besides rescuing a wayward sand racer.
Here's that interview with Prudhomme, who, like he was in his nearly 50-year career of racing, remains the same honest, straight and tell-it-like-it-is Snake:
WHAT ARE YOU DOING NOW: "I'm doing a number of things these days. Ever since I retired from drag racing, I've really got to enjoy the things I always wanted to do but was too busy to do it. When you're in NASCAR, drag racing, whatever, you're really going for it, man. You don't really have a lot of time to smell the roses and do many things. Basically, I made a lot of friends through racing over the years, guys from Mario (Andretti) to all the guys back then and even current day guys. I go to several races, especially IndyCar races to watch my good friend Chip Ganassi. I do a lot of things."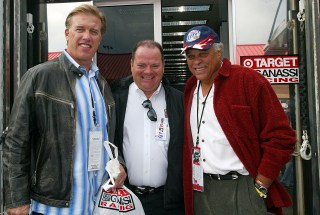 ARE YOU STILL WORKING? "No. There's no job. I do a little work for NHRA, but fortunately, ever since day one and I started making a couple of bucks, I thought some day that dream life was going to end and I better get prepared. I dabbled in real estate and have a great wife that deals with it. I'll be 75 in April. Mario (Andretti) just had his birthday the other day and he turned 76. We're pals. I called him and wished him Happy Birthday. It's that kind of life. It's really been cool. I've been fortunate to meet a lot of people along the way outside of drag racing, so I'm enjoying their company, going out and riding sand rails with my buddy Ron Pratte. So, I have a pretty good time."
DO YOU MISS DRIVING AND BEING A TEAM OWNER? "Yeah, I do miss it, certainly I miss it. I think anybody who has raced as long as I've done, especially all the things I've been able to accomplish in my career, I've sort of been to the top of the mountain, you know. And anything after that, going out and watching them race, I'm not big on that. I've just been up there and it's hard to go to the races and just watch. Yeah, I miss it, but fortunately I have so many other things to do, I don't miss it that much. How's that?"
ALAN JOHNSON SHUT HIS TEAM DOWN LAST SEASON AND IS NOW SERVING AS A CONSULTANT TO DRIVERS LIKE BRITTANY FORCE AND STEVE TORRENCE. WOULD YOU BE INTERESTED IN BEING A CONSULTANT TO A TOP FUEL OR FUNNY CAR TEAM? "Not really. Alan Johnson is a really great guy and what he has going for him is the tuning aspect of the car. He can jump from car to car, jump on the computer, builds parts, sells parts. He really has a place in the sport. For myself, not really, it just doesn't work that way. I do talk to some people. Leah Pritchett, I really like her. She can really drive a race car. And recently I've been talking to her about driving, what she should think about when she's behind the wheel, how to stage the car and things. We had a great conversation just before Phoenix, mainly by texting back and forth, and lo and behold she went to Phoenix and won the race. After the race, she texted me and said, 'Thanks for the tips, Snake. They really helped.' That was awesome. That made me feel awfully good. It was really cool. I enjoy that kind of stuff. She's really bound and determined to do well, which I like. I watched her at Pomona and saw some things she did, so I called her and wanted to talk to her, and then she winds up winning the race a couple weeks later. That made me feel really good. … I know what's going on out there, totally. I'm hep to it all. But like I said, I have other things to do, so there you are."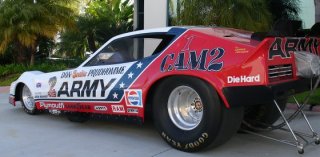 HOW MANY NHRA RACES DO YOU ATTEND EACH SEASON? "I go to Pomona, every year since I retired, because they named the grandstands after me. Not to go there would be a disservice to NHRA and I don't want to do that. We're good friends. Sometimes, I go to the U.S. Nationals and this year, Mongoose (Tom McEwen) and I are booked in to go to the NHRA race in Chicago. NHRA is celebrating 50 years of Funny Car racing and we had a big part to play, I'd like to think, in that ballgame. We're two of the guys that really got that thing rolling, Mongoose and myself, in Funny Cars. We go around and do a little bit of work for NHRA. We'll be there for three days in Chicago."
YOU MENTIONED LEAH PRITCHETT, WHO IS FRIENDS WITH SHIRLEY MULDOWNEY. IS THERE A SIMILARITY BETWEEN THE TWO IN THEIR APPROACH TO RACING AND DRIVING STYLES? "I think they both have the same drive and determination, but most women do when they get into this sport. They're really, really good at this. (John) Force's daughters and these gals that are coming up, hell, they're every bit as good as the men. They're just good at it and they can be better, too, because of their qualifying and their mindsets and so on can really make them good out there. Look at Erica Enders. She's first off the line every time. Let's face it, that's the biggest thing a driver can do out there, to be first off the line. That's huge. Women are good at it."
WHAT IS YOUR TAKE ON THE FUEL CLASSES TODAY, NAMELY TOP FUEL AND FUNNY CAR: "I think they're great. It's some of the best racing ever. They're going quicker in 1,000 feet than I ever dreamed they would. They're going quicker in 1,000 feet than we used to do in the quarter-mile. So, obviously, they've really stepped up. The biggest thing is the expense of it all, what it costs, and the people that are doing it. Most of these teams, they're funded out of their own pocket, so there's people that own them and run them, like Kalitta and several others that are able to fund them, and more power to them. So that part's different. Back in my day, we used to fund them ourselves with sponsorship and match races around the country. It's a different ballgame. As far as the cars themselves, I'm just overwhelmed how quick they are and how they're doing."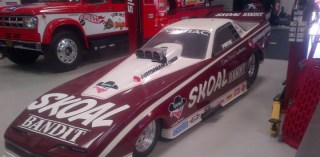 ARE YOU EVER TEMPTED TO GET BACK INTO A RACE CAR? "Not even a little bit. No, not at all. Hey man, the day I stepped out in 1994 and Larry Dixon stepped in it, I was like done. It was really cool. I wasn't one of those guys that wanted to jump back in it and come back out of retirement. It's a real commitment, so that's why I know better. I just can't do that kind of commitment anymore – and I'm too old."
CAN YOU BELIEVE IT IS NOW 22 YEARS SINCE YOU STEPPED OUT OF A RACE CAR FOR THE FINAL TIME: "No, I can't believe it, now that you mention it. It's amazing. There's just a lot of other stuff to do out there. … I'm really a fortunate guy. When I quit racing, (IndyCar and NASCAR team owner Chip) Ganassi took me under his wings and told me to go to the races with him, so I started going to IndyCar races. That's been my all-time favorite kind of racing, even over drag racing, since I was a kid. Oh, open wheel, absolutely. Mario Andretti is my all-time biggest hero of all time. I also love Formula One. I went down to Florida for the first IndyCar race (St. Petersburg) of the season, I'll go to Long Beach, the Indy 500. I'm a real pit rat. You'll always see me on the fence. And those guys know I dig it. It's the same when I go to (Sprint) Cup races. Clint Bowyer, guys like that, we've been pals because they do what they do and I do what I do, but there's this common bond which is kind of nice to have with guys like Jeff Gordon, we're just great pals."
THERE SEEMS TO BE A LACK OF PERSONALITIES TODAY. THERE'S NO SNAKE, MONGOOSE, KENNY "THE BUDWEISER KING" BERNSTEIN AND OTHERS. ABOUT THE ONLY ONE WE STILL HAVE AS FAR AS GRAB FACTOR IS JOHN FORCE AND MAYBE ERICA ENDERS AND BRITTANY AND COURTNEY FORCE. IS THERE SOMETHING NHRA COULD DO TO INCREASE RECOGNITION OF YOUNG DRIVERS? "In my opinion, the young driver of today, they've pretty much worked themselves away from the fans. You go to the track, you can't get near one. You go to the track and you have to stand behind the ropes. In our days, the fans could pretty much walk into the pit area and get your autograph or say 'hi.' Nowadays, it's very regimented. So, that's a downside, I think. Force is a guy that really gets it, and a guy like Ron Capps gets it. He'll be out by his ropes. He's got it down and knows how to work the crowd. We used to do that, the crowd was right there with us. So, a lot of things have changed, but you have to keep in mind, too, that motor racing today isn't what it used to be as far as fan attendance and fans loving the automobile. These younger guys are into computers and other things. It's really hard to get that. When the young fans used to watch us, we were young, too, and they were driving muscle cars on the streets, so it's a whole different era. The other thing, when a car comes to the starting line to run, like a Top Fuel dragster, you don't even know who's in the car because it's covered up and you can't see the driver's helmet anymore. You don't have that personal connection like they used to, like they'd see the 'Snake' on our helmet, or 'Big Daddy' on Garlits' helmet, or 'Shirley' on Shirley Muldowney's helmet. You don't see that, they're really tucked away when they come out there and start the cars up. You don't know if Tony Schumacher's driving it or if (father and team owner) Don Schumacher's driving it. You just don't know. So the driver today is pretty much taken away from the fans, they don't have the connection we had, that's my opinion."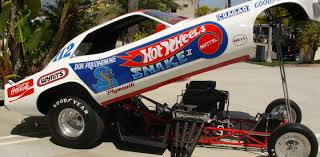 HAVE YOU CHANGED SINCE RETIRING: "One thing that's amazing since I quit being an owner and driving, people say I'm a lot nicer guy. They'll say, 'Geez, I'd go to the races and could never talk to you.' And I'd say, 'Yeah, man, I know, I was terrible, I was so into my game then, I didn't have time, and please don't be mad at me.' And they'll say, 'Oh no, man, you're a cool guy.' So, I really go out of my way nowadays to try and make up for that because I know I was really kind of a jerk at the time because I was just so buried into what I was doing. Man, I was driven. I couldn't stand myself sometimes. I worked my way through it and everything's cool now."
Follow @JerryBonkowski