Two weeks in Florida have provided the kickoff to the Verizon IndyCar Series season and the continuation of the IMSA WeatherTech SportsCar Championship season, on the streets of St. Petersburg and legendary airfield-turned-road course that is Sebring.
With that in mind, here's what's been gleaned, in no particular order (OK, some particular order):
ST. PETERSBURG
Team Penske's St. Pete domination is Team Penske St. Pete domination. Again. Team Penske does what Team Penske does at St. Pete: it cleans up. For the second straight year, the quartet swept the top four in qualifying, in the same order. They led 92 of 110 laps on race day; they placed three of its four cars in the top five; they had everyone covered once again. If the domination keeps up at places like Long Beach and Barber, and also carryover the preseason testing pace at Phoenix into the race there next weekend, then we can start to say, look out. May is everything for Team Penske, in this, its 50th anniversary season, and they can have the best possible momentum if they continue up front beyond St. Pete.
The Will Power situation was handled as well as it could have been. With Power entering the weekend feeling off anyway due to his inner ear infection, and then getting worse by Saturday once it looked like concussion-like symptoms were developing (albeit later confirmed he did not have one), it was apparent by Sunday morning that Power wouldn't be racing. "Yeah, I think it's fair to say that with or without the diagnosis or whatever or any of the doctors' orders on Sunday, he wasn't going to drive," Team Penske president Tim Cindric said during last week's conference call. Between Power's own feelings and the lucid insight provided by Drs. Terry Trammell and Stephen Olvey last week, Olvey even taking time to praise how INDYCAR handled it from a medical perspective, Power not racing was the right call, especially in this era where handling concussions has become so much more important.
Honda fights back. Left for dead at the start of the 2015 IndyCar season, Honda laid the groundwork for what should, in theory, be a better 2016 season in its primary open-wheel and sports car championships. Honda was closer in qualifying than it was last year with its revised aero kit, and also posted four of the fastest six race laps during the Firestone Grand Prix of St. Petersburg opener. Given Team Penske's St. Petersburg-in-particular dominance, it was good to see Hondas remaining competitive when interspersed with them, as Conor Daly and Ryan Hunter-Reay were throughout the day.
Hunter-Reay's move of the race. The bold, determined move from RHR on Helio Castroneves for third place was a do-or-die move but the American pulled it off in what was easily the pass of the race with just a handful of laps to go. Castroneves must have nightmares about RHR and moves for position… and while a pass for third at St. Pete isn't quite the equal of a pass for the win at Indy, it still took a lot of gumption to pull it off. RHR must be primed for bigger things in 2016 – he's now on a run of win-third-third in his last three races dating to last year and could well be in win contention at Phoenix, a track that may race similar to RHR's track of glory lately that has been Iowa.
IndyCar's kids were alright. All four IndyCar rookies at St. Pete finished 17th or better – last year the trio of rookies were 17th or worse. Alexander Rossi finished best of the bunch in his debut, P12, fighting off Daly in the closing stages as both drivers hung onto their cars in the final stages. Spencer Pigot was unlucky to get a bit of front wing damage but otherwise ran steadily from 21st to 14th; Max Chilton ended 17th, but typically clean as is usual for the Englishman.
The passing, not so much. A concerning element – potentially – out of the weekend at St. Pete was that passing was made more difficult by the changes in aero this year. Both the Chevrolet and Honda aero kits look more similar and as such, there's not the same differentiation as a year ago. With cars stuck in dirtier air and with the undertray now removed, cars were stuck in formation more often than not. An explanation from Graham Rahal: "We gotta get the underway back on. I don't understand the mentality. It's common sense in traffic that the wings are not effected. The undertray is only way to create downforce. When we take those off, we lack the downforce. I'd rather they limit the wing angles, and give you the undertray back." Watch this space as the year goes on, to see whether the passing story develops further.
MRTI notes. While passing, or lack thereof, was a significant story in the IndyCar race, it was even more prominent in the six Mazda Road to Indy races as they kicked off their seasons. After the start, track position was everything and there weren't many moves to be made in any of the Indy Lights Presented by Cooper Tires, Pro Mazda Championship Presented by Cooper Tires or Cooper Tires USF2000 Championship Powered by Mazda – for USF2000 there was some passing but more from drivers that needed comebacks after early race contact. Indy Lights, as expected, seems wide open with two drivers named Felix winning from two different teams, in Serralles (Carlin) and Rosenqvist (Belardi). Belardi was unlucky to not have a double win with electronics claiming Zach Veach's hopes on Saturday and power also affecting Rosenqvist the same day. Team Pelfrey swept Pro Mazda and never looked in doubt; Pabst Racing scored the USF2000 sweep with Cape Motorsports with Wayne Taylor Racing going through the weekend without a single podium finish, a rarity for the team that's won the last five titles.
PWC notes. Michael Lewis is good, the EFFORT Racing team is good, the Porsche 911 GT3 R is good. And so as the Californian swept the GT races – the second of which was a caution-strewn affair – there was no reason to begrudge his success as down solely to BoP. Someone has to nail the lap times in qualifying which Lewis did, and once out front he defended nicely against a host of veterans. Arguably the bigger story there was EFFORT's rebuild job for teammate Patrick Long to get him out and running for both races after his COTA crash.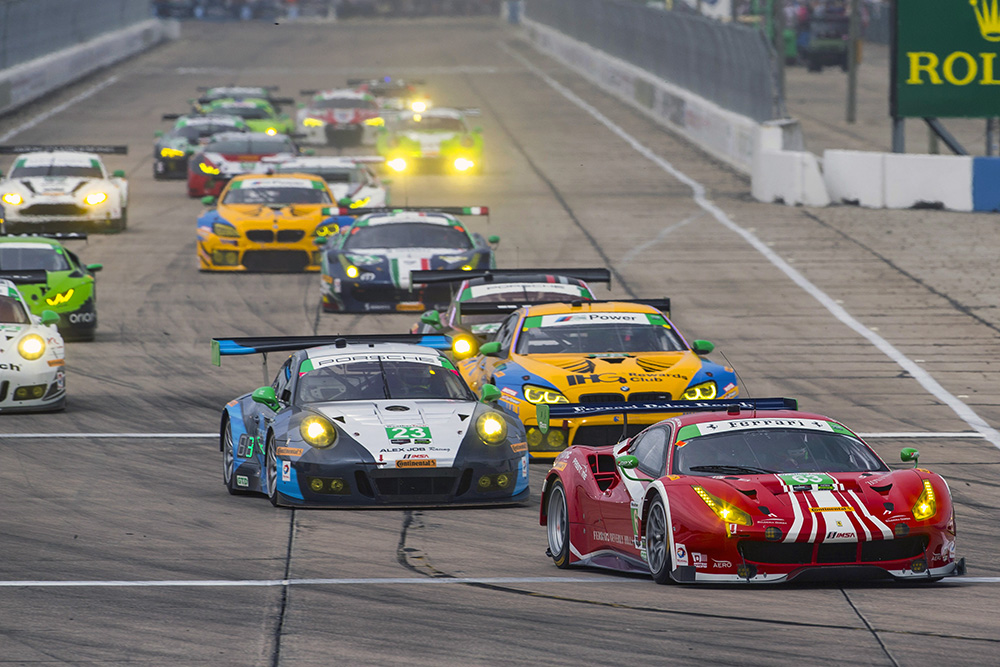 SEBRING
Too many story lines to count at Sebring. The beauty – and curse – of sports car racing is that there's a grab bag of story lines and you need ample time after the race to flush them all out. Whether it was the grandstand finish in Prototype, the "which manufacturer is leading now" in the GT Le Mans and GT Daytona classes, or the war of attrition and spins in PC – you could blame the new electronics package, which teams were getting to grips with – there's simply so much going on and it makes for a ton of potential items to keep track of. IMSA Radio did a particularly good job keeping track of all of it in both the booth and pits; the FOX Sports crew fought on valiantly as well, as fans engaged their remote controls to keep track of which channel the race was on at a particular moment.
Honda's sports car program had a banner weekend. A week later after St. Pete, at Sebring, courtesy of a good strategy call to take new tires and Pipo Derani's superman heroics to pass both of the Action Express Racing Corvette DPs in successive laps, the Tequila Patron ESM Ligier JS P2 Honda had its second overall win in as many races. And in the Continental Tire SportsCar Challenge race on Friday, Honda went 1-2 in the ST class with Owen Trinkler and Sarah Cattaneo scoring a deserved first win in the CRG-I Do Borrow Civic Si over Michael Valiante and Chad Gilsinger in the HART Honda, Valiante managing to survive last-lap contact with a MINI JCW to bring his car home.
New cars are already bringing their A-game. The GT classes are seeing a number of new cars this year and Sebring saw the first pole and win for the new Ferrari 488 GT3, and the first podiums for the BMW M6 in both its GTLM and GT3 variants. Meanwhile up against the brand new cars, the revised Corvette C7.R is off and running and the Ford GT has led in both races, but is still seeking its first first podium. Porsche has also scored back-to-back podiums with its updated 911 RSR, which may not have the pace of the brand new cars but is still fully in the game. In GTD, the new Lamborghini Huracán GT3 has made its presence felt but hasn't yet got the results.
Trent Hindman's standout drive. Hindman was quick to defer the credit to co-driver Cameron Cassils and the Bodymotion Racing team after Friday's Continental Tire SportsCar Challenge race, where he won the first event yet for the new Porsche Cayman GT4 Clubsport. But don't let his humility fool you – this was a star drive from the 2014 GS class champion. Hindman, a past open-wheel rising star who's made a successful shift to sports car racing (and still coaches Team Pelfrey's USF2000 quartet), ran consistently quicker laps than Jeroen Bleekemolen – arguably one of the best GT drivers worldwide – in equal machinery during their stints, and pulled away from the Dutchman on a restart. You can say the setup wasn't right on Bleekemolen's car but it's rare when Bleekemolen isn't the fastest, or second-fastest, guy on track when he's in a stint. Hindman, who was a BMW Junior Driver last year, buried the field on Friday in arguably the drive of his burgeoning sports car career.
Other notable drives. Daniel Morad turned in a noteworthy effort in the debuting Alegra Motorsports Riley BMW on Saturday in the rain; DragonSpeed was perhaps unlucky to miss the podium after a solid debut with its Oreca 05 Nissan in its only planned IMSA start; the DeltaWing was desperately unlucky not to finish with late-race steering issues; Leh Keen did well to bring the WeatherTech Porsche 911 GT3 R home on three wheels after it lost a wheel and helped for that car to finish fifth in class; and the Riley Viper team fought back after earlier driveshaft issues cost it six laps early.