Will Power will be back in the No. 12 Verizon Team Penske Chevrolet this weekend at the Desert Diamond West Valley Phoenix Grand Prix, following a successful test last week at Barber Motorsports Park after the lingering effects of his inner ear infection sidelined him from the Firestone Grand Prix of St. Petersburg season opener.
This is only the second time Power has missed a race due to injury in his now 11-year IndyCar career, dating to his series debut in Champ Car in 2005 (Sonoma 2009, he suffered a back injury after accident in practice).
It should be no surprise that Power will be keen to recover and get back on track in Phoenix – it's pretty much been the story of his career up to this point.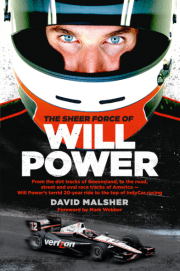 Over the weekend I had a read of David Malsher's "The Sheer Force of Will Power," published by HarperCollins Australia: a biography of the 2014 series champion as chronicled by the Motorsport.com U.S. editor, and my former colleague when we both worked at RACER Magazine.
To call it a tour de force is an understatement… I always try to measure myself against the best writers in this business, and what Malsher put together is arguably one of the best biographies I've ever read, regardless of sport. The fact it isn't all praise and instead is a roller coaster ride that parallels Power's career makes it all the better.
Power, whose dogged determination, relentless pursuit of race wins and brutal honesty and self-reflection has helped drive him to where he is today, has fought through a lot more than a lot of folks probably realize.
It's that desire to be the best through sheer will – no pun intended there – that has not only helped him rise to the level he is in IndyCar today, but also drive him to be even better with each passing race.
And the things that stood out to me throughout the book were how many times it could have been taken away from him, and yet it didn't.
Then a rising star in Formula 3 and Formula Holden when coming up in Australia, Power's move to Europe nearly left him high and dry altogether with no ride and no money despite his obvious speed and talent. It was only thanks to some investment – as chronicled in great detail by Malsher – from his key partners and from Power's countryman Mark Webber that Power was able to progress into 2005 and make his Champ Car debut on home soil in Surfers' Paradise later that year.
Then, after Power's career seemed at a crossroads following the loss of the Team Australia funds when the Surfers' round went away post-2008, there was the Penske interview process when Power became an option to fill in for the then-sidelined Helio Castroneves, who was going through tax evasion charges. This is as close as most of us in the industry will get to seeing how the "Penske perfect" process works, and from Power's own perspective, he seemed less than confident he'd get the chance. As we all know however, he did, and that one-off fill-in role for Castroneves led to the part-time third car, and his eventual full-time ride.
There's also the brutal, graphic detail Power had to endure when being involved in the 15-car horrific accident at Las Vegas in October 2011, the race that took the life of Dan Wheldon. Without going into details – I'll let the book do that – I'll just say that Power's strength helped him through what was an incredibly jarring moment from both personal and professional standpoints. Malsher and I were both at Las Vegas that day, and we had to compartmentalize the pain we were feeling as humans and then put together the next issue of the magazine that following week as journalists, with the Wheldon tribute as the lead-off point. Little did I know, certainly, the pain and agony some of the other drivers were facing at the time.
Where Power's M.O. took a shift and has probably served him better to this day was in mid-2013, as he fought through a roller coaster season where he wasn't getting any sort of results. It's here Malsher makes the key point that focusing only on results misses the point; it's the why results don't happen that is more notable here. But with Power out of the title fight and less concerned with points, his stock rose within the Team Penske framework and led to some of his best drives – a dominant win at Auto Club Speedway stood tallest, to be honest, because it came in the season finale where each of the previous three years he'd lost the title in cruel fashion.
So 2014 at Auto Club – where he finally won the title – serves as both the starting and ending point of the book. How Power's preparation was throughout that weekend and how relieved he and his family (wife Liz and Liz's mom Kathy Cannon play an integral role throughout the book) was with this ultimate result.
Bottom line, Power's road to that title wasn't easy but he wouldn't have had it any other way. It's a great read, highly recommended.