NBCSN announcer Rick Allen will be making somewhat of a detour this weekend — and a welcome detour indeed.
The lead play-by-play announcer for NBC Sports and NBCSN's coverage of NASCAR during the final 20 races of the season, Allen will call a Verizon IndyCar Series race for the first time in his career – this weekend's Desert Diamond West Valley Phoenix Grand Prix (Saturday, 8:30 p.m. ET, NBCSN).
With Leigh Diffey covering the second round of the Formula 1 season, the Bahrain Grand Prix, Allen will fill in for NBCSN's first IndyCar race of the season, Saturday night at Phoenix International Raceway.
Regular IndyCar analysts Townsend Bell and Paul Tracy will join Allen in the booth.
"I never look at a broadcast as just another event," Allen said in an interview. "Every event that I do is a big event. And one of the biggest things I like to look at my career and the way I've called races is I lean on the people that know the most about it.
"I'm very lucky to have Townsend Bell and Paul Tracy in the booth with me, two guys that have such incredible talent and abilities not only behind the wheel, but also in the broadcast booth. I'm going to rely on those guys a lot."
But Allen will do what he does best, too.
"And that's to call the racing action," he said. "But I'll also take us down roads that Townsend and Paul are going to be able to explain what's going on on the racetrack, why they're happening the way they are, what's the strategy that the teams are going to be employing, those types of things that they know so well.
"That's my job, to get them engaged and involved in the broadcast. I don't take it lightly, I'm definitely going into it knowing this is not my forte, as far as this area of racing. But calling enough races, I know how to call them and I know how to engage the people I'm working with."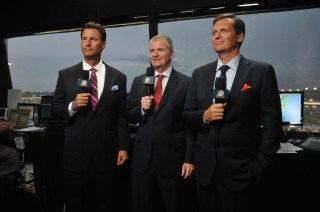 In addition to Phoenix, Allen has two other IndyCar races coming up: the Toyota Grand Prix of Long Beach (April 17) and the Honda Indy Grand Prix of Alabama (April 24).
"I always look to do as many things as I can in my career that becomes available to me," Allen said. "I was given the opportunity to call a college basketball game earlier this year.
"I've always loved motorsports and racing, and so calling NASCAR for so many years now, the opportunity to call an IndyCar race when it was presented to me, I was ecstatic. I really wanted to do it.
"Then they told me the races they were looking at, Phoenix, Long Beach and Barber, I thought 'Oh my goodness. You couldn't have picked better.' I guess if we had the Indy 500 and I were calling it, that would be the pinnacle."
Even though Allen has long been known for his NASCAR broadcasting and acumen, the Grand Island, Nebraska native has been a longtime IndyCar fan.
"My first race that I ever traveled to was the Indianapolis 500 back when I was probably 11 years old," he said. "It was incredible. It was one of those events that sticks with you forever and that was the first professional sporting event I ever went to.
"I very much enjoy IndyCar and one of the reasons I enjoy it so much is just because we'd have companion events when I was doing the Camping World Truck Series at places like Kansas and Texas and we would watch the guys in practices.
"It would absolutely amaze me watching a Truck go around the track, and then watching the IndyCars go around the track. The comparison of the two was just mind-boggling, to see how much faster the IndyCars were going and how close they were side-by-side in the turns. It was very amazing, so I'm very excited about these races."
With NBC not starting its part of the NASCAR Sprint Cup schedule until July 2 with the Coke Zero 400 at Daytona International Speedway, Allen has had plenty of time to study up on the nuances of IndyCar.
And he's more than ready.
"Phoenix, it's a very fast racetrack," Allen said. "Long Beach, the rich history there. And Barber is such a beautiful facility. It's just an ideal situation for me to cover a sport that I really appreciate and respect, and also to be a part of it just as a fan, to be able to experience it first-hand."
One other keen IndyCar memory that Allen possesses involves one of the greatest open-wheel drivers ever, A.J. Foyt.
"One memory that I will always cherish is walking through the infield of Indianapolis Motor Speedway after the '500 was over," he said. "A.J. Foyt, somebody from his team, was standing up on one of the haulers and was throwing pins into the crowd that said 'Five for Foyt.'
"He was going for his fifth Indy 500 win but didn't get it, so apparently this guy just had boxes of these pins and he was throwing them out. I got one of those pins."
And he still has it.
Starting this weekend, Allen will make his own memories in the IndyCar world, as well.
Follow @JerryBonkowski