As the FIA Formula E Championship heads for the streets of Long Beach this weekend, there's two American teams once again set to uphold "home turf" honors with Amlin Andretti Formula E and Dragon Racing.
Dragon won the series' most recent round in Mexico City with Jerome d'Ambrosio. Meanwhile Andretti FE has sought to do the best they could with the same season one powertrain continuing into season two (Spark SRT01-e), and they'll also look to continue its run of home race podiums. Scott Speed finished second in Miami last year; Jean-Eric Vergne finished second in Long Beach.
We caught up with Amlin Andretti Formula E Sporting Director/Team Principal Roger Griffiths prior to this weekend's Long Beach ePrix to get his thoughts on the state of play of the team, the series and the atmosphere heading into Round 6 of the championship. Andretti FE enters in sixth in the team championship, with Robin Frijns (No. 27 car) seventh in driver points and Simona de Silvestro (No. 28 car) 17th.
MST: Although you've been running the season one powertrain, you've still made the most of it. What have you learned as a team and where have you improved this season? 
RG: "Yeah while we've carried over the bulk of the season one powertrain, there are still certain elements of development. There are things like the damping and software development. We've focused on what we can play with. We have good guys on the development side. So we're working on both the software side and knowing where we could go with the overall grip level of the car. We also have invested in some off track activity, with tools to better understand how the car works.
"The overall goal has been to strengthen the engineering activity. We've done some analysis looking at our relative performance in qualifying. The gap is closing at every round. It's showing our rate of development is ahead of the curve.
"We continue to learn about the car. Unlike IndyCar or conventional forms of racing, there's a lot to learn about energy temperature, battery management. Everything was every new. Now in season two, in some ways it's been better without the distraction of a new powertrain. Of course we'd rather have a new powertrain, but now that we don't, we make the most of what we've got."
MST: I have to imagine having a more consistent driver lineup is helping matters, as well?
RG: "Oh goodness, yes, it's been huge having consistency is in our driver lineup. We don't have to educate a driver every weekend!
"I lost track last year to be honest – I felt for the poor guy making the seats and the like. A couple changes last year were outside our control; the situation with Franck (Montagny), for example. When we got JEV (Jean-Eric Vergne) in the car we had consistency on one side of the garage, but we still this rotation of drivers in the second car. JEV, and fair for him to say, said, 'Well, I don't have a teammate I can rely on.' It was tough because you're trying to build that working relationship, but it was Scott (Speed), Charles (Pic) or whoever else we had in the car. It was tough for him as well.
"With two consistent drivers, you've got that rapport, relationship with engineer and driver all the time. The driver gets used to the odd schedule that the day is in Formula E."
MST: To that end, Robin Frijns has starred this year. Has there been any surprise with his level of performance?
RG: "I didn't know much about Robin before we talked. But what we recognized is there are a lot of talented drivers in the series, and you need one to take it to the (Sebastien) Buemis, JEVs, (Lucas) di Grassis of the world, you need strong and consistent drivers.
"He's won championships at every level he's competed at. He was unfortunate in not being able to make the final breakthrough into F1. He tested a reasonable amount. We threw him a bit of a lifeline to get him back into single-seaters, but he has done well in the Blancpain series though. He's looking at (Antonio Felix) da Costa or others, and he might be thinking… I should be doing this.
"He's adapted well. He's very aggressive. If you meet him in person, he's calm, and shy. But he's aggressive on track and he learns very quickly. There are certain things you have to adjust to, because these cars have uniqueness. We have these sort of conversations, and he asks where do we need to go on an aero level. He has that very adaptable approach."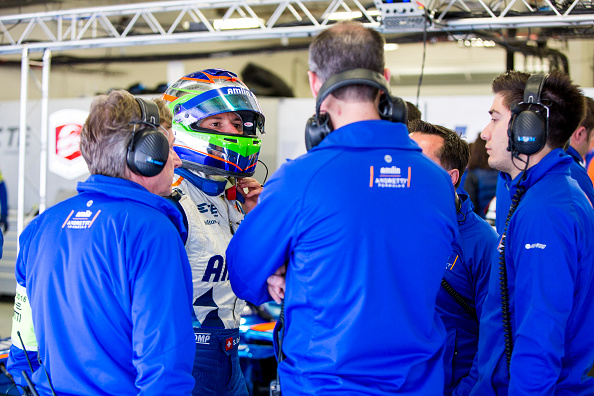 MST: Meanwhile Simona de Silvestro – and no one doubts her talent – has had a tougher time of it. Why do you think that's been the case?
RG: "Sim has had some difficulties this season and a few unfortunate on-track incidents. She was due to qualify well in Punta del Este, but then she came around and saw (Jacques) Villeneuve pointed the wrong way. There's been one or two reliability things and she's struggled with that.
"In Mexico, she had a really good first stint, and may have passed Robin on track at one point. But in the pit stop and subsequent exit, she got tangled up with (Stephane) Sarrazin and lost the train. She wasn't able to not only run at the right pace, but also deal with the energy.
"She's had a tougher time adapting to Formula E if you like, and the differences between an IndyCar and the electric series. But she's working very hard and we're working hard to help give her the encouragement. She had a better weekend in Mexico versus Argentina. We all know when she finished second at Houston a couple years ago that she's got the talent. We know she can drive quickly on street circuits, and that's why we put her in the car."
MST: Having come from the more traditional three- or four-day weekends in IndyCar or sports cars with Honda, do you like the standard FE one-day format? 
RG: "Personally, I love it. I'd done a few FE rounds, then I went to St. Pete last year and wondered what to do with the rest of the weekend?
"Yes, it's really critical that you're ready. You have to focus on preparation. Not only do you have a short amount of time, but also two cars per driver. We call it the weekend, but it's just one day and you need a well thought out plan. You don't have the luxury of time like in IndyCar. You can't make multiple setup changes. A lot of tracks, we've never seen before.
"We work well as a team with our job list. We divide those tasks among the two development drivers. If you get into a situation where something does go wrong, say you have a battery change, hit the wall or another incident, you're on the back foot. Still, the Formula E community is quite nice to each other and people will help you out. It's been refreshing from that perspective.
"Say in Long Beach for example, we don't run on track, discounting the shakedown, until Saturday. But we're there from Wednesday afternoon onwards. We don't have access to cars in-between the races. So you're into prepping four cars for Saturday activities. The bulk of the work is done leading up to it. There's several days of prep." 
MST: This wasn't specifically in your domain on the team side, but still, is it nice coming back to the U.S. knowing there's just the Amlin Andretti FE team side to be concerned with as opposed to Andretti Sports Marketing also having to worry about promotion of the Miami round last year?
RG: "Miami was a difficult one to be honest, because there was the situation with the delay in closing the streets, getting the track ready, and that led to a delay the next day. You're not directly involved, but because of the (Andretti) name you feel some sense of responsibility. Still, people realized it wasn't us that should be moving bollards or painting lines. It distracted us a little bit. Long Beach was a lot easier without that same pressure.
"The big thing for us is that when Michael is there, and his schedule allows, he brings that knowledge and personality of being an ex-driver, and conversations are much easier for him to have. He looks at it from a driver's perspective, and how he imparts that knowledge and advice."
MST: The powertrain step this year has changed the look, game and feel of the series. Has it enhanced or hurt the competition?  
RG: "I think it's grown. The first few races last year, it was a new series, it seemed a bit of fun and some thought, 'This is a program that's supplementary or complementary to other activities.'
"What we've started to see the latter half of season one and for sure now, the competitiveness, the preparation and attitude and whole approach to Formula E is strengthening. You only need to look at the quality of people recruited in. It's not just drivers, but also engineers, advisers, and other crew… the quality is rising very quickly.
"Look at the level of presentation in the team garages. It's not Formula 1… but it's up there with WEC and the rest of it. This is becoming very serious. The OEMs are looking into this. If you want to attract a big OEM, you have to raise your game and raise the standards. We've invested heavily into the improvements into staff and engineering.
"There's nothing I would say is excessive. I don't know if you remember Level 5 (Motorsports) with its paddock setup. That's excessive. Here, everything has a purpose. We have to do everything right to maximize efficiency. It's naturally growing.
"In season one, you're completely right. There was more freedom and openness. Now, it's obviously a competition in terms of powertrains and things like that. People are not quite so keen to help out, but do if anyone's in trouble."
MST: What do you make of the series' direction in terms of partners that have entered in?
RG: "We do see more money is coming into the sport. There's a few sponsors, to go along with a lot of self-funding. We got more than most with Amlin and TE Connectivity… but there's a few other cars of note. Hewlett Packard is with Virgin. There's other smaller ones with Mahindra, Venturi… recently we had Gulf at Aguri at Mexico. Sponsors are looking at it.
"We found this series an easier opening to open the conversation. One, it's a global presence. When there's green and sustainability, there's that ethos. And the TV package is pretty strong as well. It's made the conversation easier. You have to look good. Formula E has focused a lot on presentation.
"In IndyCar, people didn't understand how we looked. Coming from Europe, and I'd worked in F1 and sports cars, I was used to high level of detail in the presentation. In IndyCar, every place you go is a different setup. It's garages at Texas or Iowa, awnings at MKE, a parking garage at St. Pete… sometimes it's difficult to make it look nice. You ask, but get back, 'Well, it's always been this way.'
"Here, I think Formula E has been a fresher outlook, with a European feel."