Arizona's king of professional athletes at the moment is probably Arizona Cardinals star wideout Larry Fitzgerald.
Fitzgerald's incredible hands, athleticism and ability as a possession receiver is unquestioned; five years after he retires, there's good odds Canton, Ohio will be calling him.
He's not known as a speed demon but when he gets in the open field he can make things happen… and when you're a Green Bay Packers fan, you're still annoyed that the Packers didn't double him in overtime even as you tip your cap to him for his incredible effort.
The point of that preamble is that Arizona's star athlete was a guest this past weekend at the Desert Diamond West Valley Phoenix Grand Prix, where he got a greater introduction to the speed of racing, thanks to Rising Star Racing and Honda's Fastest Seat in Sports – the two-seater INDYCAR Experience.
The veteran receiver, 32, got to meet both one of racing's living legends in Mario Andretti, as well as a couple of up-and-coming rising stars.
In the process, Fitzgerald got to have a couple hot laps at more than 160-plus mph with Andretti behind the wheel.
"I was nervous going into that first turn, just how fast he was coming out here," Fitzgerald, the nine-time Pro Bowler, told IndyCar.com. "It was exhilarating, it really was. All the turns are scary. I felt like I wanted to hit the brakes, he was going to the wall a little bit too fast. It was a great experience, I had a wonderful time. It's an experience I'll never forget."
He added, "This is much more of a rush (than being on the football field). I'm tired after just two laps!"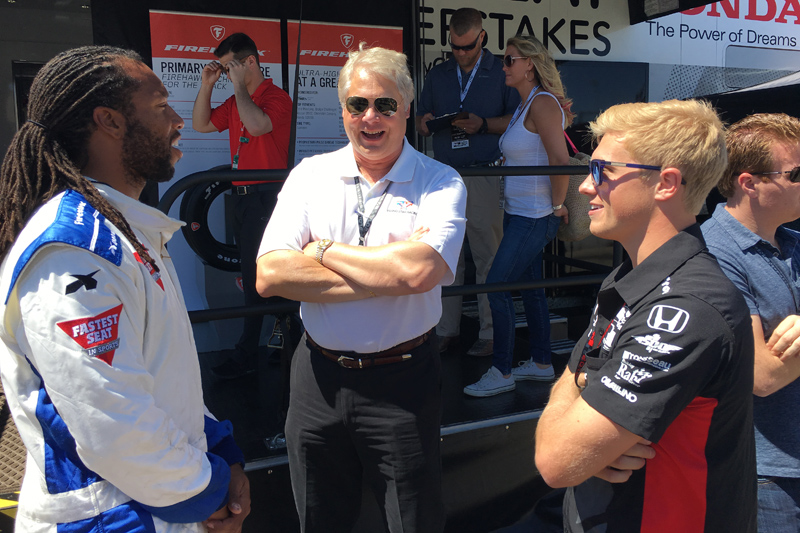 Rising Star Racing made the invite, and thus Fitzgerald got to spend a lot of time with two of its drivers – Spencer Pigot of Rahal Letterman Lanigan Racing (IndyCar) and Neil Alberico of Carlin (Indy Lights Presented by Cooper Tires).
Pigot – who made his IndyCar debut at St. Petersburg – elaborated on Fitzgerald's day in the IndyCar world.
"It all came about through Rising Star Racing, who invited him out here to experience the weekend, and experience the track and speed," Pigot told NBC Sports. "We got him set up with a two-seater ride with Mario. He got to spend some time with Neil, and look at the Lights car.
"He's an awesome guy. He was so interested in IndyCar, with the speed and the technology. It was cool to be able to tell him about our sport."
The athletes swapped respective stories.
"I was asking where he'd played college football (Pitt), their training regimine, and what they do for a game. It's hugely intense. It's only 16 weeks, but it's every weekend, day in practice, and it totally beats him up.
"He was really interested in the racing especially on the oval, the speeds and techniques with aerodynamics, why you don't necessarily see guys right behind them. It's very open and interesting."
Pigot made an interesting comparison describing the endurance factor required for racing compared to football. Both take skill in different ways.
"He's in an explosive environment where they unload speed and strength for each play," Pigot said. "Here, it's a bit more endurance. He wasn't actually driving the car, so it's maybe not a direct comparison, but he was sweating after he got out. It was scary and intense, but he had a blast.
He added, "Man, he had big smile on his face! He totally enjoyed it and couldn't believe how quick it was. But I know he wanted to keep going, because he had a blast."