Today is an important day for the Verizon IndyCar Series, and both its manufacturers – Chevrolet and Honda – as it tries new aerodynamic components in preparation for the 100th Indianapolis 500 presented by PennGrade Motor Oil.
A field of 16 cars has intermittently rolled out; KVSH Racing (Sebastien Bourdais) and Dale Coyne Racing (Conor Daly) were expected to test today but aren't. For KVSH it's engine-related per the Indianapolis Star's Curt Cavin, and for Coyne, the team has headed back to its Plainfield, Ill. shop to prep for Long Beach and opted not to test citing the high winds and unpredictable Indianapolis weather.
New to the cars this year are domed skids – which have been a bit controversial in the press, although comments about them have primarily come from Honda drivers – and a rear wing beam flap, similar to NASCAR's roof flaps albeit on the bottom of the car. Both are designed as safety enhancements to keep cars grounded and prevent lift, as was the case last year with three airborne accidents during practice (Helio Castroneves, Josef Newgarden and Ed Carpenter) prior to qualifying.
Some Chevrolet teams have a new component on their rear wing pods – a Honda-esque element on top of the pods from last year.
See an example below from Simon Pagenaud's No. 22 DeVilbiss Team Penske Chevrolet; Pagenaud has only just made it back to Indianapolis after promoting the June 26 race at Road America on Tuesday.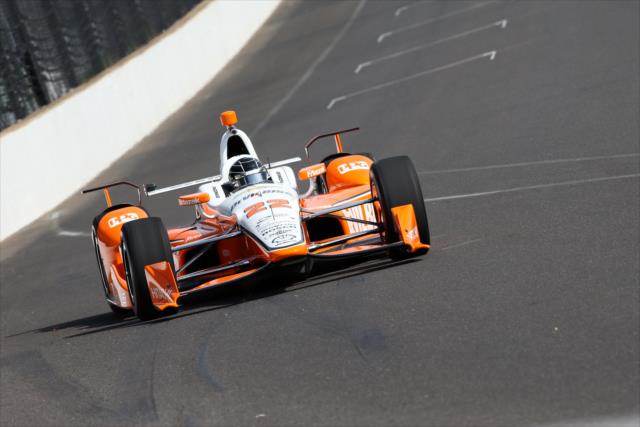 Here's some photos on social media and of cars on track thus far (photos not from Twitter are photo credit: IndyCar):