This year's Toyota Grand Prix of Long Beach had seven series in action: the Verizon IndyCar Series, IMSA WeatherTech SportsCar Championship, Pirelli World Challenge, Formula Drift, Stadium SUPER Trucks presented by Traxxas and the final Toyota Pro/Celebrity Race.
And it had an NHRA legend making the rounds too in John Force, visiting the event as daughter Courtney Force and her new husband Graham Rahal were both there – Rahal competing and Courtney there to support.
Here's the team release:
—
John Force spent his last free weekend before a grueling stretch of NHRA national events kicks off at a race track meeting with sponsors, chatting up racing legends and spending time with hundreds of fans. The 16-time Funny Car champion was easy to spot in his ever present PEAK uniform shirt and white PEAK baseball hat as he cruised the paddock area on Saturday and Sunday.
"I wanted to come out to the Long Beach Grand Prix for a couple of reasons. It is almost a hometown race for me since we live just up the road in Yorba Linda plus this is a great chance to see a lot of my sponsors and get caught up with them," he said. "When I am with my PEAK Chevrolet Funny Car I get pretty wound up, but at the Grand Prix I was able to relax a little bit and have some good talks with a lot of people like Jim Campbell from Chevrolet and Traxxas owners Mike and Keli Jenkins. Mike and Keli even got me in the winner's circle since Traxxas won the off-road truck race."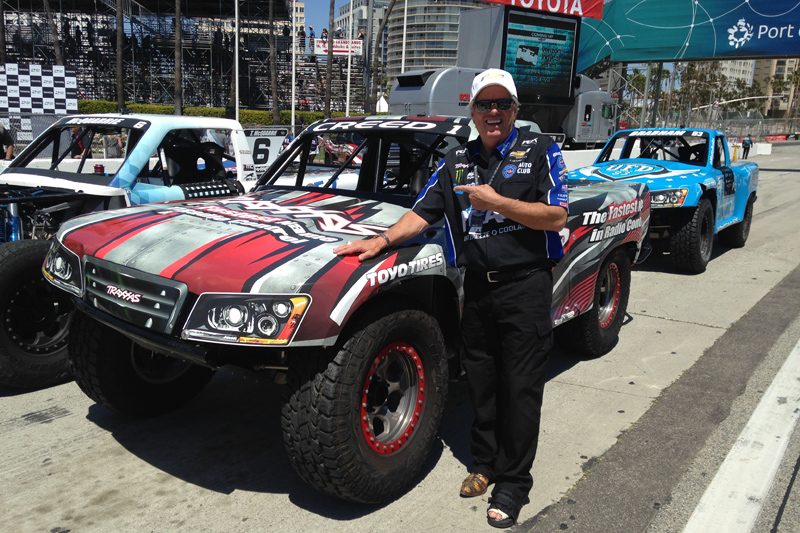 In addition to spending some time with sponsors Force spent a few minutes with some of the legends of IndyCar including Mario Andretti and Chip Ganassi. The 143-time Funny Car winner also got to congratulate fellow Auto Club of Southern California sponsored driver Helio Castroneves on winning the pole for Sunday's event.
"When you see the stars of Indy Car like Helio, Mario and Chip Ganassi you have to stop and pay respect. I have so much respect for these guys. I want my son-in-law Grahaam Rahal to do well of course but it was great to see Helio get that pole position in a Chevy," added Force.
Force also worked the media while he was at the track participating in a number of interviews talking about both his NHRA season as well as the differences between being a driver and a spectator.
"I have been to more IndyCar races in the past couple of years now that Courtney and Graham are together. I like to watch them but I am not a good spectator," said Force.