UPDATED Thursday, April 21, 12:40 p.m. ET:
Shortly after it was announced that Leah Pritchett and Dave Connolly would once again be racing this weekend, John Force, 16-time Funny Car champion and the winningest driver in NHRA history, exclusively told NBCSports.com  that he's glad to see the duo back racing just over one week after being released by Bob Vandergriff Racing.
"Losing those two cars and Vandergriff was a big thing," Force said. "He's a big name, his dad was there in the early days with me.
"Pruett worked hard to put together a sponsorship and team with Vandergriff and then Connolly coming from Pro Stock, they're both great drivers. We need them back."
Force admits that even though things have improved on the sponsorship level, "It is hard times still. A lot of kids will take a sponsorship, even if it's not enough to run a full season, to run for the championship and to try and find more money. It's a seven day a week job. We need them in the sport."
ORIGINAL STORY:
In just over a week's time, NHRA Top Fuel drivers Leah Pritchett and Dave Connolly have gone from unemployed to back on track.
Pritchett and Connolly began the season racing for Bob Vandergriff Jr. Racing. That is, until April 11, when Vandergriff shocked the drag racing world by immediately folding his entire racing operation and retiring from the sport.
That left Pritchett, who had won her first career Top Fuel race at Phoenix on Feb. 28, and Connolly, who moved to Top Fuel in 2015 after several years in Pro Stock, scrambling for rides.
MORE: NHRA stunner: Bob Vandergriff retires, closes team effective immediately
Fortunately for both drivers, they have new rides heading into this weekend's NHRA 4-Wide Nationals at zMAX Dragway.
Pritchett took to her web site to reveal the news that she will drive the Nitro Ninja Top Fuel dragster owned by the Lagana family in what for now is a one-time effort.
"It has been a whirlwind of a week, but continuation of my pursuit to compete in Top Fuel has been made possible by FireAde 2000 (primary sponsor), with joint efforts of longtime partners Boninfante Friction, Aerodine Composites (both associate sponsors), and of course the Lagana family.
"Having partners able to come in clutch at the last minute enables me to enter one more race at this time and will help me stay relevant in the NHRA Mello Yello Series Championship Point Standings.
"This will also buy me a bit more time to work on sufficient funding for the rest of the season to compete with a readily available team.
"Beyond working alongside and being close friends with the Laganas, I feel fortunate to bring the proper resources to their operation to compete at this event. Experiencing this portion of my journey with people I know, respect, and trust, makes this quick turnaround of a time, that much more rewarding."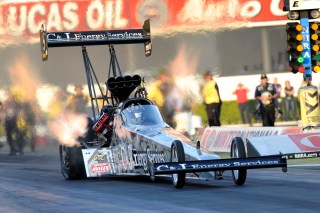 As for Connolly (photo above), he will return to his Sportsman roots and drive a Top Sportsman dragster in this weekend's 4-Wide Nationals, as well.
"If it has a steering wheel, the class title doesn't matter to me," Connolly told Bobby Bennett of CompetitionPlus.com. "It's a real good car that I turned into a Big Block Chevy. I was building this car to have as a bracket car toward the end of the year and with the turn of events I get to hit the ignition key on it a little bit sooner than I expected, but that's how it goes."
Connolly holds no grudge against Vandergriff for pulling the plug so abruptly.
"Every racer out there has dealt with difficult situations, and I've dealt with issues like this before pretty much from 2007 on," Connolly told Bennett. "I completely understand Bob's position and the choices that he has made. The guy has done a lot for me, so there are no hard feelings in regards to him at all. He gave me a great opportunity."
Like Pritchett, Connolly is racing his Sportsman car as a kind of fill-in while looking for a new full-time ride in Top Fuel or potentially any other class if an offer surfaces.
"Racing is what I have done the last 16 years of my life," Connolly told Bennett. "It's all I have known and done. I plan on staying involved whether it is tuning a car or driving a car, it doesn't matter to me.
"You never know what the future holds, and I'm just keeping all doors open at the moment. There's definitely a few irons in the fire, and we will see if any of them spark."
Follow @JerryBonkowski