The fourth season of the MotorSportsTalk original series "Ten with Townsend" – a 10-question Q&A with NBCSN IndyCar analyst Townsend Bell – is back this week following the Toyota Grand Prix of Long Beach, and heading into this weekend's Honda Indy Grand Prix of Alabama.
A full archive of past posts is linked here and we thank Townsend for his time and insights.
Here's the breakdown after Sunday's race, where Simon Pagenaud won on a controversial call of a warning only, and after T-Bell had his birthday on Tuesday:
—
Well, INDYCAR's new Race Control has had its first "in the crosshairs" moment of 2016. What did you make of the communication process about how the incident was being reviewed, and then the call of Official Warning only itself?
I wish every rule was matched with a singular absolute penalty. Would be easier for everyone including Race Control. For instance, speeding on pit lane: drive through. Non-negotiable…every time. As opposed to three possible different outcomes.
Purely in your opinion, do Warnings make sense to have in the Rulebook and Penalty Guidelines? Or do you think that opens it up to too much gray area, even inadvertently?
No. I think as a society we are accustomed to a more black/white policy. If you step out of bounds in the NFL it doesn't matter if you are 40 points down or tied, whether you stepped out by 1 inch or 3 feet. You simply stepped out of bounds, and that's all that matters.
We are now three races into the season. Have you been surprised or concerned with how the quality of racing has been thus far?
Long Beach was a little bland, but I thought St. Pete and PIR were pretty strong, entertaining races. Not every event is going to be sensational. That's OK with me. I still watch soccer and baseball.
What do you make of the whole Chevrolet vs. Honda dynamic thus far in 2016? Is it down to teams, engineering, setups or a combination?
I think it really looks close on street and road circuits. Remember too that Ganassi and Penske are always strong, so the fact that their six big guns are always up front should come as no surprise.
Simon Pagenaud's start – you had to figure he'd be better in year two with Penske, but did you think he'd start this much stronger?
I didn't think he was off much last year. Sometimes you just need the ball to roll your way and he has the momentum working for him now. Can't wait to see how the team dynamic evolves now with all four Penske drivers expecting to be the champion.
Since Scott Dixon has started stronger this year, does that make it an even scarier proposition for the second half of the season when Ganassi usually hits their second half stride?
I should think so.
Through three races, how do you rate the rookie class this year?
No big mistakes from any of them so far so that's impressive. One with Ganassi, One with Andretti, and I'd like to see what Conor Daly could do in a Penske.
Biggest surprise thus far through three races?
Robin Miller hasn't cursed on TV… yet.
As we head to Barber this week, how do you think the racing will change at all as we head to our first permanent road course event of the season?
Based on how close the times were at the test, it should be very tight again. The challenge comes when the reds go on for qualifying, because everyone is dealing with the adjustments on the fly having never tested them each weekend. It really favors the big multi-car teams and makes it very tough for Rahal.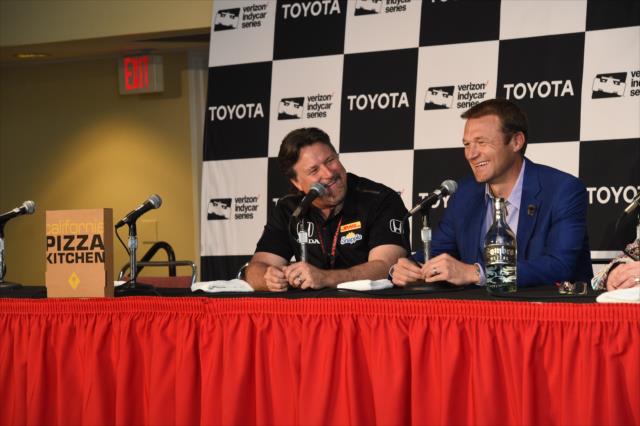 With your Indy 500 partner announcement out of the way, what kind of fun things can we expect from California Pizza Kitchen and Robert Graham NYC?
Wouldn't be any fun if we told you! Stay tuned…