In a sense, John Force will spend this weekend as "teammates" with Hendrick Motorsports drivers Dale Earnhardt Jr., Jimmie Johnson, Chase Elliott and Kasey Kahne.
No, the 16-time NHRA Funny Car champ hasn't suddenly switched to NASCAR racing.
But while the Sprint Cup guys are up the road this weekend at Richmond International Raceway, Force will also be sporting Hendrick colors at the NHRA 4-Wide Nationals in the heart of NASCAR country.
In addition to his regular full-time sponsorship with Peak Anti-Freeze, Lucas Oil, Chevrolet and others, Force will be sponsored for this race at zMAX Dragway in Charlotte, North Carolina, by Hendrick's City Chevrolet.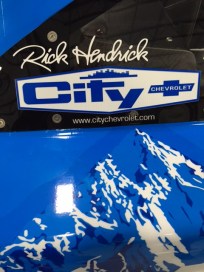 Hendrick began building his massive auto dealership and NASCAR racing team with City Chevrolet more than 30 years ago.
Force, his teammates and their overall entourage will also drive specially marked Chevrolet vehicles around Charlotte that are provided by City Chevrolet.
"Racing in Charlotte is a big deal for us," Force said in a media release. "That is NASCAR country and Bruton and Marcus Smith have built us the Bellagio of race tracks. We do a ton of sponsor work and media interviews so it is great to partner with Rick Hendrick and Hendrick City Chevrolet for Chevys to get around town."
Rick Hendrick was a drag racer early in his racing career before he moved to the NASCAR world. Force, meanwhile, is looking for his second win in the 4-Wide Nationals, having done so in 2010.
"We'll be racing four-wide so we will have about 40,000 horsepower of power on the track," Force said. "It will be awesome for the fans to see and I hope that come by our pits to say hello."
Force is coming off a whirlwind weekend at the Verizon IndyCar Series' Toyota Grand Prix of Long Beach. He spent the weekend not only watching son-in-law Graham Rahal race, but also spent time with a number of luminaries including Mario Andretti and Chip Ganassi.
MORE: NHRA Legend John Force Had A Busy Weekend At Long Beach
But ever the 24/7 workaholic, Force couldn't resist talking business with a number of people, including representatives from Peak, Chevrolet, Traxxas, Monster Energy and others.
"We spent the weekend at the Grand Prix taking care of people," Force told NBCSports.com. "It's kind of fun, you're working but you're not working. You don't have to drive a race car that day but I got excited because Graham Rahal was running in the race, Roger Penske was there, there were people from Chevrolet.
"But mainly, I got time to spend with people and get caught up on things, do your job and show them you (care). It's still hard times. We've got a fight ahead of us."
Even though it was an IndyCar race, Force went to Long Beach wearing his team uniform shirt, along with daughters Brittany and Courtney and son-in-law Robert Hight.
"I don't often get this opportunity," Force said. "It's just a great way to get caught up. Plus, it was a good way for us to get exposure. All of us are working it – and why not?"
When asked why he would wear his uniform shirt at a IndyCar race, Force once again showed why he's one of the greatest authors of one-liners in all of sports.
"If I go there with just a regular shirt on, I'll be honest: nobody knows me," he quipped. "But if I go there with my uniform shirt and Peak cap on (people flock around him). I go on the beach in Hawaii and I still wear my Peak cap."
John Force Racing comes into this weekend's race at Charlotte among the strongest and most competitive teams overall thus far this season.
Brittany Force leads the Top Fuel point standings, while affiliated driver Steve Torrence is in fourth in the Top Fuel ranks. Brittany Force and Torrence have both won a race thus far in the first five NHRA national events.
Hight, meanwhile, leads the Funny Car ranks, while John Force is right behind him in second place and Courtney Force is in sixth place.
"We're going into four-wide racing at Bruton Smith's Bellagio and it's going to be awesome," Force said. "We're going in with heart, knowing we're finally a contender. … We're back in business. We're going there to win the 4-Wide."
Follow @JerryBonkowski