BIRMINGHAM, Ala. – It's a busy Saturday here on track at Barber Motorsports Park for the Honda Indy Grand Prix of Alabama.
LIVE qualifying will be on NBCSN and NBC Sports Live Extra from 4 p.m. ET for the Verizon IndyCar Series, to see who sets the pole position.
Here are additional notes from the weekend and updates as they come in:
—
8:00 a.m. CT: Here are a couple additional notes from Firestone and the Pirelli World Challenge we didn't quite get to yesterday: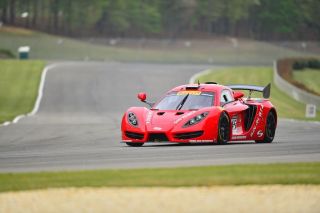 PWC has GT/GTA/GTC qualifying and the second GTS race up this morning before the first GT race at 1:45 p.m. CT. Some additional notes in the field:
Local driver John Allen, who races a Porsche Cayman in GTS, grew up in Selma, Ala. After majoring in electrical engineering at the University of Alabama, he signed up for an initial four-year commitment in the Air Force… which he then continued for another 17 years. Engineering has been his passion but he made his professional debut here last year.
A pair of notes on the two Racers Edge Motorsports drivers in the SIN R1 GT4s. Jade Buford, Friday's race winner, is a Porsche school instructor and has been coming to Barber for over ten years and has more experience at this facility than any other driver in the GTS field. Meanwhile teammate Scott Heckert, 22, in the second car, is a four-time winner in the NASCAR K&N Filters East Series including two victories at Watkins Glen. He's tested at Roebling Road before.
Teenagers racing here this weekend include newly named Ginetta factory driver Parker Chase (15 years old), Nathan Stacy (16), Harry Gottsacker (16), Austin Cindric (17) and Ernie Francis Jr. (18).
—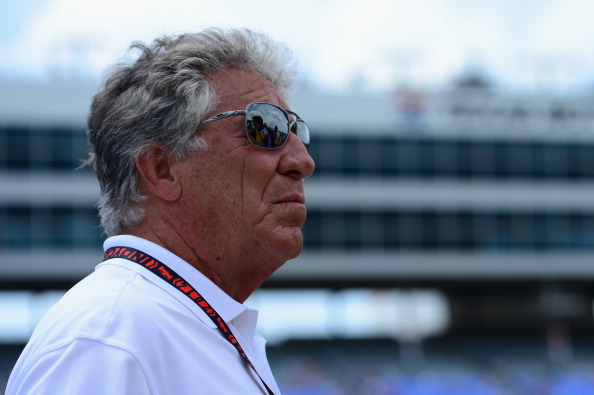 Firestone, meanwhile, has launched a cool sweepstakes. It's not very often you can say "I got to race Mario Andretti" unless you're a driver yourself, but Firestone is giving fans the opportunity to say so.
From a Firestone pre-race release:
"Firestone is giving fans an opportunity to compete against racing legend Mario Andretti in the "Race Andretti" sweepstakes. The sweepstakes invites fans to race Andretti while performing every day, household tasks. The online sweepstakes will result in one grand prize winner receiving an all-expenses paid trip for two people to the 100thh Running of the Indianapolis 500. The grand prize winner also will have an opportunity to meet Andretti at IMS.
"The first challenge is to see how quickly participants can peel an orange. A new challenge will be revealed each week through May 15. An additional, special challenge will be launched on May 15, offering participants the chance to win a milk bottle autographed by Andretti and the winning driver of the 2016 Indy 500.
"To enter the sweepstakes, fans must visit www.RaceAndretti.com to register and access Andretti's challenge videos before posting their own videos to the site or fan post videos to Twitter, using #RaceAndrettiSweepstakes."
—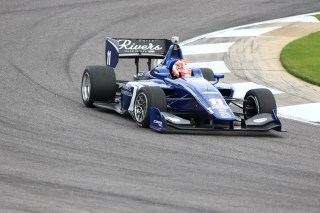 8:45 a.m. CT: The first on-track session of the morning was the Indy Lights Presented by Cooper Tires qualifying (races air on Sunday at 2 p.m. ET on NBCSN as a lead-in to the Verizon IndyCar Series' Honda Indy Grand Prix of Alabama, LIVE at 3 p.m. ET).
Carlin's Ed Jones posted a late flier of 1:12.6738 in the No. 11 Dallara IL-15 Mazda to edge Juncos Racing rookie Zachary Claman De Melo, at 1:12.8472.
Jones scored three poles in 2015 but this marks his first P1 appearance in 2016; he posted his first podium at Phoenix, when he finished second behind Juncos's Kyle Kaiser, the series points leader. De Melo, meanwhile, has his best career start after lining up seventh in each of the last two races.
—
9:30 a.m. CT: Oriol Servia has been confirmed for the third Schmidt Peterson Motorsports entry at the 100th Indianapolis 500; that's been broken out into a separate post with an as-it-stands entry list.
—
Pirelli World Challenge GT/GTA/GTC qualifying is complete with Michael Cooper scoring his first GT class pole, unofficially, with a best time of 1:22.748 in the No. 8 Cadillac Racing Cadillac ATS-V.R. Long Beach winner Alvaro Parente starts second in the No. 9 K-PAX Racing McLaren 650S GT3 with Michael Lewis, Johnny O'Connell and Bryan Heitkotter completing the top five.
Martin Fuentes (GTA) and Alec Udell (GTC) have the other two class poles. The first race for them this weekend is at 1:45 p.m. CT later today, and the second GTS race is set to begin shortly.
—
11:00 a.m. CT: A post-script from Indy Lights qualifying, where De Melo got disqualified following post-qualifying technical inspection.
It moves Andretti Autosport's Dean Stoneman into second on the grid and RC Enerson into third, with Shelby Blackstock and Santiago Urrutia moving up a spot as well.
—
The Pirelli World Challenge GTS race was a weird one. Jade Buford stalled off the line in his No. 45 Racers Edge Motorsports SIN R1 GT4 from pole, but the remainder of the 22-car field managed to avoid him – a particular shoutout goes to Scott Dollahite in his No. 46 SDR Motorsports Lotus Evora who swerved left from P3 on the grid.
The race went to a full-course caution immediately while Buford restarted, but was able to stay on the lead lap.
Lawson Aschenbach led the way before Scott Heckert, in the No. 54 Racers Edge SIN, made his way past.
Heckert led the majority of the race before a spin on the Turns 10 and 11 chicane from the lead. Amazingly, he continued without being hit by anyone – although Buford, who'd moved through the field, then moved back into the lead.
Parker Chase then made a pass of Dollahite for second at Turn 5 late in the race in his Ginetta GT4; Aschenbach hung on as long as he could but told NBC Sports post-race the challenge is that the wear of the Pirellis on the Blackdog Speed Shop Chevrolet Camaro Z/28.R is too severe over the course of a run, compared to the lighter GT4-spec cars.
Alas, Buford's got a weekend sweep in the books with Chase and Dollahite making it three different manufacturers (SIN, Ginetta, Lotus) in the top three. Aschenbach was fourth with Heckert holding off Harry Gottsacker in another Ginetta for fifth.
—
1:45 p.m. CT: IndyCar third practice is in the books and there remains a possibility of an 18th Honda becoming available for the month of May. Those links are in the previous sentence.
In the most recent on-track activity, Ed Jones has bagged the first Indy Lights Presented by Cooper Tires race win of the weekend, keeping his cool at the front of the field while there was a fair bit of chaos behind him.
With De Melo DQ'd and Stoneman having an electrical issue sideline his progress, RC Enerson moved into second off the start with Scott Hargrove in third. Hargrove only took that position after Santiago Urrutia knocked into Felix Rosenqvist, and sent the Swede into the gravel at Turn 1.
With all that out of the way, Felix Serralles, who'd started 11th, and Zach Veach, who'd started sixth, moved into second and third respectively, where they'd stay the remainder of the race.
Serralles pushed but was unable to pass Jones, who scored his fourth career series victory and first since Long Beach last year. After three street course wins this is Jones' first win on a permanent road course.
Behind the podium, Shelby Blackstock posted a season-best fourth place with De Melo turning in quite a drive from last up to fifth.
Points leader Kyle Kaiser endured a fraught day with engine issues resigning him to 15th.
Unofficially, Serralles takes a one-point lead over Kaiser (88-87) with Jones now up to third on 82 points.
—
6:00 p.m. CT: Lots to catch up on here, so let's go in chronological order:
In the first Pirelli World Challenge GT/GTA/GTC race of the weekend, Alvaro Parente controlled the field in the No. 9 K-PAX Racing McLaren 650S GT3 from pole over the Cadillac Racing Cadillac ATS-V.R teammates, Michael Cooper and Johnny O'Connell, respectively. After Parente won following a post-race penalty for O'Connell in Long Beach, this marked Parente's first win on the road.
"It looked a lot calmer in the race than it was inside my car as this was a very difficult race.  Early in the race I knew I would have trouble with my rear tires.  I was fighting with my car more than I wanted to.  I had to drive hard but I didn't want the rear tires to go away.  I knew that the smallest mistake and Michael Cooper would get by me. And Johnny was right there too," said the Portuguese factory ace.
Meanwhile Martin Fuentes won GTA for the sixth time in as many races in his No. 07 Scuderia Corsa Ferrari 458 GT3 Italia, and Alec Udell snapped Sloan Urry's three-race win streak in GTC in his No. 17 GMG Racing Porsche 911 GT3 Cup. It's Udell's second win of the year, same as Parente's.
Things weren't all brilliant for K-PAX however, with the K-PAX and Flying Lizard Motorsports crew diagnosing that Colin Thompson's No. 13 McLaren was damaged too much to repair on site from an accident at Turn 3 and 4. It'll mean Thompson is out of action for Sunday and it's yet another wrecked McLaren within PWC; Austin Cindric had heavy shunts at both St. Petersburg and Long Beach, through no fault of his own, and GAINSCO/Bob Stallings Racing's Jon Fogarty also had a heavy accident at Long Beach.
—
We broke Verizon IndyCar Series qualifying out into their own posts. Here they are, linked below:
—
Two more Mazda Road to Indy races have taken place after IndyCar qualifying.
In the first of two Pro Mazda Championship Presented by Cooper Tires races, Team Pelfrey's Pato O'Ward took the win after a restart, making a move on polesitter and erstwhile dominant driver Aaron Telitz, who'd led prior. A wreck for Juncos Racing's Jake Parsons brought the field closer together; Parsons' teammate Garett Grist finished third.
In the second Cooper Tires USF2000 Championship Powered by Mazda race of the weekend, there were a number of incidents – all of which occurred behind race winner Parker Thompson, who completed a weekend sweep and is first to win multiple races this year with Cape Motorsports with Wayne Taylor Racing. Luke Gabin (JAY Motorsports) was second with Robert Megennis (Team Pelfrey) making a late-race move of Anthony Martin (Cape) for the final podium position. Other contenders such as Jordan Lloyd and Victor Franzoni had issues during the race.
I'd refer you to a detailed look at each three of these races via TSO Ladder, the ladder arm of Trackside Online's coverage, for more information on these events. We'll have more Mazda Road to Indy coverage to come next week and in the days to come, leading into the month of May.