BIRMINGHAM, Ala. – Considering Graham Rahal finished second and Conor Daly in 20th, you wouldn't think their races really would have intersected Sunday in the Honda Indy Grand Prix of Alabama, Round 4 of the Verizon IndyCar Series season.
However, they did, because Daly ran the middle portion of the race trying to remain on the lead lap, but was struggling for pace.
The No. 18 Jonathan Byrd's Hospitality Honda ran ahead of race leader Simon Pagenaud in the No. 22 PPG Automotive Refinishes Team Penske Chevrolet, teammate Will Power in the No. 12 Verizon Team Penske Chevrolet and Rahal, in the No. 15 Rahal Letterman Lanigan Racing Honda.
Daly later took to social media to defend himself after the race.
Here's Daly's feed in the immediate aftermath of the race:
Meanwhile, Rahal's dad and team co-owner Bobby Rahal responded: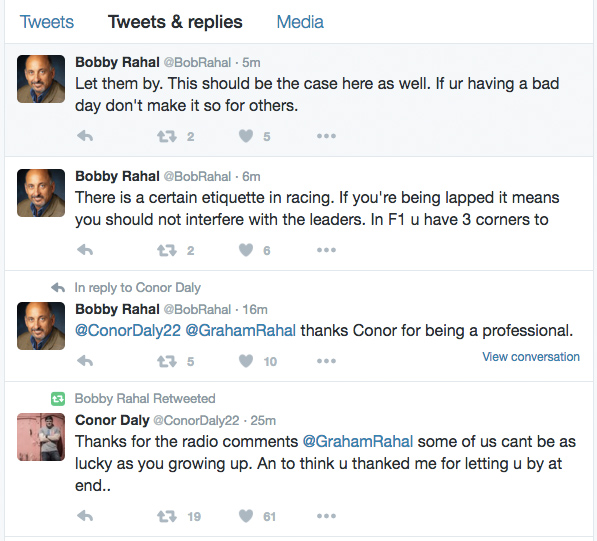 I spoke to Daly, post-race, and here was his thoughts on the day:
"We shouldn't have been in that position in the first place, that's all, we shoot ourselves in the foot," Daly told NBC Sports. "I don't know what the heck was going on at the start here (with several car accordion effect accident).
"Absolutely, the time it actually went green, every boxed up and I had to cut left or I would have plowed into the guys in front of me. All of us backed up about half-way past the start zone, so they've got to re-think places like this because we saw one start, and we've got two cars crashing. And the next start the same thing would have happened.
"That killed us, but we were still in a decent position, and we just lost it in the pits, so it was a shame after that."
"I couldn't let anyone by. We had to hope for a yellow. If they were going to pass me, I would have let them by.  I think it's so hard to pass here anyway that it wasn't costing the guys behind us anyway. Our car wasn't that bad."
Race winner Simon Pagenaud, who was immediately behind Daly for most of the middle stint, defended Daly's right to remain on the lead lap.
"It's a judgment call from drivers, but he's just playing by the rules. That's his right," Pagenaud told NBC Sports during the post-race press conference.
"I used to get upset about it. But those are the rules. If there was a yellow, he'd be back with a chance to do better.
"It was frustrating, absolutely. But when that happened, I tried to keep my tires underneath me.
"It's a shame we don't have the lucky dog… we could race and there could be more respect.
"He did everything by the rules, and I have nothing to be upset about."
And as it later turned out, Rahal's radio comments were meant in jest. Rahal took to Twitter later Sunday to sort it out: