Typically, when a rookie has his first IndyCar test, it's usually only big news to him, his team and his family.
But when your grandfather was a two-time Formula One champion and your father was a noted racer himself, it's not surprising that Matthew Brabham's first IndyCar test with his new team Tuesday drew great attention and interest.
Driving one of Sebastien Bourdais' chassis, Brabham was at Sebring International Raceway Tuesday to test with PIRTEK Team Murray, which has a technical alliance with KVSH Racing, Bourdais' full-time team.
Brabham's car wears the No. 61, which isaan homage to the year (1961) his grandfather began the shift to rear-engine power at Indianapolis. The younger Brabham completed 134 laps around the 1.67-mile road course
"What an awesome day," Brabham said in a media release. "To arrive at the track at 7 am this morning and see the car in PIRTEK Team Murray branding really brought home that this whole program is real.
"These cars are obviously a lot more physical to drive than open wheels cars I have been used to in the past and it was a typical hot Florida day, but apart from being a little stiff in the neck, which is to be expected, I feel great."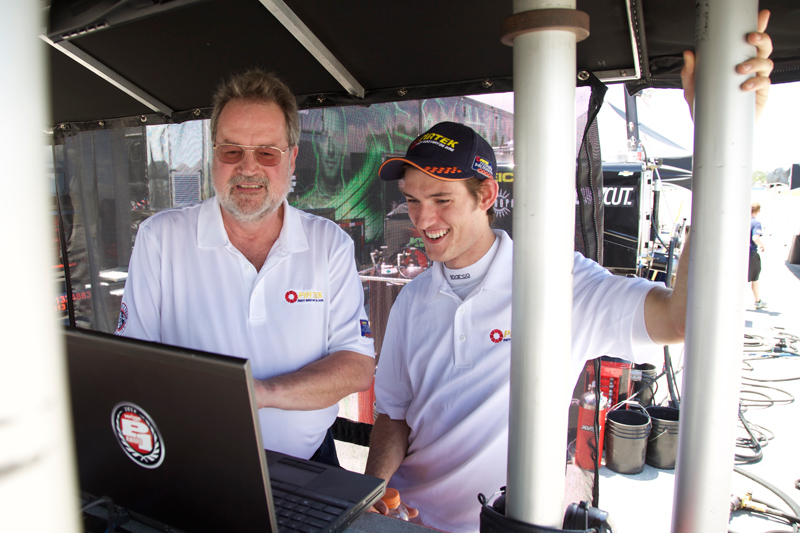 Engineer Andy Brown praised Brabham's skills in Tuesday's test.
"You would not have believed he has driven these cars as little as he has," Brown said. "His feedback has been detailed and very clear and precise, which is only going to serve us well and place us in good stead as we move forward into the Grand Prix of Indianapolis and the 500.
"He has hardly put a foot wrong all day and we have made some really good progress, so I am looking forward to the next couple of events. Inexperience can catch you out on days like today, but he seems to have an old head on young shoulders.
"I think he is one of those exceptional talents whose inexperience may not work against him – and may actually help him because he has that youthful enthusiasm. He just wants to get after it and go faster. We certainly have no trouble getting him in the car or keeping him in the car. He wants to be out there."
Not only was Tuesday's test special for Brabham, it also was for Brown, a Indy 500 veteran.
"Adding the Brabham name to my CV (resume) is very much a privilege and honor and then there is the 100th Indy 500 itself," Brown said. "The race has been a big part of my life since I went there for the first time and won it in 1992.
"I have been back virtually every year since and to be there this year with a Brabham really is the icing on the cake."
Brabham made a seat fit on Monday, and has previously tested with Andretti Autosport, both at Sonoma and Iowa last year.
"Matt did an exceptionally professional job and the support from the KVSH Racing guys was first class," PIRTEK Team Murray owner Brett "Crusher" Murray. "I was delighted with how quickly Matt and Andy Brown became a cohesive unit. It was like they have been working together for years.
"To get 134 laps of running, produce some good speed and come away without a scratch on the car really is close to a perfect result. It was great to have Matt's dad Geoff looking on from the pit lane and I am sure Sir Jack (Brabham) had a smile on his face somewhere."
The younger Brabham's test was in preparation for his IndyCar debut – at Indianapolis Motor Speedway, arguably the toughest place on earth to start the next chapter of your racing career – his first career IndyCar start in next month's Angie's List Grand Prix of Indianapolis in a couple of weeks, followed two weeks later with his hope of qualifying for the 100th running of the Indianapolis 500.
Brabham finished fourth as a rookie in the Indy Lights Series in 2014, after winning the Pro Mazda (2013) and USF2000 (2012) titles the two years previous. He had high hopes for 2015, but funding kept him to just three starts in IndyCar's junior circuit.
Now he's ready for the biggest race of his career to date.
Matthew's grandfather, Sir Jack Brabham, made four starts in the Indianapolis 500, with a best finish of ninth in his rookie start there in 1961.
Matthew's father, Geoff Brabham, made 10 starts in the Indy 500, with his two best finishes being a fifth place showing in his rookie race there in 1981, and a career-best fourth in 1983.
Matthew is hoping to become only the third third-generation driver to race at Indianapolis, with the Brabham family joining the Andretti and Vukovich name as a third-generation driver competing there.
Tuesday's test also had some strong sentiment to it. Sebring is where Matthew won his first race in North America in 2012 in USF2000 competition.
It's also the same track where his grandfather pushed his car over the finish line to win the 1959 Formula One World Championship — the first of what would be three for the late Sir Jack — as well as where father Geoff and uncle David enjoyed sports car racing success in their respective careers, as well.
"I have always liked Sebring and obviously my family has some great history here, so to come through the day without any issues and 134 laps under my belt ticks a big box for us.
"I wish I was doing it every day, but I have to wait a couple of weeks before I am back in the car and I am already counting down the days."
Check out some posts from social media on Brabham's big day on Tuesday: