Richie Crampton may have to check himself this weekend. Instead of saying "G'day, Mate," he'll have to fall back upon his second language and say, "Howdy, pardner!"
The Adelaide, South Australia native will be deep in the heart of Texas for the 29th NHRA SpringNationals at Royal Purple Raceway in the Houston suburb of Baytown, Texas.
Ranked ninth in the NHRA Top Fuel point standings, Crampton enters this weekend's racing action looking to capitalize on past success both he and teammate Morgan Lucas have both had in the Lone Star State.
"I won in Texas last year (at the Fall Nationals in Dallas) and Morgan won in Houston in 2012, so we have good data in the books to work from," Crampton said in a media release. "Usually, the Houston race swings very heavily on the weather.
"The track is just a few feet above sea level, so it has the potential to be very fast with all that oxygen available. At the same time, it can be humid and wet, which presents other issues. We have to be ready for whatever we get."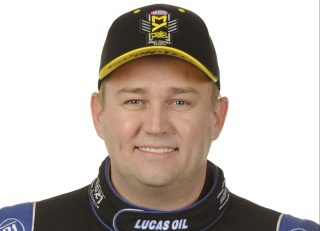 In many ways, racing in Texas reminds Crampton of his homeland. The Australian Outback looks very similar to the wide open spaces in Texas, the people in both places are friendly and they both love racing.
"It definitely feels a lot like home whenever we go to Texas," Crampton said. "The weather, the terrain, the people, the food … just the entire attitude is so much like Australia. The first time I ever went there it was one of the first things that struck me.
"When George W. Bush was president, he came to Australia for a visit with Prime Minister John Howard and he said over and over on TV how much Texas and Australia were the same. I know exactly what he meant.
"The fans at this race have always been very kind and welcoming to us, and that's the Texas friendliness we've come to expect. I can't wait for this year's race to start."
Admittedly, it's been a bit rough this season on Crampton, a seven-time national event winner, and especially his teammate and team owner, Lucas. While Crampton is in the top-10, he's nearly 200 points behind series leader Brittany Force.
And Lucas, who won last year at the prestigious U.S. Nationals, sits 15th in the rankings, 344 points behind Force.
Still, Crampton is optimistic about this weekend, especially after last weekend's NHRA 4-Wide Nationals.
"We really got onto something promising this past weekend in Charlotte, and the car responded well to everything Aaron (Brooks, crew chief) was trying to do," Crampton said. "You don't make big changes with nitro cars.
"You have to massage what you have, be patient, and take the incremental gains you make. We feel like we've taken a bunch of steps forward in the last few races."
Follow @JerryBonkowski