BARCELONA – Since making the switch to Honda power units for the 2015 Formula 1 season, McLaren has been going through a prolonged period of rebuilding and revival.
With Honda arriving into the turbo V6 engine era one year after rival manufacturers Ferrari, Renault and Mercedes, it has been an uphill struggle to close the gap.
However, the early signs in 2016 have been positive for McLaren. Debutant teammate Stoffel Vandoorne charged into the points in his one-off appearance for the team, while Jenson Button and Fernando Alonso followed with top 10s of their own last time out in Russia.
All hands have been on deck to rekindle McLaren's glory years – and the same goes for its fuel and lubricant supplier, Exxon Mobil, which owns the Mobil 1 and Esso brands.
We were given the chance to go behind the scenes with Mobil 1 and McLaren during pre-season testing in Barcelona, and with this weekend's Spanish Grand Prix on the horizon, both parties will be seeing how things have developed in the past couple of months.
WHERE EVERY TENTH COUNTS

Fuel and lubricants form one of the fiercest battlegrounds in F1. While it may seem like a simple addendum to the ongoing fight between teams in areas such as aerodynamics and engine design, it is in fact worth a significant amount of time. In a sport where every tenth counts, the role of the fuel and lubricant supplier becomes all the more important.
"We speak about the best drivers, the best cars, the best engine, but also the best fuel and the best lubricants and the best partners, let's say technically involved in the performance of the car," McLaren racing director Eric Boullier explains.
"We need everything to be the best of the best. And you cannot move one without the other one. If I take the example of the engine, the combustion model designed by Honda needs to fit with a fuel that is developed by Esso.
"We have talked to Mobil 1 to say we need now to run the gearbox at this temperature, because that means they have to design a special oil which is capable of keeping the same quality for friction at higher levels.
"Everywhere you have to speak to all the partners and make sure they reach and achieve the targets you impose on yourself."
The targets may be ambitious, but they are being met by Mobil 1 and Esso. When we arrived in Barcelona, there was a hive of excitement around the team. A new fuel was debuting on the car that weekend following a major breakthrough, with significant gains being made over the winter.
"A lot of hard work goes into this so when you do make a breakthrough which we have done and make a significant step forward, it's really exciting," Mobil 1 global motorsport technology manager Bruce Crawley says.
"For me, to bring a new product to the track, it doesn't get better than that and to know the performance benefit you've delivered. So yes, it's an exciting time.
"The results, the car performance wasn't up to it last year. However, we were working away really hard. We brought quite a few improvements in last year, and we've got more to come this year as well. It's great to be involved at the front end of a new engineering challenge. That gets me out of bed in the morning."
In light of its barren run of form, McLaren has faced the challenge of overhauling its car and making widespread changes to its management.
Jost Capito is set to join later this year from Volkswagen, following in Boullier's footsteps. Meanwhile the likes of driver Kevin Magnussen, team principal Martin Whitmarsh and ex-Honda motorsport boss Yasuhisa Arai have all left in the past couple of years.
For Mobil 1, the push for improvement is never-ending – particularly in the early stages of a new set of technical regulations, with the next set due to arrive in 2017.
"There's some adaptation going on and fine tuning in certain ares of performance, but there's some fundamental stuff going on as well which is a serious change in the chemistry of the products that you're developing," Crawley says.
"I think at the early stage of any new regulation change, there's more low hanging fruit generally than there is as you progress through. So we actually quite like regulation changes because it gives us more opportunity to find performance gains and it's a race, it's a development race to find those quicker than other people are doing it. It's quite exciting from that point of view.
"Last year, we have several development fuels which we took to the track which were superseded before we ran them. We've got six components in this car of several thousands, so if you just look at our prototyping, it's a moving target.
"That's what's so exciting about it as well, it never stands still. You're always thinking 'this has changed, now what can I do?' Somebody was asking about the influence of the super-soft tires. You're always looking to see what influence that has. Is that going to put more load through the gearbox? What will happen? It keeps you thinking all the time, have I missed something? It never stops."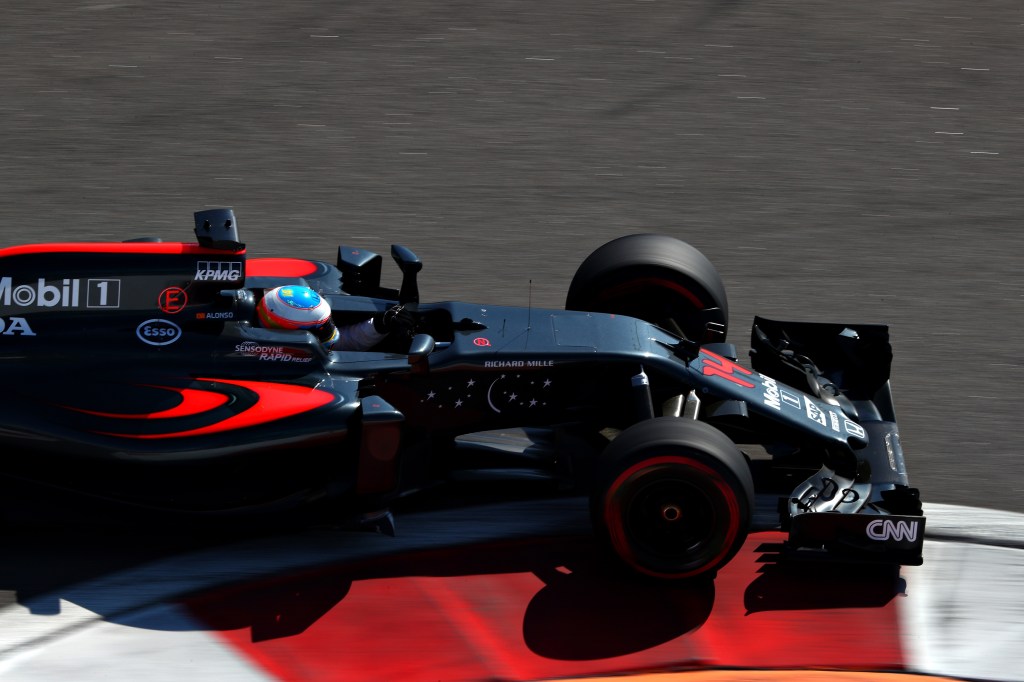 KEY TEAM MEMBERS
While McLaren and Mobil 1 may be separate companies, 20 years of partnership means that they are very much integrated when it comes to racing on-track.
The McLaren garage is, much like the team's corporate image, spick and span. Monitors cover the garage providing up-to-date information on the car in which Jenson Button sits as mechanics set to work around him. Everyone has a job to do: and the same goes for the Mobil 1 technicians that travel with the team to each race.
Tucked away at the back of the garage is a small alcove featuring more monitors and a fuel analysis machine. At every possible opportunity, a small sample of fuel is taken from the car which is then placed into a small cylinder and put into the machine. A few moments of whirring later, and the computer next to it comes alive with data. Every possible element is measured, offering live information that can be crucial to the team.
An example came in the first week of testing in Barcelona. After the driver reported a problem, McLaren called him in and set to work to find the issue. Before its mechanics could, the Mobil 1 team had taken a fuel sample and found an unusually high level of zinc in the readings, signifying that there had been a water leak and allowing the team to take appropriate steps to remedy it. The help offered by the traveling Mobil 1 office is invaluable.
But just as efforts are made in the short-term to flag up any issues on-track and bring new designs to the table, an eye remains on the future. 2017 is set to herald a sizeable overhaul of F1's technical regulations, unsurprisingly making it a significant focus even at this early stage.
"We've already got the plan for the 2017 engine under discussion, so that's kicking off fairly soon and we're doing our pre-planning for that," Crawley explains.
"We're already doing our modelling for 2017 engine. The collaboration actually that we have got going with Honda is at a level in terms of combustion development that I think is really going to push us through into a new era actually.
"From a fuel and from an oil point of view, so Esso synergy and Mobil 1, I think 2017 we're going to have a stand-out engine. I think we've got a pretty good engine this year as well, but 2017 there's more to come."
Working with Honda was a big shift for Mobil 1 to make after 20 years working with Mercedes. The famed McLaren-Mercedes partnership hit murky water when the German marque returned to the sport with its own works team that has since enjoyed considerable success – something Crawley interestingly believes his team indirectly contributed to.
"I would argue that we have helped Mercedes develop the engine that they have got in their car today, because we worked for them for such a long period of time, if you look at the transfer of technology and ideas that go forward," Crawley says.
"So in some respects we've done an own goal, we've been working with a company for that length of time and they've developed a very strong package. What happened in 2014… I'd rather not say anything more about that. We ran through the program in 2014 with them."
Given Mercedes' work with Malaysian supplier Petronas, it was inevitable that putting a rival's products into the same power unit would not yield the same kind of results. Given that Honda supplies McLaren and McLaren alone, it gives Mobil 1 and Esso greater control and more of a chance to refine its products.
"Much better to [be Honda's only supplier] because if you've got two suppliers, then potentially there might be a difference between one product and another," Crawley coyly says.
"Potentially there might be… There may be other things that might be going on there that might make you think that it is the product, but there's something else going on. I'll say no more!!"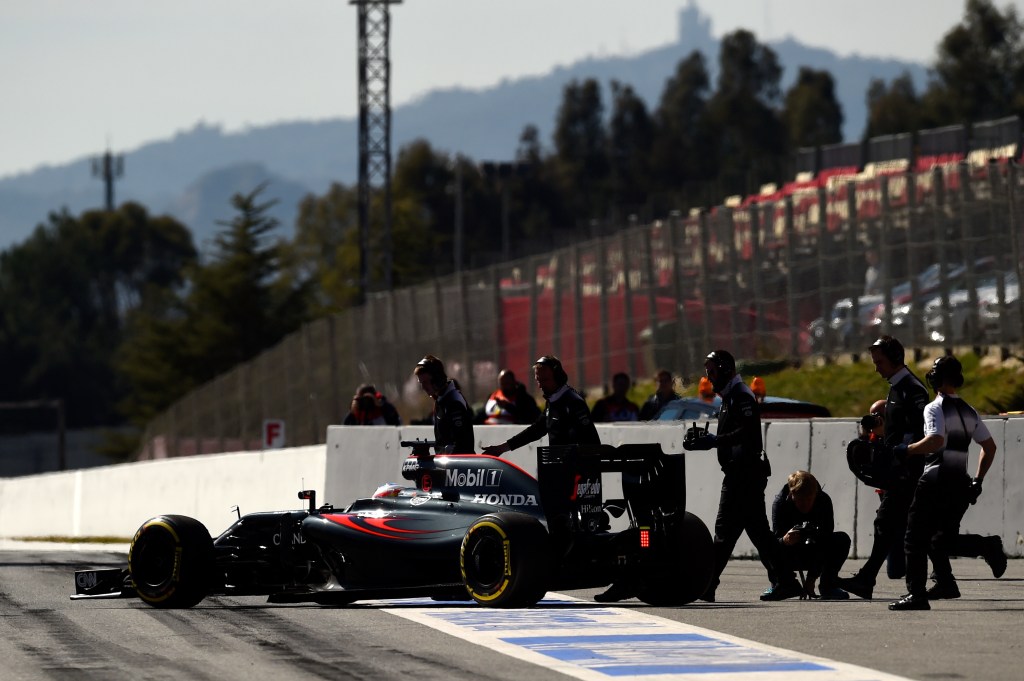 FROM TRACK TO ROAD AND BACK AGAIN
Road relevance is a battle that motorsport has always and will always be fighting. The old mantra of 'win on Sunday, sell on Monday' is becoming increasingly outdated, particularly in F1. With series such as the FIA World Endurance Championship and Formula E pushing more tech that can be found in road cars both now and in the future, is F1 no longer road relevant?
When it comes to fuel and lubricants, the answer is an emphatic no. As Crawley explains, many of the products – three of the six supplied to McLaren – that Mobil 1 produces are identical to what you can pick up at your local gas station and put in your own car. Others are modified for racing, but aren't drastic deviations from the original consumer product.
"For us with our Mobil 1 racing oil we have in this Honda engine, the core technology that we're using is exactly the same as the core technology in your cars and you're purchasing off the shelf," Crawley explains. "That's very important for us, to maintain that linkage between what we're doing in consumer products and in racing.
"Same with the fuel as well. The fuel is not something that you're going to get when you fill up at your local petrol station at the pump. The compounds that we're using in that fuel are the same compounds and molecules that you'll find in that fuel. We're tailoring the composition of the fuel to get more performance out of it.
"The way that we operate is to customize the product for the particular application. If there's an advantage in customising a specific product for gearbox, engine, hydraulic system, wheel bearings, any of the moving parts in the car, then we'll customise to get a performance gain.
"You'll see in the products we've got in the car, they're just commercial off the shelf products. They're actually good enough and you can't beat the performance of them. If we could, we would, but if you look at the engine and the gearbox for example, we've got bespoke products.
"That then also gives us understanding in terms of 'if we can change the composition of the fuel in this way, we can get a performance gain'. So that's very interesting in terms of looking at what we should be doing for a consumer product in the future. How can we improve a consumer product from the understanding, the learning that we've got from racing. We've got some interesting ideas going on right there as well right now.
"So I think the more road relevant you can make F1, I think the better. The automotivee industry and society in general is looking for cars that are more fuel efficient. That's what we're playing with at the moment in F1, so exciting times."
Can F1 do more to promote its road relevance and the technology that it is advancing?
"I agree with that," Crawley asserts. "I think it's a bit of a balance because it is a sport, and there's entertainment involved in it as well, but in addition to that I think the sport can actually develop technology which has road relevance and has done in the past.
"I think the regulations should encourage that, clearly there's some sort of financial-economic issues around that as well but that needs to be managed. But F1 has a role in terms of developing efficient powertrains and you can still have good racing with efficient powertrains, so I agree with your statement."
THE DRIVER'S VIEW
The importance of the fuel and lubricant supplier's role is not lost on the drivers, either. 2009 world champion Jenson Button has enjoyed significant highs and – more recently – lows with McLaren, but all the while, the partnership with Mobil 1 has continued to develop and flourish.
"Last year was very tough for us as a whole team, but the positive is that it was a new partnership, so we knew it was going to be very difficult," Button says.
"You can see light, you can see the future is going to be bright, but there's a lot of pain still before we get there. You've got two world champions in the team that are used to winning, we're used to competing at the front, and we're not right now, and that's tough but also, on the positive side, we have a lot of experience. We've been in difficult situations before so we give as much feedback as we can to the team to develop. It's definitely helping.
"I think the partnership with McLaren-Honda being so close, and with Mobil 1 and Esso and Honda being so close is very important to the development. One for reliability, but also because of outright power that we're getting from the partnership of Honda and Esso.
"With Mobil 1, there's so much analysis done at the circuit in terms of the reliability and trying to find problems with the power unit and with the gearbox, it's really helping us improve throughout the season as well and look after reliability, because we're limited to five engines over a race season now, which is very limited compared to what we used last year.
"So it's all going in the right direction, but people always expect more. They want it now, and it just doesn't happen like that when you're racing in the most competitive motorsport in the world against some very, very experienced individuals."
Quite how long it is until the glory days return for McLaren remains uncertain, but one thing is for sure: when they do, Mobil 1 and Esso will have played an integral part in bringing them back.