INDIANAPOLIS – Opening day of practice for the 100th Indianapolis 500 presented by PennGrade Motor Oil takes place today, in two phases.
First up is the rookie orientation and refresher programs, which run from 12 to 2 p.m.
The five rookies entered – Max Chilton and Alexander Rossi plus Spencer Pigot, Matthew Brabham and Stefan Wilson – will have to complete three phases of running once on track:
10 laps of 210 to 215 mph
15 laps of 215 to 220 mph
15-plus laps of 220-plus mph
Others listed by INDYCAR who are eligible to participate in the refresher program includes those remaining non full-time drivers. Those seven drivers include Townsend Bell, Bryan Clauson, JR Hildebrand, Sage Karam, Buddy Lazier, Oriol Servia and Alex Tagliani.
Servia, Tagliani and Hildebrand have a start apiece this year while the other four drivers will make their first laps in an IndyCar since last May.
Practice for all cars runs from 2 to 6 p.m. ET.
It's already warmed up from the high 30s ambient temperature to the low 50s, with a projected high of 64 degrees ambient this afternoon.
Running updates will follow in this post depending on how the day progresses.
—
10:50 a.m.: One new number and one new livery to report on, as well as a formal unveil of the Indianapolis 500 entry list.
Formal confirmation has come of Charlie Kimball's new number, 42, for the rest of the month of May. Kimball was joined by Kyle Larson, who among other things teased Chip Ganassi about wanting to run the Indianapolis 500 someday but said he'd have needed Ganassi to ask about it first. More here from NASCAR TALK.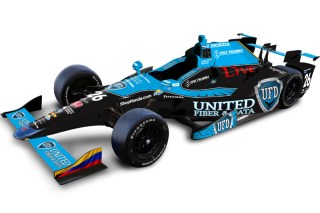 Meanwhile Carlos Munoz is another in the new livery department, with United Fiber & Data set to serve as primary sponsor of his No. 26 Honda at Andretti Autosport. From a release: "Music and fast cars go hand-in-hand and nothing says rock n' roll more than the Indy 500," said multi-platinum guitarist Chad Taylor of the band LIVE. "It's going to be fun to see what Carlos can do, he's proven to be a strong competitor on ovals, and having already won an Indy 500 ring with Ryan Hunter Reay… I'm thirsty for some more milk. No doubt this sport is addictive and having the band LIVE on the car is an honor."
—
2:10 p.m.: The first couple hours of practice are over, with rookie orientation and refresher programs underway and 505 laps completed.
However the original target speeds for ROP would be lowered: they're now 10 laps in the range of 205-210 mph, 15 laps between 210-215 mph and 15 laps at 215-plus mph.
Chilton, Rossi and Pigot completed all three phases of ROP, with Wilson and Brabham completing the first two phases.
Brabham's No. 61 PIRTEK Team Murray Chevrolet was delayed going out until 90 minutes into the session with the crew back working on the car in Gasoline Alley. The time was extended to allow Brabham to complete the second phase.
Townsend Bell in the No. 29 California Pizza Kitchen/Robert Graham Honda for Andretti Autosport posted the best speed of the first two hours at 224.179 mph.
Others besides Bell who participated in the refresher portion of the program included Bryan Clauson, Sage Karam, JR Hildebrand and Oriol Servia.
Seven cars (Carlos Munoz, Ed Carpenter, Josef Newgarden, Tony Kanaan, Charlie Kimball, Will Power, Simon Pagenaud) went out in the opening five minutes of the session with installation laps.
Helio Castroneves attempted an installation lap of his own but slowed on the front straight, which brought out the only five minutes of yellow flag time during the session.
Here were speeds after the first two hours of practice.