INDIANAPOLIS – Just like at April's test, Marco Andretti led the timesheets in the first day of official practice for the 100th Indianapolis 500 presented by PennGrade Motor Oil.
And just like at April's test, determining what Monday's speeds actually mean after four hours of running – most of it in groups in the final hour and a half of the session – still remains to be seen.
Andretti led the speed charts in his No. 27 Snapple Honda, as part of an Andretti Autosport top four sweep. His best speed was 228.976 mph around the 2.5-mile Indianapolis Motor Speedway.
Teammates Carlos Munoz, Ryan Hunter-Reay and rookie Alexander Rossi followed in second through fourth, with the top three still in the 228-mph range and Rossi highest in the 226-mph bracket in his No. 98 Castrol Edge/Curb Honda. Rossi was impressed with the facility in his first day of running on the oval.
Munoz debuted United Fiber & Data blue and black colors on his No. 26 Honda while Hunter-Reay was solid as ever in his No. 28 DHL Honda.
Scott Dixon completed the top five overall on the day in the No. 9 Target Chip Ganassi Racing Chevrolet. Dixon, the defending race polesitter, set a best speed of 226.835 – same as Rossi did.
It was the fifth of the Andretti Autosport entries, however, in NBCSN IndyCar analyst Townsend Bell that led the no-tow speed charts, a greater indicator of outright single-lap pace before the boost gets turned up later this week. Bell was sixth on the overall charts at 226.724 mph and his best non-tow lap was 223.940 mph.
Andretti Autosport was one to four on those charts as well, with Andretti, Hunter-Reay and Munoz all north of 223 mph.
Andretti downplayed the speeds themselves during the post-practice press conference, noting that there's not a ton to read into it, more to gain still from the rest of the runners and that the Honda aero kit is very similar year on year to what it was last year. It's the Chevrolet kits that look more different year on year compared to last year.
The field of 33 cars – all of whom ran at least once on a busy, action-packed day under perfect mid-60-degree ambient temperatures – completed 1,474 incident-free laps.
The only yellow flags were for debris and track inspection.
Additionally, all five rookies – Rossi, Max Chilton, Spencer Pigot, Matthew Brabham and Stefan Wilson – completed all three phases of their Rookie Orientation Program and are good to go to participate in full practice the rest of the month.
The full speed charts are below, followed with the no-tow speed charts after that.
FULL SPEEDS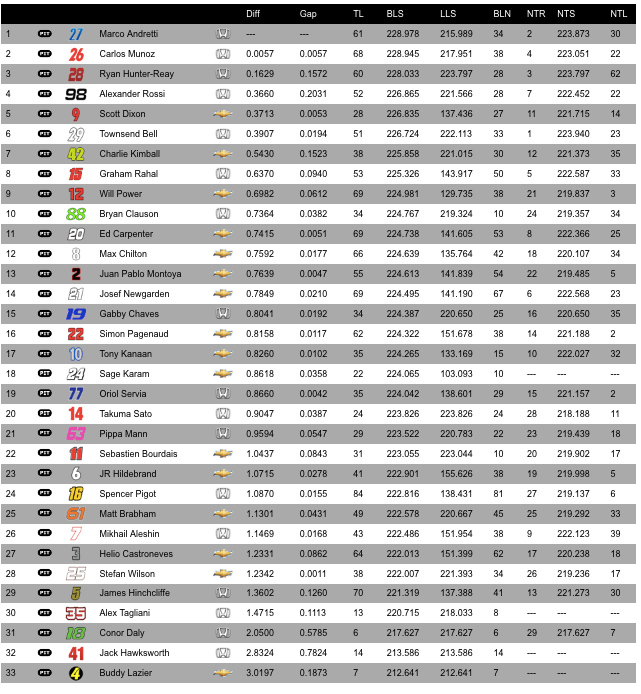 NO TOW SPEEDS