INDIANAPOLIS – With the pre-event buildup a bit out of the way, Matthew Brabham and the No. 61 PIRTEK Team Murray Chevrolet team are now done with two of their four "firsts" this month of May.
They've got their first race under their belt and their first day of Indianapolis 500 practice. The remaining firsts? The first qualifying attempt this weekend and the first Indianapolis 500 race, itself.
Brabham is through his first race, this weekend's Angie's List Grand Prix of Indianapolis, where he overachieved in qualifying 14th and finishing 16th.
"We only just missed out on making it into the next group – it comes down to milliseconds in this competitive Verizon IndyCar Series field at the end of it all," Brabham said after qualifying.
Then after the race, he added: "I think it was almost the perfect introduction for me to the Verizon IndyCar Series. I wasn't sure how things like the pit strategies were going to play out, having never done a racing pitstop before, but the PIRTEK Team Murray guys were on fire with every single stop.
"The start was crazy – there was so much stuff that was flying around, the buffeting on my head was unbelievable. Due to the crash, we were able to get through clean and then settle into a rhythm for the race.
"The whole experience was definitely different, I had never done anything like the restarts, push to pass or pit strategies before, but it all went pretty smoothly!
"It was weird and surprising to be racing and dicing with both Marco Andretti and Will Power there. I watched both of those guys as a kid, as well as watching Marco from the sidelines while at Andretti Autosport a lot and Will – the local boy from Toowoomba – is just an Australian hero. I thought it was all a bit surreal!"
Team owner Brett "Crusher" Murray added, "I think its the first finish for Matt Brabham for many hundreds I would hope. He has been on-song all week. We've had our issues as you would expect from a team that has come together for two races.
"The fact we've finished the race, there isn't a scratch on the car, Matt is safe he's done a great job and got all those laps under his belt is a credit to him and the team."
A team-produced video from the first race is below:
Then on Monday, despite a delay in getting out for the beginning of his rookie orientation program, Brabham was still able to complete all three phases. He ran 39 laps in the first two-hour session and 49 laps in the afternoon four-hour session.
"It took me a while to build up to speed, I was slowly learning the lines and getting used to how to get around the Speedway. The focus for me today was becoming acclimatized to the car in Speedway trim.
"With the Rookie Orientation Program, we were required to go up in increments of five miles per hour from 205mph after completing a number of laps. It was our number one goal to get through that program today, which we did.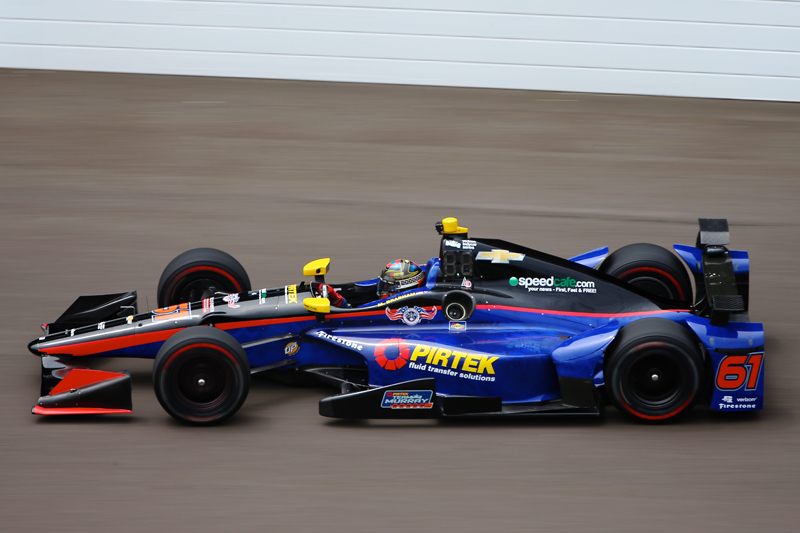 "This afternoon, we got to run an hour with the rest of the field, so was able to experience some traffic on track. I just had a lot of fun out there really!
"I didn't expect all the other drivers to get out there and run in a big pack. When everyone was out there swapping, changing and passing and almost racing in some ways, it was a bit daunting to start with.
"Once I had done that for a couple of laps, I got  into a rhythm and was feeling more comfortable. To be honest, I didn't feel too bad at all hanging around those guys, following them and seeing how they race was really good experience.
"With every lap, I'm learning – I'm still not completely comfortable just yet, I need to keep working through it this week and see how it goes."
A team-produced video from Monday's session is below: