INDIANAPOLIS – Verizon IndyCar Series drivers are always trying to find new ways to beat each other.
It becomes more difficult on days when they're not on track, but still, today's washout at the Indianapolis Motor Speedway provided a good opportunity for drivers to one-up each other in competition outside the car.
Let's get paws-itive first and talk about man's – or woman's – best friend: dogs.
Bryan Clauson, driver of the No. 88 Cancer Treatment Centers of America Honda, has a ridiculously cute Jack Russell Terrier named Chevy.
There's a slight problem for May, though.
In INDYCAR, this year, drivers aren't allowed to mention the name of the other manufacturer by name, and instead have to call them "competitor." So a Honda driver can't say a Chevrolet driver is driving a Chevrolet, and vice versa.
I don't believe there is a provision in the 2016 INDYCAR Rulebook where a dog is named one engine manufacturer and said dog's dad drives for another one.
So, thusly, for the next couple weeks, she'll answer only to "Honda Clauson." I also came up with another cool alternative.
—
Beyond the Dale Coyne Racing garage, another of Coyne's drivers – Conor Daly – engaged in a race with several of his fellow young guns.
Daly, who drives the No. 18 Jonathan Byrd's Hospitality Honda but will have a new primary sponsor for the Indianapolis 500, posted this pic on Twitter of a Mario Kart race, along with Spencer Pigot, Alexander Rossi and Marco Andretti.
Pigot wouldn't be pressed on who he was competing as when I bumped into him. "Yoshi, I think," said the driver of the No. 16 RLL/Mi-Jack/Manitowoc Honda.
—
Here's another fun rain delay story… the defending Indianapolis 500 champion, Juan Pablo Montoya, stopped by the creator of this year's ticket design.
From Borg-Warner Trophy PR:
…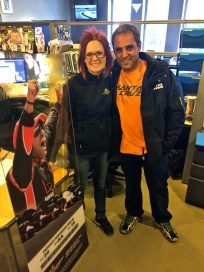 Mandy Walsh, Senior Graphic Designer in the IMS Creative Services Department who designed the 2016 Indianapolis 500 ticket was paid a surprise visit by defending race winner Juan Pablo Montoya on a rained out Tuesday afternoon. Walsh has worked at IMS for 15 years and has designed five "500" tickets – 2004, 2006, 2012, 2015 and 2016.
Juan Pablo Montoya – "Mandy did a really good job designing the "500" ticket. I think the ticket looks really cool and is unique – something for the fans to keep for years. I just want her to create the 2017 ticket with my face on it from winning this year, let's make that happen, okay?"
Mandy Walsh – "It was a complete surprise to see Juan walk thru the door of our offices – really cool. He signed my oversized ticket that will go on a wall in my house and my race day ticket – he's so nice. Juan was so happy and relaxed – it was fun to chat with him and see what he's like when he's not focused on racing. It was a great way to brighten up my rainy afternoon at IMS!"