Editor's note: Scott Hargrove, the 2013 Cooper Tires USF2000 Championship Powered by Mazda champion and current driver of the No. 3 Gap Guard Dallara IL-15 Mazda in the Indy Lights Presented by Cooper Tires, will be one of two Mazda Road to Indy guest bloggers for NBCSports.com this month. Hargrove's post-Grand Prix of Indianapolis, pre-Freedom 100 blog is filed below; another Mazda Road to Indy driver blog will follow later this month.
After sitting out last season due to a lack of sponsorship, Hargrove signed with Team Pelfrey in February. Not satisfied to simply drive the car, the young entrepreneur has set about redesigning the soon-to-be released Gap Guard website, the graphics and the product itself. The new graphics – which adorn the team pit cart he recently redesigned – can also be seen on Stefan Wilson's No. 25 Driven2SaveLives-KVRT entry in the 100th Indianapolis 500 presented by PennGrade Motor Oil.
—
After this past weekend on the Indianapolis Motor Speedway road course, it'll be time to switch focus and driving styles from the road course to an oval. This is another area where the Mazda Road to Indy mirrors the guys in the Verizon IndyCar Series.
You'll need to be a lot smoother behind the wheel. While I've done a few oval races, I've never done anything as high speed as this. In the Freedom 100, you just need to be calm and not make mistakes.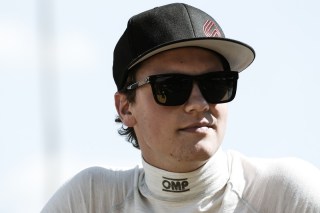 But before I do the pre-event test here Monday, I'll race in a Porsche in the IMSA GT3 Canada series at Canadian Tire Motorsport Park. It's a chance to get away for a bit at a place where I've won before. Hopefully, I'll get another win up there, clear my head a bit, and come back here with some momentum to hit the oval running!
To be honest, it's been a pretty rough start to the year for us in Indy Lights. Our finish Saturday (ninth) was our second-best finish of the season after scoring a podium at St. Pete, but that's just the kind of year it's been. At the same time, it's been great because I'm driving an Indy Lights car, after sitting out last season. To be back in the car is cool, and you can't beat being at Indy.
It's an interesting perspective. When you've won and contended for titles before, you're used to that; but your mindset changes when you're further back in the championship. From here, all I can focus on is improving and doing the best I can to win races in the Gap Guard car, and then go for the championship next year.
Reflecting on IMS, I look back to the race in Pro Mazda here in 2014, which was a real turning point for my season. I was on the podium in the first few races, knocking on the door, but Spencer (Pigot) was just super quick. I was so happy when I broke through for the win here, after some really crazy racing! I was able to pull away from my competitors and get both victories, which really solidified in my head that we were taking the fight to those guys, that I really did have a chance to win the championship.
After the road course event here, my teammate Neil Alberico and I were saying that had been the craziest weekend of racing we'd ever been a part of. So we were in a rain delay at Lucas Oil Raceway, looking at our on-board video, and I decided to do a video. I worked for about five or six hours and made a "Mario Kart" video. It went viral right away and people still ask me about it! It brought back some childhood memories, since that's my racing started!
Things really fell my way the rest of the season, including the race at Houston where I had an incident with my teammate, got a drive-through penalty, dealt with the pouring rain, made a pit stop under yellow and came back from 10th to the lead. We endured one of the biggest ups and downs in one race! After that, it was back-and-forth between me and Spencer… and we know how that ended (Pigot edged Hargrove in a dramatic battle for the 2014 Pro Mazda title at Sonoma).
But I remember this time last year, watching the car I had started the season with (Sean Rayhall took over the seat with 8Star Motorsports after St. Pete) being raced around here. I watched the Freedom 100 from home and that pretty much sucked!
Still, it was a great learning experience for me. To come back here with Team Pelfrey this year makes the waiting worth it. My teammate Juan (Piedrahita) told me that I'm going to love race day. Even the laps that we're going to take next Monday on the test days are going to be surreal.
The crowd is such a big part of it. In 2013, while I was leading the USF2000 championship, the Pro Mazda championship leader and I both got to pace the Freedom 100. It was great to be a part of that race – I led the pace laps, and thanks to the crazy four-wide photo finish, it ended up being the most exciting finish in Indy Lights history!
So this year, the current USF2000 and Pro Mazda leaders will pace us to the green flag.
I can't believe this opportunity to race the IMS oval is finally happening for me. I'm super, super excited.
Follow @Scott_Hargrove
Follow @TeamPelfrey_IL