John Force has a brand new body.
No, he hasn't morphed into the $6 Million Dollar Man, nor has the 67-year-old been working out more than usual.
Rather, Force will have a brand new body on his Funny Car for this weekend's NHRA Kansas Nationals at Heartland Park Topeka in Kansas.
Force will debut a high tech, state of the art 2016 Chevrolet Camaro SS Funny Car at Topeka, it was announced Tuesday morning at a press conference in Brownsburg, Indiana.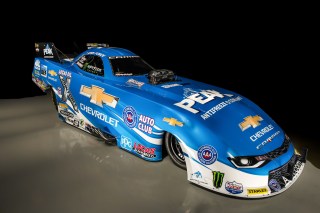 What makes this new body – which is the first based upon the sixth-generation Camaro SS – so special is it is aero-optimized for greater downforce and stability.
The record-holding 16-time NHRA Funny Car champion will be the first driver on his team to have the new body. Daughter and teammate Courtney Force and son-in-law and John Force Racing president Robert Hight will also have similar bodies, but those won't debut until later this season.
"I started my career in a Chevrolet and I couldn't be more excited to put this new Camaro SS Funny Car on the track," John Force said in a media release. "With all the assistance from Chevrolet, it not only looks great, it's designed to perform better than anything we've had before, with a shape that should help us get down the track quicker and with greater stability."
The new body went through extensive computational analysis and wind tunnel testing to help give it significantly improved airflow.
The Funny Car body sits atop a motor and chassis capable of reaching 10,000 horsepower and to accelerate from 0 up to 330 mph in less than four seconds on a 1,000-foot dragstrip.
Borrowing a page of sorts from NASCAR, the new Camaro Funny Car body has a new front splitter designed to move air over and around it to keep the vehicle glued to the track with added downforce.
It also has two new "burst" (also known as "blow-out") panels that "relieve underbody pressure to help keep the body on the chassis in the event of an engine failure/explosion.
"The 2016 Camaro has been a great success in the showroom and Chevrolet is proud to contribute to its debut in NHRA's Funny Car class," said Jim Campbell, Chevrolet U.S. vice president of performance vehicles and motorsports. "It joins the 2016 COPO Camaro in the Sportsman classes, strengthening Chevrolet's presence in drag racing, which dates back nearly 60 years."
Follow @JerryBonkowski