INDIANAPOLIS – Four days ago, Conor Daly's No. 18 Dale Coyne Racing Honda didn't have a primary sponsor for the 100th Indianapolis 500 presented by PennGrade Motor Oil.
Three days ago, ShirtsforAmerica.com launched.
And on Wednesday, Indianapolis Colts punter Pat McAfee's new, burgeoning business was flying aboard a bald eagle on the way to the newly rechristened "Freedom Wagon" that just screams 'Merica at the top of your lungs.
"Today is a gigantic day in history. Jot this day down in the books," McAfee started off arguably the funniest press conference in recent memory at the Indianapolis Motor Speedway, which you can view below.
"It's a business that literally just started three days ago.
"Dale seems really elated. I just gave him a check."
McAfee and Daly are friends – meanwhile Coyne has the faith and the vehicle to give Daly a shot at this year's full Verizon IndyCar Series season including the Indianapolis 500.
Here's more on the ShirtsForAmerica.com idea, below, via a team press release:
—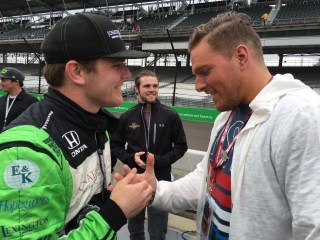 McAfee's recently launched ShirtsForAmerica.com company was born from two ideas. One, to help an Indiana driver at this year's Indy 500 and the other, to help two military foundations.
For each T-shirt sold, a portion of the proceeds will go to Wish For Our Heroes, which was founded by American veterans to help struggling veterans with every day situations they face off the battlefield and to The Pat McAfee Foundation. Now in its fourth year, the Pat McAfee Foundation has given more than $150 000 in scholarships to children of military families.
"Conor and I have been friends for a while now and I couldn't wait to hear his thoughts about the 100th running of The Greatest Spectacle in Racing and how magical the Indy 500 is," shared McAfee who is also a stand-up comedian. "Conor, being a kid from Indiana, started talking about how fantastic it is for Indiana that all of these awesome things are going to happen, how the entire world's eyes turn to Indiana, and how every year we knock it out of the park.
"While we chatted about how lucky we were to be Hoosiers, he told me that he didn't have a primary sponsor yet for the race. I didn't believe him at first but then I saw it as an opportunity not only to help an Indianapolis kid run in the 100th Running of the Indianapolis 500, but also, as a chance to raise some money for a couple of military foundations. So I created ShirtsForAmerica.com and sponsored his car. When we're chugging milk in Victory Lane Memorial Day weekend, we'll do it with some true fulfillment knowing that we're also helping American heroes," concluded the Colts player.