Here's a cool story from the Dreyer & Reinbold Racing team, describing its history at the Indianapolis 500.
In the 100th Indianapolis 500 presented by PennGrade Motor Oil, one of only two single-car teams in the field will run Sage Karam in the No. 24 Gas Monkey Energy Chevrolet.
—
Dennis Reinbold can still remember hearing the Indy cars roar as a child from his family's house, just one mile and a half from the famed Indianapolis Motor Speedway.
Reinbold, a successful Indianapolis businessman and Indy 500 team owner, knew his family had been involved in cars racing at the legendary motorsports facility but it wasn't until he was older that he learned of the legacy developed by his grandfather, Floyd "Pop" Dreyer.
Dreyer has such a heritage in two-wheel and four-wheel competition that he was inducted into four racing halls of fame – National Sprint Car Hall of Fame, National Midget Racing Hall of Fame, American Motorcyclist Association Hall of Fame and the Motorsports Hall of Fame of America.
"My grandfather was an Indian factory motorcycle racer in the 1910s and 1920s and then he moved into building race cars and campaigning them around the country," said Reinbold, who'll field the No. 24 Dreyer & Reinbold – Kingdom Racing Gas Monkey Energy Chevrolet for young driver Sage Karam.
"Pop's involvement with the Duesenberg team in 1927 at the 500 (with drivers Benny Shoaff and Babe Stapp) takes our family back to the Speedway for some 89 years now. And he helped on the 500 winner that year too with George Souders' Duesenberg. So, it's exciting to continue his legacy now at the 100th Indianapolis 500."
"Pop" Dreyer followed his stellar motorcycle racing career (i.e. competing on one-mile tracks like the Milwaukee, Dayton, Toledo, Pittsburgh and Denver) by working for the Duesenberg car factory and then its racing team. By the 1930s, Dreyer had become a premier body designer and builder of cars racing in the Indy 500.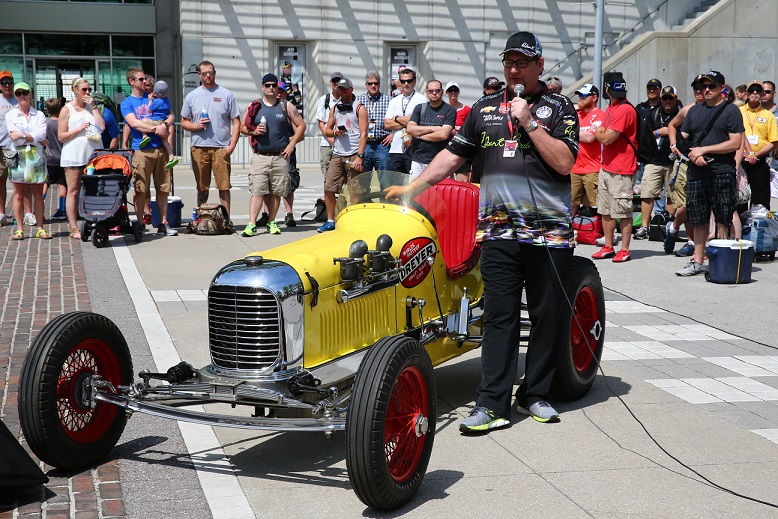 In fact, Dreyer constructed the bodies of the cars for the entire front row of the 1931 Indianapolis 500 (with pole winner Russell Snowberger, Bill Cummings and Paul Bost) and even built a Soap Box Derby racer for his son, Arnold, in 1933. "Pop" went on to build successful midgets and sprint cars and his machines won championships in 1937 (Everett Saylor), 1938 (Duke Nalon) and 1949 (Jackie Holmes).
Dreyer's last sprint car victory was in 1952 with Indy 500 legend Eddie Sachs at the wheel.
"The list of drivers for my grandfather was like a 'Who's Who of Racing,'" said Reinbold. "He had guys like Sam Hanks, Tommy Hinnershitz, Jud Larson and Mauri Rose plus Eddie Sachs and the title-winning drivers too. He was a master fabricator and mechanic. Just a legend in the sport."
Now Reinbold has followed in his grandpa's footsteps since 1999 when he entered a car in the Indy 500 for the first time as a team owner. Dennis still thinks about those days hearing the race cars at his childhood home. All 35 Indy 500 entries from Reinbold have qualified for the Memorial Weekend Classic. 
"I grew up about a mile-and-a-half straight southwest of IMS on West Washington Street," said Reinbold.  "When I was a little kid, I could hear the cars in the background. My buddies and I would jump on our Schwinn's (bicycles) and race around the church parking lot. I was always Lloyd Rudy, because my uncle (Floyd Jr.) worked on Lloyd's pit crew. I got to sit in that car. It was a huge thrill."
Reinbold gets excited each May when he enters the IMS gates off 16th Street.  
"I grew up around it (IMS) and it gets in your blood," said Dennis. "I've had several uncles who have been part of the 500 too including Floyd Dreyer Jr., who was a long time crew member for Lloyd Ruby's team, and Bill Spoerle, who was the crew chief on Elmer George's 1960s Indy cars and later was the head of restoration for IMS Hall of Fame Museum and its fleet of vintage race cars and antique passenger cars.
"I still get chills when we drive through the tunnel and go in every day. It's such a cool place. It's such a super event that I respect everything about the Speedway and I really want to be a part of everything about it. It's a lot of fun. I still thoroughly enjoy going out there."
Reinbold brings a solid, experienced crew to the 100th Indy 500 and, with the young, skillful Karam at the controls, and the Carmel, Ind.-based organization could pull off the team's biggest win on May 29.
"It's huge competition in the Indy 500 and we push harder and harder," admits Reinbold. "It's a learning curve each year. Ever since 1999, I've been learning something new each and every year. You take that away and you try to apply it the next year. Sage has said he has waited 11 months to get back to the track again. So have I. So have our crew guys. We're all pretty hungry."
Dennis' best Indy 500 finish came in 2012 with a fourth place with driver Oriol Servia, and he believes Karam can run with the leaders this year after Sage's "rookie" performance in 2014 with the Dreyer & Reinbold – Kingdom Racing team. 
"As a rookie, Sage drove up from 31st to sixth and then a yellow flag costs us and he had to go back to 24th," explains Reinbold. "But Sage fought his way back to ninth. It was a great performance by a true rookie driver. He received the 'Hard Charger' award. Our team works well with Sage and we feel confident he can race up front again in 2016."
The Dreyer & Reinbold family tradition at the Indy 500 will continue in 2016 when the green flag drops on May 29 for the 100th running of the "Greatest Spectacle in Racing."
"I feel proud to continue what my grandfather started back in 1927 in the Indy 500," said Reinbold.