INDIANAPOLIS –  It's not every day or year you write that a Dale Coyne Racing-entered driver has beat a Team Penske or Chip Ganassi Racing driver to the top of the timesheets in Indianapolis 500 practice.
Thursday, May 19, 2016, however, is one of those rare exceptions when you do. And for the 100th Indianapolis 500 presented by PennGrade Motor Oil, a Coyne driver has beat a Penske or Ganassi driver to the best time in practice.
Gabby Chaves, in only his sixth day of official running with Coyne (three at the Angie's List Grand Prix of Indianapolis and three practice days this month), was best of the day at 227.961 mph in the No. 19 Boy Scouts of America Honda.
"It's only practice, but it feels good," said the 22-year-old talented Colombian American, who was last year's race and series rookie of the year.
Chaves led a pair of Andretti Autosport drivers in NBCSN IndyCar analyst Townsend Bell and Carlos Munoz, then his own teammate Conor Daly before the top Chevrolet driver, Charlie Kimball, clocked in fifth in the No. 42 Tresiba car at 227.477 mph.
With Pippa Mann in 10th, Coyne had three cars in the top 10 – same as Andretti Autosport – while Ganassi and Penske had two cars apiece.
Race runs and full-tank runs dominated the proceedings, and it was still tough to gauge whether the Chevrolet runners have shown their full hand.
The no-tow speeds were a bit quicker than they have been this week, at 225 mph and change. Will Power led those charts in the No. 12 Verizon Team Penske Chevrolet at 225.381 mph; Graham Rahal was second at 225.321.
Honda's engine was again a talking point. Ryan Hunter-Reay sustained the second failure of the month (Mikhail Aleshin) heading into Turn 3 with a couple hours left in the session in the No. 28 DHL Honda. He'll switch to a new one that he'll use for the race.
Meanwhile the lump in the back of Spencer Pigot's built up new tub, the No. 16 RLL/Mi-Jack/Manitowoc Honda, got an installation lap in the final 15 minutes of the six-hour practice. Pigot didn't complete a standard time but he did make it out to check.
Times are below. For Fast Friday, the boost increases from 130 kPa to 140 kPa and combined with teams beginning to trim out for qualifying, speeds should significantly increase well north of 230 mph.
Speeds are below.
Full Speeds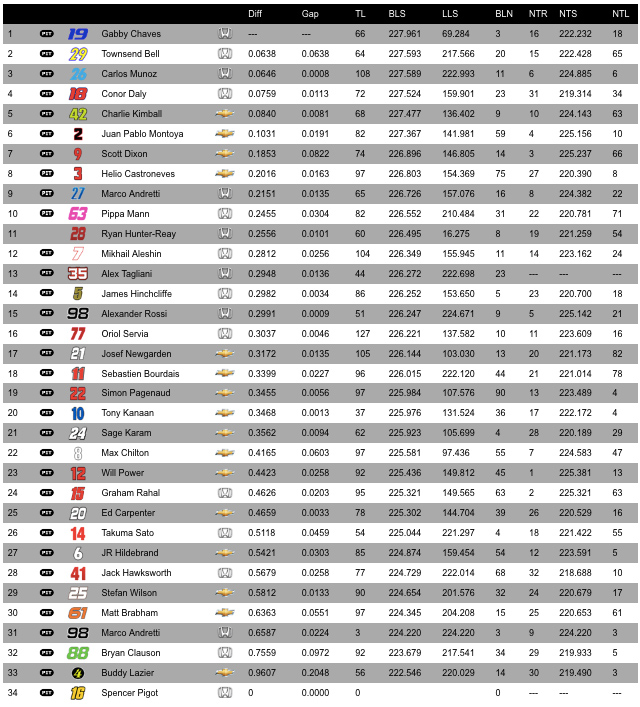 No-Tow Speeds