Max Verstappen's win this past Sunday in the Spanish Grand Prix was certainly unexpected, but it's very likely a harbinger of things to come for the talented, 18-year-old Dutchman at Red Bull Racing down the road.
But 20 years ago today in Monaco, however, a race win happened in a Grand Prix that almost no one – not least Olivier Panis himself – could have seen coming.
Ligier hadn't won a Grand Prix in 15 years (Jacques Laffite, 1981 Canadian Grand Prix) and Panis, in his third full-time season of F1, had only stood on the podium twice before – in abnormal circumstances of both the 1994 German and 1995 Australian Grands Prix, in second place.
Heavy rain dampened the track in-between the morning warmup and the race. And for proof this was 20 years ago, yes, they still had the morning warmup back then.
Starting 14th, Panis slowly but then confidently ascended up the order as the damp track began to claim its victims. Only 22 cars were present at the weekend – same as now – but between Andrea Montermini's DNQ for Forti and then a series of accidents in the opening laps – including Verstappen's father Jos in a Footwork, both Minardis (Pedro Lamy and Giancarlo Fisichella, who now race sports cars), future Ferrari teammates Rubens Barrichello (then with Jordan) and polesitter Michael Schumacher (in his first Monaco with Ferrari) – cut the field by six cars just at the end of the first lap.
Four more retirements later (Gerhard Berger's Benetton, Pedro Diniz's Ligier, Ukyo Katayama's Tyrrell and Ricardo Rosset's Footwork) and the field was down to 12.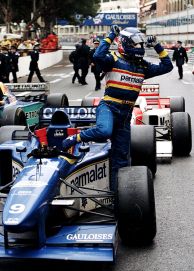 Panis, who'd survived the carnage, made a move of Ferrari's Eddie Irvine mid-race that would go down in the record books.
The race looked set for early season dominator Damon Hill in his Williams Renault to claim another victory, his first on the principality, only for a massive and memorable engine detonation to occur out of the tunnel on Lap 41.
Another Renault-powered driver, Jean Alesi of Benetton, then appeared to enter the catbird's seat before he retired with suspension failure 20 laps later.
That promoted Panis, in the Ligier Mugen Honda, to a shock lead and one he would not relinquish the rest of the race. David Coulthard finished second for McLaren Mercedes – he'd worn Schumacher's crash helmet in the race in abnormal circumstances given the conditions.
Sauber bagged a rare double points finish with Johnny Herbert and Heinz-Harald Frentzen third and fourth in the two Ford-powered entries, their last year before becoming a Ferrari customer team and rebadging the engines at Petronas. Frentzen took the checkered flag in the pit lane, because at that rate, why not.
The craziness continued behind him with a collision between Hill's teammate, Jacques Villeneuve, and the sole Forti in the race of Luca Badoer, at Mirabeau. Irvine crashed out as well; that triggered a multiple-Mika-car pileup that also took out Mika Salo (Tyrrell) and Mika Hakkinen (McLaren).
Such was the attrition rate, though, that Salo and Hakkinen still were classified fifth and sixth even though they failed to finish.
The official F1 website did this video last year – hosted by Peter Windsor – to recap the race. It's linked here.
Reflecting on matters, F1 hasn't had a French race winner since, although Romain Grosjean has come close on a number of occasions with the team now known as Renault, having then been known as Benetton (with pit stops as Renault, Lotus and Renault again since).
Panis pulled off a similar shocker at the 2011 Mobil 1 12 Hours of Sebring in a customer Peugeot 908 HDi FAP with Team Oreca Matmut, co-driving with countrymen and young rising stars Nicolas Lapierre and Loic Duval, the latter of whom is now an Audi factory driver.
But of those teams that ran in the 1996 Monaco GP, only four of 11 – McLaren, Sauber, Ferrari and Williams – live on today in their current guises.
The rest? Ligier became Prost Grand Prix, and folded after 2001. Neither Ligier nor Prost ever won another Grand Prix although Prost did secure a handful of podiums.
Tyrrell? You might know them as Mercedes AMG Petronas today, having morphed into BAR in 1999, then Honda, then Brawn, and then Mercedes.
Benetton, as noted, became Renault, then back to Lotus, then back to Renault.
Forti folded later that year, Jordan became Sahara Force India (pit stops as Midland/MF1 and Spyker in the interim), Footwork (later Arrows) dropped out in 2002 and Minardi became Scuderia Toro Rosso.
Guy Ligier? The legend died last August, although his name lives on under the Onroak Automotive constructor in France, for its Ligier line of JS P2/JS P3/JS P217 prototype chassis.