One of the interesting elements of the upcoming Red Bull Global Rallycross season is the debut of BFGoodrich tires, which replace Yokohama this year.
BFG's reputation in off-road racing is very solid, and the opportunity to run in Red Bull GRC provides a nice balance between pavement and dirt racing in one fell swoop.
Several of the competitors have expressed confidence in the new "boots," with Scott Speed and Tanner Foust of Volkswagen Andretti Rallycross having done the first laps on the new tires.
From the BFG pre-event release:
—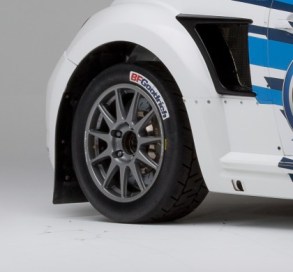 BFGoodrich will bring a new tire named the BFGoodrich g-Force RC02 to the track for the first race weekend to be held at Wild Horse Motorsports Park in Chandler, Ariz. on May 22-23. The tire will be FIA homologated for rallycross competition and will come in a size equivalent to a street-tire 235/45R17 to fit the series-specified 17×8 wheel as used on the all-wheel-drive production-based racecars. The g-Force™ RC02 will be a custom-made, non-DOT race tire for competition use only.
Red Bull Global Rallycross presents a unique challenge to driver, vehicle, and tire with its sprint race, mixed-surface format.  The RC02 tire will provide all the grip and agility needed for this unique style of racing, which takes the driver from dirt to pavement and from straightaways to tight corners numerous times throughout the race.
"The different surfaces encountered during a race is a significant challenge for the tire," said Chris Baker, motorsports director for BFGoodrich Tires. "The racers demand tremendous longitudinal grip to launch the high-performance vehicles from a standing start; not too many people know that a state-of-the-art rallycross car is as quick (or quicker) than a modern F1 car from 0 to 60mph!
"In addition, the tire must also deliver confidence in the corners when the drivers are engaging in door-to-door racing, be it on tarmac or dirt. The tire is truly a hybrid, with a unique construction and compound that appears and performs like a pavement tire, but has loose surface capabilities as well."
—
Here's some competitor input about the BFG presence in GRC this year, when speaking to NBC Sports:
Speed: "The new BFGoodrich tire is a very good tire. It's a better tire. It's gonna help everyone. For our car, it seems to fit really nicely. Improvements we made were pretty good. It's better than we'd hoped for it."
Patrik Sandell, Bryan Herta Rallysport: "I am very happy with the car and I think we have found a good basic set up with the new tires from BFGoodrich."
Jeff Ward, SH Rallycross:  "There's a couple little changes. It's a different tire than last year. Everyone's in the same boat learning it, but it's a good thing. For me it'll be good perhaps because I don't have an expectation of what the previous tire did, except maybe at Daytona. For me to have a new tire, I'm used to it; I've enjoyed testing with it the other day."
Steve Arpin, Chip Ganassi Rallycross: "Honestly, I think it'll be interesting for sure. Each team was only allocated two sets of tires for preseason testing. Last year we tested on the old tires to where we thought was a good platform, and then moved over. It is a treaded tire so on the dirt sections, we'll have more room for error. In slicks, we were extremely 'lane sensitive,' and find section of track to find dirt. With treaded, I think it will change it up more in terms of lane sensitivity.
"They're a lot softer. It'll change the complexity of the racing a little bit. You'll be able to fire off in the gate – and be more aggressive out of the gate. The Yokos were heat sensitive. There was a lot of slipping and sliding to get up to temps. These things are hooked up out of the gate. That'll be interesting!"