Editor's note: Sage Karam, a past champion in both the Indy Lights Presented by Cooper Tires and Cooper Tires USF2000 Championship Powered by Mazda series who finished ninth in his first Indianapolis 500 with DRR in 2014 at age 19, will file a series of blogs for NBCSports.com this month. Here's his second entry, heading into qualifying following this week of practice. You can read his first blog here.  He'll run the No. 24 Gas Monkey Energy Chevrolet for Dreyer & Reinbold – Kingdom Racing. 
—
Hi everyone, welcome back to the Indianapolis Motor Speedway. It's been a good week of practice at the world's greatest race track for the 100th Indianapolis 500.
Weather has become a factor this week. It was cool on Monday and rain washed out Tuesday practice runs. Then we had an unusual Eastern wind hit the track on Wednesday, but the sunny skies made for fast speeds.
But Thursday really was a change-up for the weather. It was a hotter track temperature and another windy day. The air temps in the 70s and the track surface reaching 120 degrees and it wasn't easy to drive.
And running up to another car was very difficult. Passing will be a chore on race day, I can tell you.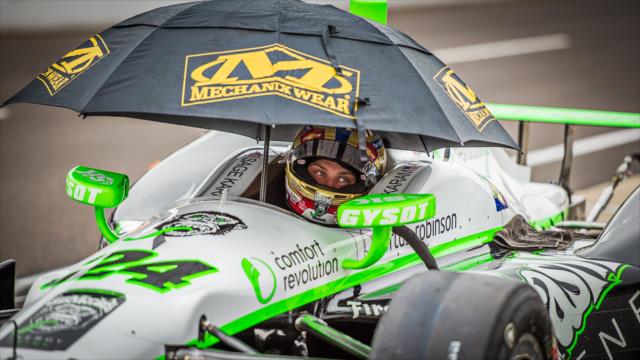 After three days of running race setups, we began to trim out the car Friday for our weekend qualifying efforts.
On Thursday, we tried a different direction on setup for our race car, and we can take plenty of notes from it. What to do, what not to do going forward. I think we have a good direction of where we want to go with the No. 24 Gas Monkey Energy Chevy for the remainder of the month.
Since it was Fast Friday, the speeds were quicker, and we worked on more qualifying simulations. We'll just picked away at that as the day progressed and I think we are getting closer to our qualifying setup.
On Friday, obviously we got the added boost, and we trimmed out the car. We think we can go a little further on trimming, and we looked at some stuff overnight on the computers, but it was good to feel the boost and get to a trimmed race car and run some pretty fast laps in the Gas Monkey Energy Chevrolet.
I think we have a little work to do but we can be right there Saturday. We made some changes overnight, and man, it's crazy when you actually get the boost and start trimming at this place. We ran a best lap of 228.07 miles per hour on Friday.
You really respect it every lap riding around here. It gets real tough and that's where you get your money. Those qualifying laps are tough, so I'm really looking forward to it and qualifying for my third Indianapolis 500. I'm confident the car's going to be good, and I think my Dreyer & Reinbold-Kingdom team is confident that I'll be able to keep it flat out. And honestly, I think we can put the No. 24 in the top nine if everything runs smoothly.
I'm still flat around the track and we'll continue to trim out the car on Saturday morning. We tried numerous directions with the car this week. And we have run in various wind and weather conditions. I think we learned what we need when it's time to go qualify on Saturday and Sunday. Of course, we are looking at our data and the weather predictions and determining the proper settings. I'm excited to make the qualifying run now.
Qualifying is different now than the old days when it was basically one day to get at the front of the field. Now, we'll make four laps on Saturday and another four laps on Sunday. On Saturday, the fast nine will advance to a shootout late on Sunday afternoon for the pole position. It would be awesome to win the pole in the 100th Indy 500.
Then, the remaining drivers – positions 10 to 33 – compete on Sunday for the actual starting spots in the field for the May 29 race.
We'll come back on Monday for another practice session with all of the cars in race mode – full fuel loads and more downforce in the chassis and wings. After that, Tuesday, Wednesday and Thursday are media and promotional days. I am doing a number of events for my primary sponsor – Gas Monkey Energy. Hey, it tastes great so check out the website – www.gasmonkeyenergy.com. You'll see it in stores around the country soon.
Thanks again for your interest and we'll have an update after qualifying.
Follow @SageKaram
Follow @DRRindycar
Follow @GasMonkeyGarage