INDIANAPOLIS – For months, hell, even years, anticipation has been building for the 100th running of the Indianapolis 500.
If you think about it, preparing for this 500 goes back to 2008 when the formal unveil of the "Centennial Era" at the Indianapolis Motor Speedway was launched. And so began a three-year period celebrating the track's opening (1909) through to the first running (1911) some 100 years later.
But because World War II stopped four years of running (and World War I stopped two), it's taken until 2016 for the 100th running of the Greatest Spectacle In Racing to actually take place.
And for all the bitching and kvetching I've heard in the paddock, in my five full-time years covering the Verizon IndyCar Series – whether it's about schedules, management changes, drop-off of teams, "insert your favorite driver here" doesn't have a ride, TV ratings, the latest proposed international race that won't happen or a lack of promotion/activation/marketing – this Indy 500 has the potential and the story lines to actually justify the hype and properly drown out the negativity.
The buildup to this year's '500 in season 2016, naturally, has been par for the course.
We lost a race unexpectedly (Boston); INDYCAR then worked a minor miracle to pull together Watkins Glen as an 11th hour replacement in two weeks.
We had drivers bitching about the infamous domed skids and the cars being harder to drive. Well it turns out they are harder to drive and the depth of talent – 1 to 33 – in this year's field, is perhaps better than ever.
We had the usual "ARE WE GONNA GET TO 33 CARS?" drama. We had one team fall through nearly a year after a press conference announcing its plans. We had no bumps. Yet we're coming off of two of the most fascinating qualifying days that IMS has witnessed in recent years.
It now sets up a week of buildup about the race, about the drivers, about the stories – that properly set the scene for this race that has been oh-so-hyped.
HINCH, AND THAT ONE THING WE CAN'T FORGET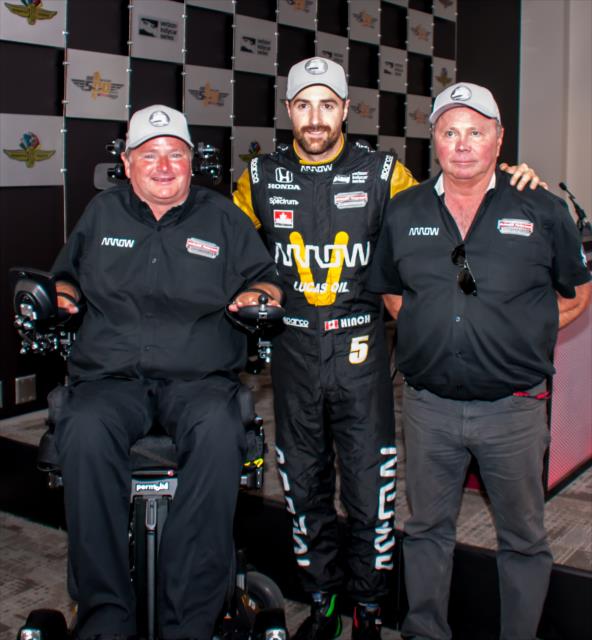 On pole, you have James Hinchcliffe. You know the story by now; he damn near lost his life here 12 months ago and I've lost track of how many times the damn #HinchI5Back hashtag has appeared in my timeline since.
Hinch was back when he tested at Road America last September. That was it. He didn't need to be back again, because he already was.
And since that day, all that's been building has been the meshing, the performance of he and the Schmidt Peterson Motorsports team as a whole.
"I'm super happy for Hinch, he's one of my really good friends," said Ryan Hunter-Reay, who starts third next Sunday.
"To be sitting in his hospital bed a year ago.  I was there with him, his first Road America test.  And I thought to myself, because I was asking my guys, I thought to myself, 'It's going to take him a day to get back in the mix.  That's a big jump back in.'
"I remember asking like two hours into the test, 'How quick is Hinch?' You know, he's a tenth and a half quicker than us right now." 
"I was blown away.  I couldn't believe right away he was back into it. That just shows the courage he has and how resilient you have to be. It's incredible. I don't think anybody can really describe almost losing your life out here on the same track and get back in and doing 240 (mph) into the corner and doing what he is doing. It is just incredible. Absolutely incredible. Very deserving pole winner. "
And does Hinch like the continual talking about it? Not really, but he gets why he has to do it.
"Honestly?  Yeah, definitely (I was sick of it)," he said. "But I get it. It was a big deal. It was a big deal to me, too.
"And I understand that. And I really appreciated that people wanted to hear the story, wanted to tell the story for me. There was a lot of really, really nice pieces done, a lot of nice tributes done in that sense. But no, then you're coming back to this place and you want to focus on the here and now and not remember or focus on hitting the wall at 125 Gs.
"So there was definitely a point where it's kind of like, "Hey, is there anything else you want to talk about? Let's lead with that and kind of see where we go from there. But we'll see. Hopefully this is the topic of conversation for the next week and a week from now we've got an even better story to tell."
THE 'MERICA FREEDOM TRAIN STARTING P2 AND P3
Hinch winning would justify that "better story to tell" card.
Another in that department? That would be Josef Newgarden, who starts second.
I've lost track of how many Hinch and Josef videos I've seen. I've lost track of how many times I've been asked or wondered, hey, there's 19-20 other drivers in the series, why not use them?
But IndyCar's two arguably most marketable stars are starting 1-2 next Sunday for a race that is almost guaranteed to have massive eyeballs.
A Newgarden win would justify the hype for the driver who's been hailed as IndyCar's "next big thing" for five years. I'll admit to having jumped on the Newgarden Fan Train early when he won the Freedom 100 here in 2011; I've watched as others have hopped on other cars over the later months.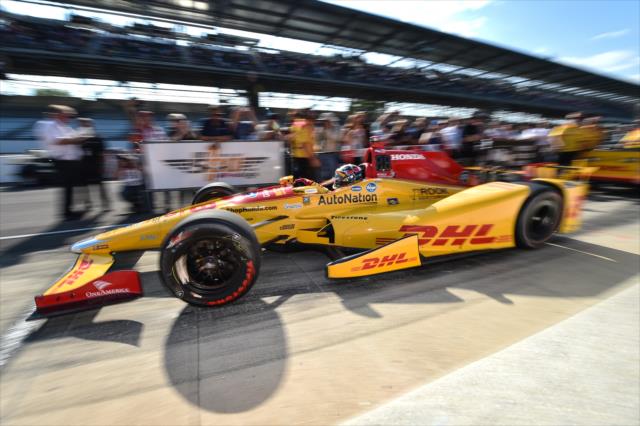 Hunter-Reay? He's got a better story line this year, almost, than last year when he entered as defending champion. For one, Honda has a chance. For two, he'd add a second win to match his number of kids. Ryden stole the show here in 2014 in his DHL firesuit; Ryden and Rocsen won a press conference earlier this week. And his would be a comeback story, after driver, team and Honda endured a mostly nightmarish 2015.
A Honda win? That'd be a great story. It's a story of a manufacturer living up to its Japanese roots, the old "Phoenix rising from the ashes" line, and making the necessary gains to its product to win. And it would be greater here because this is a track where the INDYCAR-allowed update boxes don't have the same huge impact.
AND THERE'S NEARLY 30 MORE WOULD-BE OUTSTANDING STORIES TO COME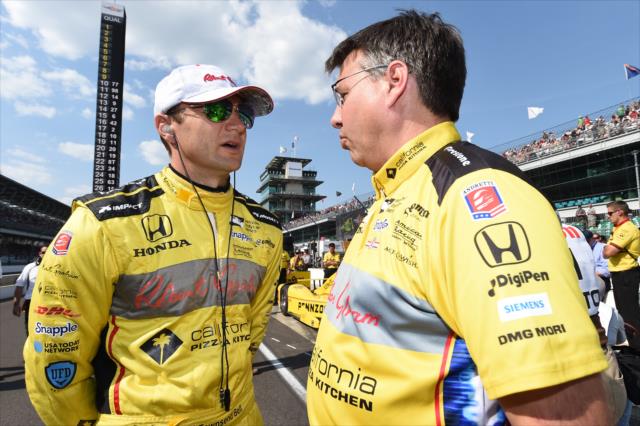 You look at others in the field and the positive story lines keep flowing:
NBCSN analyst Townsend Bell has starred as the month's top one-off entry. He's got the veteran guile, experience and tenacity to contend in his pizza delivery mobile on wheels.
Mikhail Aleshin has been exciting as hell and doing the near impossible: making a bunch of Hoosiers root and cheer for a Russian when you see the DOOM car sliding all over the track.
Team Penske is the Goliath now starting down the order. Will Power in sixth is their highest starter; he and Simon Pagenaud seek their first '500, Juan Pablo Montoya his second straight and third overall, Helio Castroneves his record-tying fourth. Plus there's the 50th anniversary of the team this year and the exhibit in the IMS Museum to match. This is the team you want to win if you're a fan of numerology.
Can Chip Ganassi Racing pull off a 2012 encore? Like in 2012, Dario Franchitti and Scott Dixon were nowhere. Then they promptly ended 1-2 in the race. Between Dixon and Franchitti's replacement Tony Kanaan, perpetually underrated Charlie Kimball and rookie Max Chilton, it's been a tough month but they'll look for a big result on Sunday.
Row 5 is a fascinating row. In Dixon, Marco Andretti and JR Hildebrand you have the 2008 winner and two Americans who came oh-so-close to wins in 2006 and 2011, respectively. Marco has said a win in this year's race would be everything. He's not wrong.
Each of the 5 rookies has a story to tell. I'll have a post on these five later this week but this year's rookie crop, while unlikely winners, have been largely impressive. Strongest among them has been Alexander Rossi – who not only has adapted to Indy, but embraced it.
Row 9 has three intriguing drivers. In Pippa Mann, there's a huge fan favorite. In Graham Rahal, a determined driver who's become known in the aero kit era for his and his team's fight backs from difficult qualifying runs. In Matty Brabham, a wonderfully goofy Australian American rookie who is the perfect driver for a throwback, but new, team – PIRTEK Team Murray – that has brought fun, veterans and a wonderfully Australian theme to this year's race led by team principal Brett "Crusher" Murray.
There's the guy from 1996 in the final row. Buddy Lazier is the link for the IRL fans, those who liked that era, which began 20 years ago in 1996. He doesn't have a snowball's chance in hell of winning but it's damn cool that at 48, he and his family are still living out their dreams – 20 years on from winning an emotional triumph.
That 1996 year is an interesting one for me. It was my first year following the sport full-time as a kid growing up; I was fortunate I didn't know what "the good old days" were because I watched IndyCar racing, I thought it fast and cool, and I got hooked.
Now, 20 years later, I don't want to hear the words "back in the good old days" because longing for "back in the good old days" has left IndyCar where it is now – needing this one race to build positive momentum to erase the overflow of negativity that has perpetually weakened – if not killed – the sport for most of the last 20 years.
For one week, we have nothing but positive stories lined up.
Embrace it. And promote the hell out of it.