Editor's note: Sage Karam, a past champion in both the Indy Lights Presented by Cooper Tires and Cooper Tires USF2000 Championship Powered by Mazda series who finished ninth in his first Indianapolis 500 with DRR in 2014 at age 19, will file a series of blogs for NBCSports.com this month. Here's his third entry, after qualifying and a crazy Monday practice session. You can read his first and second blogs here.  He'll run the No. 24 Gas Monkey Energy Chevrolet for Dreyer & Reinbold – Kingdom Racing. 
—
Hi there, Sage Karam checking in again from the Indianapolis Motor Speedway.
It's Monday, and we put our No. 24 Gas Monkey Energy Chevrolet back into race trim after two days of qualifying for the 100th Indy 500. It was wild out there today! You saw some crazy action out there after qualifying.
But as I mentioned in the lead up to qualifying, the past week's practice sessions saw a multitude of weather changes from cool to hot, from windy to not. All the time, my Dreyer & Reinbold–Kingdom Racing team did a super job making all of the adjustments for race conditions.
We then put the race car into qualifying trim; you take off the downforce you needed versus when you were running around other cars on track. In qualifying, it's a four-lap sprint by yourself, and you attempt to get the maximum speed possible.
On Saturday, the first day of qualifications, I think the track really changed from the rest of the week, and I think it threw a lot of guys off, me especially. The car balance did a complete 180 on us. We were loose Friday, as the rear end of the car wants to come around on you.
But, on Saturday, we had a lot of understeer, so it kind of caught us off guard in the morning. We went back to the garage before qualifying and did some changes as we were not really sure what we had, and it was just kind of a gamble.
I mean I was flat (on the throttle), and I told myself I was going to go flat. I put my left foot over my right foot and that was it. I worked with my tools in the car (weight jacker, etc.) and I went flat three laps. On the fourth lap, the car started understeering again and I had to crack the throttle about five to ten percent going into turn one. So, there's more left in the car. We're low on downforce then, just because we didn't know what we were going to have.
I knew the car had a lot more speed left in it, and I knew I have a great team with DRR-Kingdom Racing and Gas Monkey Energy on board. So we went back to the garage and we look at the computer charts and numbers. I thought there was at least another mile an hour left in the car, just in downforce. We were looking to come in to Sunday be in the 229-mile average range. I thought we could be at 228 or 229 for Sunday's final qualifying runs.
On Sunday, I was not pleased with our qualifying attempt. We just had too much downforce in the car. The track temperature kept climbing throughout the afternoon. So the team wanted to keep a little more downforce in the car to handle the hotter track.
But some clouds came over the Speedway right before our qualifying attempt. The cloud cover definitely cooled off the track surface and we just didn't need that much downforce. The car was good Saturday that I thought we had a shot at tenth, which is the best you can get if you miss the top nine on the first day.
The track was changing every time you go out there. We thought we needed more downforce with the hotter track temperatures, and the temps went down 10 degrees with the clouds. I wish we could have taken the wedges out of the car and put in some of the speed ramps for straightaway speed. The weather was constantly changing and it just caught us out.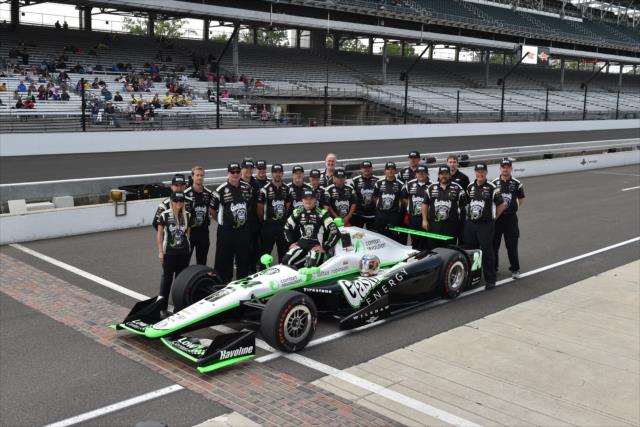 All this week, the Gas Monkey Energy crew have been outstanding on race setups, and I feel confident going into next Sunday. Fortunately, it's not all about qualifying. It's about next Sunday. It would have made my job easier for the race if we could have qualified a bit better than 23rd.
But it's been nine months for me since my last race. It's an incredible feeling to be back here at Indy. Anytime you are turning laps here, it's still a magical feeling. I can't wait to get back into Turn 1 with 32 other cars, and make 200 laps again.
This Friday will be our final one-hour practice before Sunday's 100th Indy 500. It's Carb Day, and it's a fun event for the fans too. In addition, we will be in the Pit Stop Challenge on Friday afternoon. The last time I was with the DRR-Kingdom team, we finished second overall to Scott Dixon. Our crew is a fast one with the four-tire change and fuel. I feel we have a chance to win the Challenge this Friday.
Thanks for reading and we'll have another blog before race day. Lots of media interviews and promotions are ahead the next few days, including having the Gas Monkey (on my shirt) meet up with animals at the Cincinnati Zoo on Tuesday.
Follow @SageKaram
Follow @DRRindycar
Follow @GasMonkeyGarage