INDIANAPOLIS – A strong day at the office for Pippa Mann in her No. 63 Susan G. Komen Honda saw her end fifth on the speed charts, top Honda on the day, with 116 laps completed (second on the field only behind Simon Pagenaud and Max Chilton, who both ran 117 laps) and feeling much more confident about her Dale Coyne Racing car in race trim ahead of Sunday's 100th Indianapolis 500 presented by PennGrade Motor Oil.
While she acknowledged her best lap came courtesy of a tow – most of the quick ones did – it was still a relief to know her repaired chassis was back and good to go after the team found some additional niggling issues before her qualifying attempt on Sunday.
"It was not fun not being able to warm up, and go straight to your qualifying run," she admitted during today's post-practice press conference. "But I'm so grateful to the Dale Coyne Racing crew for giving me such a great car.
"I was very happy to be back in race trim today. We still have some work to do. Most of the people here caught a big tow – I'm no exception – but I hope we have a top-20, top-15 race car. People were better than me today, but there were people I was better than too."
Mann was no exception to the frantic craziness that made up the session, in significant group running during the day that saw a grand total of 2,886 laps turned.
"It was Carb Day Mark 2.0… or potentially Carb Day on steroids," she said. "We did that for four hours. It got a bit hairy a few times. No one wants to tear up a race car this close to race day for sure.
"But the good thing is that's representative of what it will be like in the race. In the race when we have that many cars in a groove, you're not gonna be able to run fast times," she explained. "You use all the gears, occasionally the brakes – and yes it sounds weird at this place. You're reacting after everyone."
On Saturday, Mann and the No. 63 team faced adversity when a rear wing end fence failed, which pitched her into a spin for her initial qualifying attempt off Turn 2.
That being said, Mann did a rather good job to keep the car largely intact on corner exit, save for slight front wing and left front tire and upright damage – it could have been much, much worse.
The Saturday blip interrupted an otherwise productive week of practice not just for her, but the entire Coyne team. Mann – who's better at setup and feedback than most probably realize – was keen to note the improvements she's felt coming into her fifth Indianapolis 500, both from a team and from a Honda standpoint.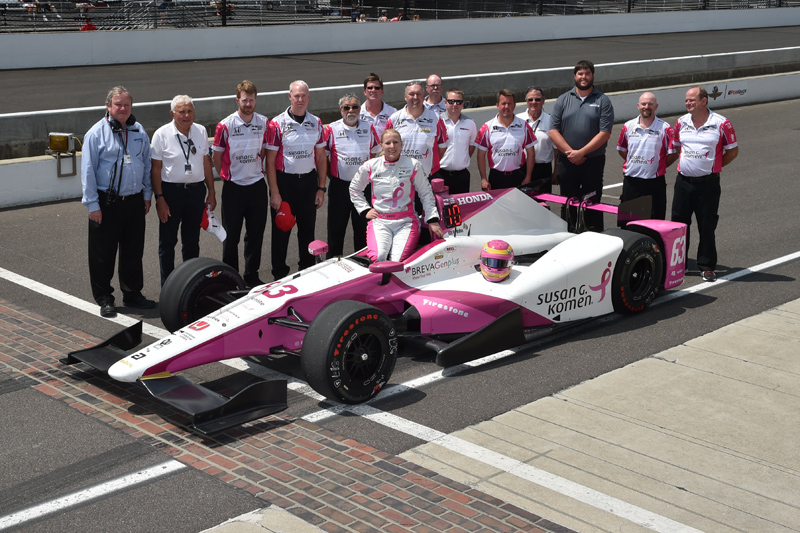 "The really big thing is after Indy last year I worked with Rob Ridgely, who was the engineer on (No.) 18 last year," she said. "When I was talking to Dale about coming back and him going to four cars, he said, 'We'll bring "Ridge" back,' and that made me smile.
"We got on really well, and it creates that continuity. All the races I've done after I've been missing, it's often new people to learn and to work with. To have that continuity is fantastic, and I think it's really shown.
"What's really interesting for me is that my last reference point is coming off Pocono," she added about Honda's development.
"Honda has worked really hard this winter. To drive it again after last year, both of the actual platform – even though they haven't changed it much – the (operating) window is better and bigger. In engine department, they've worked hard. We're pleased with they've shown up with so far."
Mann said her car appears to work better in cooler conditions than hotter ones – today saw ambient and track temperatures peak at 82 ambient and 122 track, per Firestone, at 3:30 p.m.
If it's cooler, that may help her on Sunday, as she'll start 25th.
"I can't speak for Josef (Newgarden) but our car with a little bit of cloud cover, we've been very, very good," said the driver who's also doing the #GetInvolved campaign fundraiser.
"Better than today actually. We were OK. When the track temp came down we were looking quite good, and I'd move our target then from top-15 to 20, to maybe top-15 to low top-10 car? It makes quite a big difference."