INDIANAPOLIS – This year's rookie class for the 100th Indianapolis 500 presented by PennGrade Motor Oil is a nice average of the classes from the last four years since the introduction of the Dallara DW12 chassis in 2012, and comprises five distinct talents all with something of note to prove.
In Max Chilton and Alexander Rossi, there's two Formula 1 refugees who've found a home in IndyCar, who've both punched above their weight thus far in a full season and are starting to come into their own in meshing with their teams.
Meanwhile in Spencer Pigot and Matthew Brabham, there's a pair who have spent the last four years since 2012 battling between themselves in the Mazda Road to Indy. Both have two championships (Pigot 2015 Indy Lights, 2014 Pro Mazda; Brabham 2013 Pro Mazda, 2012 USF2000) but are only just at the beginning of their IndyCar careers.
And in Stefan Wilson, there's the undoubted emotional favorite of the five drivers. While Wilson's '500 debut is in large part a tribute run to the memory of his late older brother Justin, it's still an incredible comeback story for Stefan on his own – he hasn't been in an IndyCar since 2013, and hasn't run a full season in anything in five years.
Any of the five would be a worthy Sunoco Rookie of the Year award winner for this year's Indianapolis 500, the 100th running of the sport's most prestigious race.
And while the race itself may be fought among the traditional two big teams – Team Penske and Chip Ganassi Racing Teams – it's fair to say the ROTY honors for the year are incredibly wide open.
"It is a great rookie class with five of us out there this year," Wilson told NBC Sports. "And all established drivers and all on good teams. So whoever wins rookie of the year is going to deserve it."
Added Chilton to NBC Sports, "It is a strong year. I don't think there's this many years to have this many rookies. In the season obviously Spencer's not doing the full year, nor is Brabham.
"But in this race there's five of us. It's a good size of the grid. And they're all proven. They've won championships or on ovals before. No one can predict it until the last 10 laps, and even then you don't know."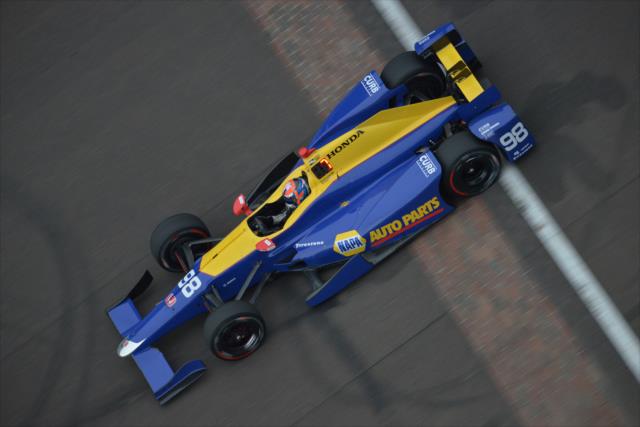 Chilton and Rossi have been perhaps inextricably linked this year, probably because both have entered into IndyCar under similar circumstances.
Both sought the F1 path, got there, found the sledding tougher at the team formerly known as Marussia and have since come back Stateside. Chilton spent 2015 in Indy Lights Presented by Cooper Tires learning the ropes while Rossi returned to America after a long European bow, easily becoming the best American abroad and the only one to obtain an F1 Superlicense.
While they were perhaps judged for lack of understanding the nature of what they were getting themselves into in IndyCar – and admittedly, I was an early critic – their adaptation and greater appreciation for the series itself and the Indianapolis Motor Speedway is obvious.
It's apparent that by looking at them, the Chilton and Rossi of three months ago have evolved into drivers fully engrossed, fully capable of performing and fully locked into a great battle not just for rookie-of-the-year honors but greater outright results in the series.
Rossi, in particular, has not only accepted the challenge of IMS, but also embraced it. He's been the strongest rookie thus far this month and was unlucky to get bounced from the Fast Nine Shootout right at the gun on Saturday. But he's been clean, consistent and fast thus far.
"It felt fast. It was definitely eye-opening in terms of not having any kind of prior comparison to a place like this," Rossi said after Monday's first post-practice press conference.
"I was glad we got through ROP without any issues."
After qualifying 11th, best of the rookies, Rossi added, "Eleventh was one away from what we could've hoped for after yesterday, so we'll take it."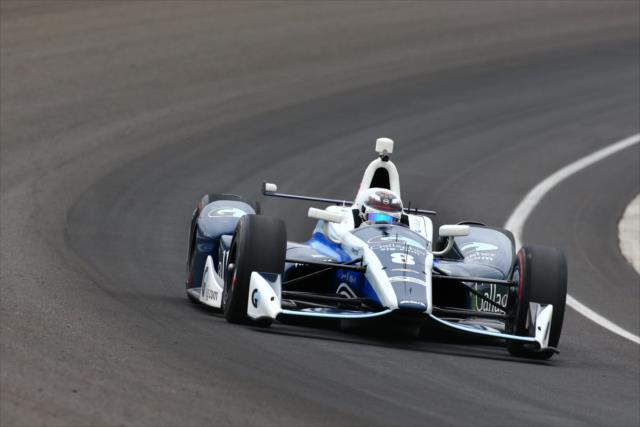 Chilton added, after stepping up from Indy Lights, "You have to drive it completely different because the speeds are greater, the rate and turn-in points are different. I'm really glad I did that last year because I wouldn't have had that baseline I did previous.
"You've gotta learn to appreciate this place, but not be afraid of it."
He said that earlier in the week, but found out how hard this place bites in pre-qualifying practice Saturday morning. A heavy crash in Turn 2 forced his team to a backup car, but Chilton got it in the field on Sunday and will start 22nd.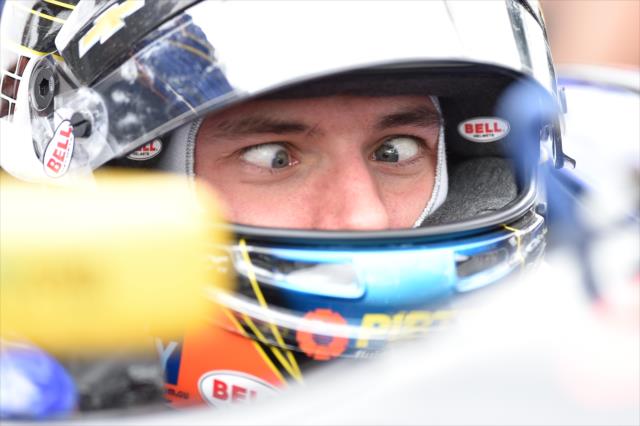 Brabham and Pigot are in tougher part-time situations this month. Both had the Angie's List Grand Prix of Indianapolis as a tune-up, and Pigot also ran the season opener at St. Petersburg.
Beyond the Indianapolis 500 though, they don't have any further starts guaranteed, althought the possibility exists you could see Pigot for further races at Rahal Letterman Lanigan Racing.
Four years following their epic scrap at the USF2000 race at Lucas Oil Raceway for the win – Pigot ultimately prevailing over Brabham – they're now vying for the same title this year.
"We had a crazy year in USF2000," Brabham told NBC Sports about Pigot during INDYCAR Media Day back in February.
"We'd always been rivals. It didn't matter the year or series. We were close. We had similar paths, fighting out in Mazda Road to Indy.
"It's pretty ironic that, now you mentioned that, from that IRP oval race (in 2012) and then the next year, in Pro Mazda, it was me and him again. Now for rookie-of-the-year, I didn't foresee it, but it's cool. We joked at Cape (Motorsports) we'd be racing together the whole way, and now we are."
Brabham is the embodiment of the spirit of the Brett "Crusher" Murray-led PIRTEK Team Murray, which shares a KV Racing Technology technical alliance. The Australian team's brought a lot of fun to the Speedway this month and is also racing for a good cause, the Chris Kyle Frog Foundation.
Pigot, meanwhile, feels more prepared now having had a couple weekends under his belt – and he's already fit in well with the Rahal Letterman Lanigan Racing team.
"Coming into this weekend I felt a lot more confident and comfortable," Pigot told NBC Sports after finishing 11th in the Grand Prix. "I didn't have question marks about what it feels like to do the whole race, or what it's like in the long run. I knew more things, and it showed a bit in the race."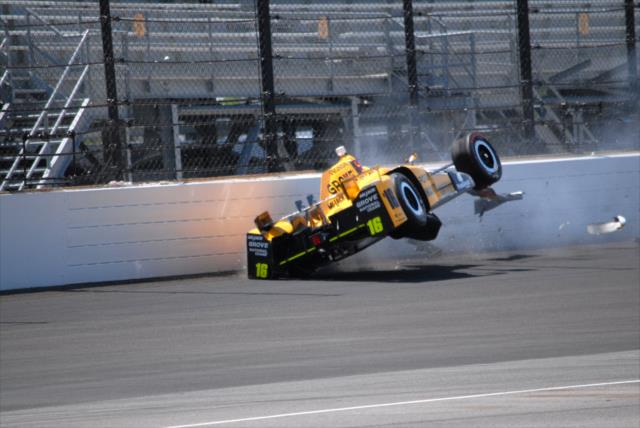 His month on the oval got off to a rough start with a heavy crash on Wednesday, May 18, which forced the team to a backup car after his Rahal Letterman Lanigan Racing primary chassis was tubbed. But he made it back out after a great buildup job by the crew of a new one.
"I feel fine physically. Just feel bad for the guys," he said. "I'm not really sure what happened there. Before I knew it, I was facing backwards."
Brabham qualified 27th, Pigot 29th, for the race.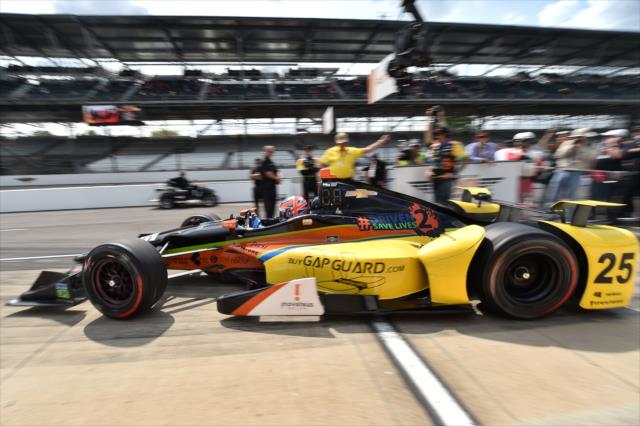 Where Wilson differs is in his recent experience by contrast to the others.
Chilton, Rossi, Pigot and Brabham have all raced regularly each of the last several years.
By contrast, Wilson's first appearance in an Lamborghini Blancpain Super Trofeo North America race earlier this month at Mazda Raceway Laguna Seca driving with GMG Racing marked his first time in a racecar in more than a year.
He hasn't raced a full-time season since Indy Lights in 2011 – then in the series' old car. His last Indy Lights oval start came at Fontana in 2012.
"Last year I didn't drive a single car. There were times when I've been like, 'What am I doing here? Am I past my welcome? Am I going to get a shot?" Wilson pondered.
"Am I ever going to get this shot, or should I be doing something else with my life?'
"I didn't want that to be the case, but when you've been sitting on the sidelines for as long as I've been it's easy to get those questions in your mind. It's good to get this opportunity and see."
Wilson, in the third KVRT entry, will start 30th.
Hopefully, the path for this year's top rookie ends better than the either of the last seven top rookies.
Ryan Hunter-Reay, who was the 2008 top rookie (but wasn't really a rookie in North American open-wheel racing), is the last Indianapolis 500 rookie of the year to have gone on and win a race in IndyCar. Of course, "RHR" has also bagged the 2012 series title and 2014 '500 race win, so he's the recent gold standard for freshmen going onto bigger or better things.
Since 2009, top rookies have been Alex Tagliani, Simona de Silvestro, JR Hildebrand, Rubens Barrichello, Carlos Munoz, Kurt Busch and Gabby Chaves.
Of that lot, only Munoz still has a full-time ride since, although several other rookies have debuted in the interim and maintain their presence in IndyCar (Charlie Kimball and James Hinchcliffe were in the 2011 '500 to name a couple). Chaves is also working towards continuing beyond the month of May with Dale Coyne Racing. Tagliani and Hildebrand have become regular Indy-only additions to the field of 33.
With only Chilton and Rossi confirmed for the rest of this year, the other three will be looking to secure a rookie of the year title they can hang their hat on for the future.
Meanwhile either Chilton or Rossi could take the first step in matching Chaves' feat achieved last year, top rookie in the Indianapolis 500 and the series, in the same season.