INDIANAPOLIS – For Stefan Wilson, his long-awaited Indianapolis 500 debut is as much a comeback story of his own as it is an emotional tribute to his brother and an opportunity to raise funds and awareness for a good cause.
Wilson, 26, drives the No. 25 Driven2SaveLives-KVRT Chevrolet in the 100th Indianapolis 500 presented by PennGrade Motor Oil, and will roll off 30th on Sunday.
Emotions run high about his opportunity though, first.
The number 25 is the same as the late Justin Wilson carried in 2015, then driving for Andretti Autosport.
The Driven2SaveLives initiative is present to raise both awareness and add donors – with a goal of 2,500 of them – to register their decision to donate. Wilson launched the initiative in partnership with the Indiana Donor Network.
Justin Wilson's impact after he lost his life last August at Pocono lived on with the fact he was a donor, and thus saved five lives.
"It's carrying on Justin's legacy," Stefan Wilson told NBC Sports. "That day back in August, it was like, there were a lot of things to feel sad about and that wasn't one of them. That was sort of a positive you could take away. His act and how that was going to save a lot of people. It was pretty incredible.
"The weeks after that, so many people reached out to say, 'I became an organ donor because of what Justin did' or, 'my family member is still here because of someone else's selfless gift of life,' and it just struck me as how incredible that was and the potential of his act to save not just five lives, but more lives in the future."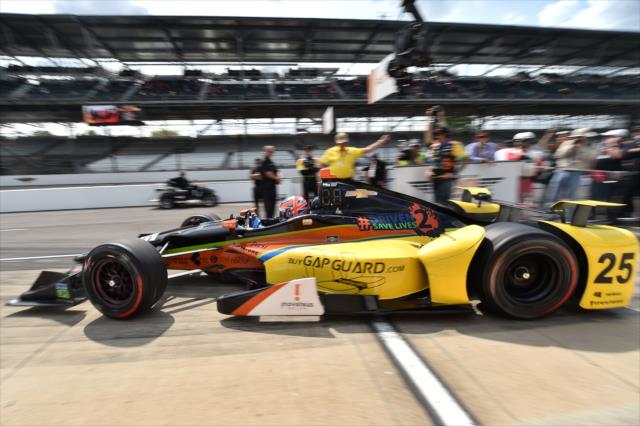 Interestingly, the Indiana Donor Network wasn't the original primary partner intended for the effort. Wilson – who'd been working on getting in the 100th Indianapolis 500 anyway prior to the events of last August – had also been working on a #ThinkSolar campaign.
"Inovateus Solar is on the car came on board and they are looking to do something more in the future, so hopefully that can progress as a good relationship," Wilson said.
"Think Solar is still an initiative that is still out there; it's not gone away by any means, but at the end of the day we've gave ourselves quite a short runway to get that off the ground. Even though we were planning it a lot last year, with everything happening in August, it kind of set us back two or three months, just figuring out what was going on.
"It took a little time to let the dust settle. But by that point it was past the point where people are setting budgets for these things. That's still something that's going on, and we'll continue to work on it for 2017 even.
"The Indiana Donor Network reached out and Gap Guard was already committed to helping me. The stars aligned. The Indiana Donor Network's idea of this kind of campaign was really easy to support. It was honoring Justin. I get to talk about Justin."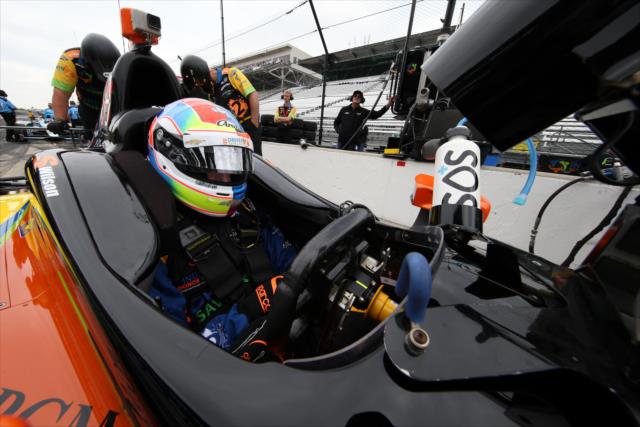 Talking about Justin – from a racing standpoint – is something Stefan doesn't mind doing. Of course for this race, Wilson's also wearing a special tribute helmet as designed by Mike Corby, Justin's helmet designer, that has his traditional look on one side and Justin's on the other.
In preparing for the race this year, Stefan re-watched the 2013 race – a race Justin pulled a typical rabbit out of his rear end where he made such an incredible run in a car that otherwise had no business being as high as it was. Such was his trademark.
"I was watching from his pit stand at the time, and I remember he had a bad stint where something happened where they went the wrong way with the setup or something," Stefan reflected.
"The car was wicked loose on him, so he went all the way to the back came in on the next round of pit stops, they fixed it, he went back out and it was good. He came through the field from way back all the way forward on merit. It wasn't like he did it on a pit stop strategy or anything.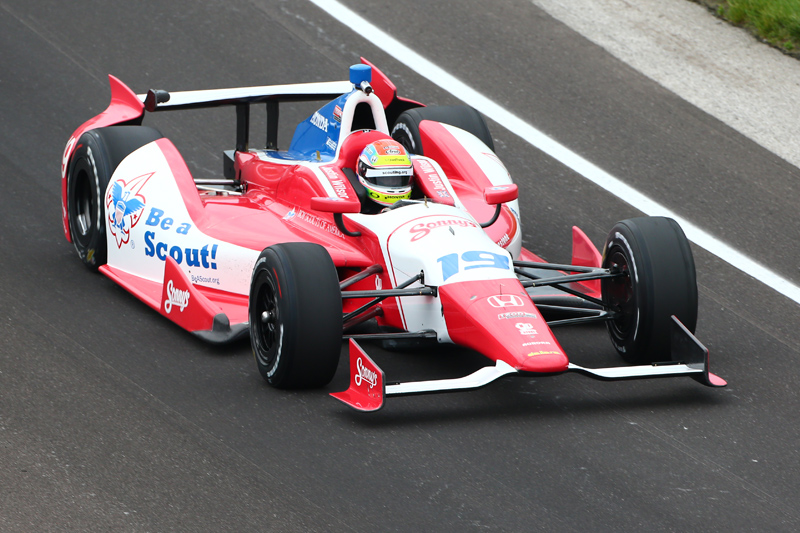 "The last pit stop I remember seeing him leave the pits and the field was coming down the front stretch and the field is on the outside of him through one and two and he merges on the backstretch into P6 or something and I think 'how did you do that?!? How did you maintain speed with the leaders on the apron through turn two?'
"And he was like, 'as soon as I left my pit box I was flat the entire way.' It was pretty sketchy on the apron. He was like, 'screw it, it's the Indy 500 and there is only 20 laps to go.'
"He takes that Dale Coyne car and legitimately finishes fifth. He was quicker than (Dario) Franchitti, (Scott) Dixon, and all of the other top Honda cars in the Dale Coyne car. No one really recognized what he did!"
Wilson's KV Racing Technology Chevrolet hasn't been the best handling wise this week. He's with a younger but still recently experienced engineer in Zack Eakin, formerly of the Nissan LMP1 program, in the third KVRT entry alongside the team's full-season driver, Sebastien Bourdais of KVSH Racing, and Matthew Brabham in the PIRTEK Team Murray entry.
Getting re-acclimated to IndyCar after his three-year absence – and a five-year absence since his last full season of 2011 in Indy Lights – was also a bit of a learning process. Going through the Rookie Orientation Program naturally took time as he built back up to speed.
"The ROP was really tricky actually because you it's the first time dealing with all the electronics on the dash, so you're trying to figure out a lot," Wilson explained. "I've reviewed the manual and such, but the first time at speed and there's a lot of information, so you're trying to look at the dash and see what speed you're doing right now and you know that speed window that you've got to be in.
"You're trying to figure out if I'm doing 210 down the backstretch, and you scrub down to like 200 in the corners that should give me a good average of around 205 and you're trying to do math constantly around the track to figure out what your average speed is going to be so that was probably the trickiest part because you have to hold back and lift off in places where you normally wouldn't lift off. It was good to do those laps though and build up to it nice and slow and have that as a guideline.
"It was nice to get through those two phases. On the third phase you can just let loose and go for it. I was pleased with how quickly I was able to progress. In the third phase, in the first two laps I was flat all the way around. We're pretty heavy on downforce right now and that was a pretty good day yesterday for running. Other than the head wind down the frontstretch, which made it tricky off four a few times, but nothing too bad."
The question of whether this Wilson would ever get this chance did linger. It frustrated and at times seemed an unattainable goal.
But it's real, even despite a learning process probably bigger than what he could have imagined.
"Last year I didn't drive a single car. There were times when I've been like, 'What am I doing here? Am I past my welcome? Am I going to get a shot?" he pondered.
"Am I ever going to get this shot, or should I be doing something else with my life?'
"I didn't want that to be the case, but when you've been sitting on the sidelines for as long as I've been it's easy to get those questions in your mind.
"It's good to get this opportunity and see."