Ahead of the 100th Indianapolis 500 presented by PennGrade Motor Oil, we asked the MotorSportsTalk team for their favorite memory or memories they have had of this race in its past 99 runnings.
You'll see a mix of memories from those on site and from abroad. Here's what our team has to offer.
I've had the privilege of working with these guys at some point or all points over the last four years since the site launched in February 2013 and heading into this year's '500, I'm happy to call them my teammates.
—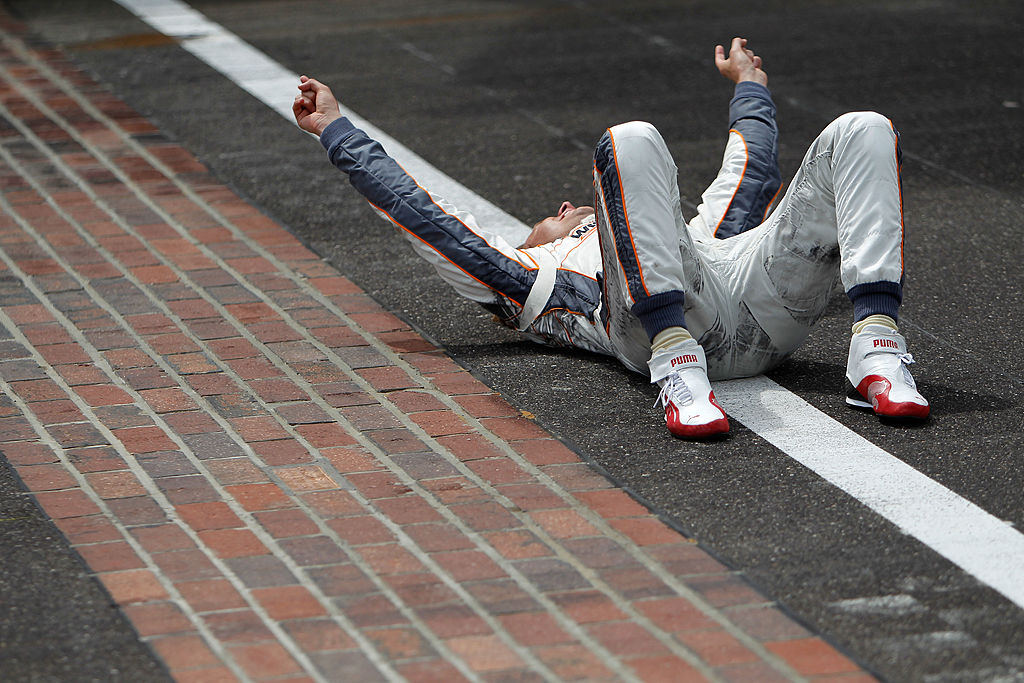 Tony DiZinno, Editor, MotorSportsTalk (@TonyDiZinno)
Then six-year-old me in 1996 watched my first Indianapolis 500, probably fortunate in a sense I didn't know what I had been missing in the years previous – the years you study up on before going into this year's 100th running of the Greatest Spectacle in Racing.
Do the math and I've been watching every year, consistently, for the last 20. And this year I'm fortunate enough to cover my eighth '500 on site dating to 2008.
The obvious option for me in terms of a top Indy 500 memory is 2011. You know the story if you watched the race, but you probably don't know the story as it relates to yours truly.
So on May 22, five years ago yesterday, I'm slightly busy to watch the start of Bump Day qualifying because I had this thing I had to do called graduate from my alma mater, Marquette University.
But when I got back to my apartment, which was all but packed up, I still had my TV up and plugged in. And then, I got to see the drama that transpired on the last real, proper "Bump Day" on this network, then known as VERSUS. The drama of the last 20 minutes in particular – notably Alex Lloyd and Marco Andretti's successive lean-er-back and get-it-in heroics while Ryan Hunter-Reay was left stunned on the outside (only for his team to buy out Bruno Junqueira's starting spot a day later) – made the day an incredible one.
I moved out of my apartment on Monday and by Wednesday I'd arrived in Indy for what would be my third '500 on site in a one-off freelance role for a site I'd done my first two for in 2008 and 2010. By Saturday, I had a preliminary agreement in place for a dream job with another outlet, that I'd start full-time by August.
Then there was Sunday, in the 100th anniversary race of the first '500. What a range of emotions that last hour was. Who'd make it on fuel? Was Bertrand Baguette going to pull off an upset of monumental proportions for Bobby Rahal's team? Why were the Ganassi pair of Scott Dixon and Dario Franchitti fading?
And then, the final couple laps occurred. JR Hildebrand stood on the precipice of ending Panther Racing's triple of runner-up finishes. A rookie. An American driver. In the National Guard car. On Memorial Day weekend.
It was simply a story too good to be true…
I'll never forget the reaction in the media center. You're not supposed to react visibly or audibly in any way, shape or form. But the initial gasp turned to shock and screams with simply "No!!!" as Hildebrand crashed into the Turn 4 wall when trying to lap Charlie Kimball.
Then, there was Dan Wheldon… slipping through the wreckage and scoring a most emotional one-off shock second win for Bryan Herta Autosport. Hildebrand, in Wheldon's old car at Panther, was second. The team's fourth straight – and last ever – runner-up finish.
It was that most perfect of finishes after Hildebrand's painful disappointment.
Months later, in my new role, I'd had the opportunity to race Wheldon on a simulator at Sonoma when he was doing some promotional work for SimRaceway. Naturally, he kicked my rear end, but I decently held my own. Anyway he'd blossomed into a TV star even though Franchitti was smart enough to say him on the grid at Iowa, "This isn't your job, D-Dub. You know what your job is."
We lost Wheldon in October that year at Las Vegas and the poignancy of what was witnessed that day in May only grew. The memory – like Wheldon's unbridled enthusiasm and sheer joy in the moment of winning that year's race – lives on.
—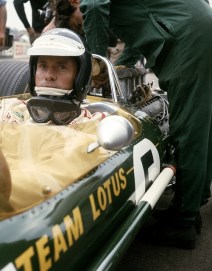 Luke Smith, Lead F1 Writer, MotorSportsTalk (@LukeSmithF1)
In the UK, the Indy 500 isn't an event that is given a great deal of focus or publicity which is a shame given the great history of British drivers at the Brickyard. In recent times, the likes of Dario Franchitti and Dan Wheldon both flew the Union Jack across the pond, while legends such as Jim Clark (right) and Graham Hill were victorious back in the days of double dipping alongside their F1 commitments.
In recent years though, there has been a definite swell in interest. The growth of motorsport on British TV has played a big part in this, as has the greater accessibility to IndyCar online. The fact that we still have a British interest in the series thanks to the likes of Max Chilton – particularly in his post-F1 days – and Jack Hawksworth is crucial. All of this makes IndyCar a series of intrigue for the UK fanbase. It's different to the norm, and is becoming more and more popular as a result.
The Indianapolis 500 itself plays itself up as the greatest spectacle in racing, much to the chagrin of some within the F1 paddock when the Monaco Grand Prix is scheduled for the same weekend. They shouldn't moan though. The 500 is a race like no other, sitting at the centre of Indycar racing in the United States. F1 has 'special' races, Monaco being the greatest example, but it does not stand apart from the rest of the calendar in the same way that the 500 does for IndyCar. The only series that boasts anything similar is the FIA WEC with Le Mans.
One thing I wish we did better in the UK was the sense of ceremony. It's something America gets very, very right when it comes to motorsport. From the call of "drivers, start your engines!" to the pre-race blessing and the national anthem, there is a great deal of hype in the build-up. You head to the British Grand Prix, and there's little of that. We have the national anthem and that's about it. Maybe we should have more of it.
But then again, the Indy 500 is a race like no other. It warrants the hype and deserves it. It's such a key hook that will get thousands of Brits tuning into the race later this month.
—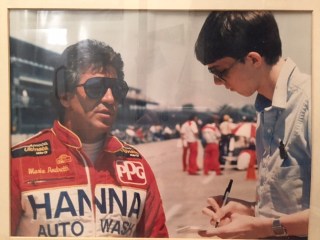 Dustin Long, Editor, NASCAR TALK (@DustinLong)
For nearly my first decade, Indianapolis Motor Speedway was akin to Disney World. It was a place I knew but never visited.
It wasn't until my mom pulled me out of elementary school to attend Carb Day that I saw what took place inside the mammoth steel-and-concrete structure at 16th and Georgetown.
That visit and many that followed continued a bond between the track and my family that began in 1954 when my grandfather took his sons, my dad and my uncle, to the Indianapolis 500. They slept in a station wagon outside the track the night before.
My uncle, who later covered the race for The Miami Herald, missed the 500 only five times between 1954-2003. My dad has attended about 55 Indy 500s. He and my uncle double-dated at the 1964 race.
The 100th running will again bring my family together. When the green flag waves, I'll be in a section past the start/finish line with my mom, dad and brother. I'll have relatives in Turn 3 seats that have been in our family 42 years.
When my mom took me to the track 38 years ago, I was shy, quiet and rail-thin. My mom had to nearly push me toward the phalanx of children who gathered near the gate between the pits and Gasoline Alley to get autographs.
My first autograph? Janet Guthrie. Later that day I got Tom Sneva's autograph. I still have the autograph book, which includes signatures from A.J. Foyt, Rick Mears, Al Unser Sr., and Mario Andretti.
Sneva was one of my favorite drivers. He won in 1983 when I attended my first Indy 500, making the day even more memorable.
Until that year, my race days had been spent with my brother at our grandparent's house while my parents attended the race. The race was blacked out in Central Indiana, so I sat next to a radio and listened to the broadcast, charting the progress of drivers every 20 laps as the announcers read the running order.
I attended a few more races before moving to the press room in 1989 to cover the event, joining my uncle. Sharing space in the media room with him is among my favorite memories. He was one of the reasons why I become a sports journalist.
I was there through 1991 before graduating from college and moving away. When my mom visited in 1992, we watched the race in my spartan apartment the featured a stand for the TV and a bean bag chair. I returned to the race in 1994. Having covered NASCAR since 1999, I've spent Memorial Day weekend at the Coca-Cola 600.
This year marks my first time back for the Indy 500 since 1994. I can't wait to see my family and be there in the stands when they sing "Back Home Again in Indiana.''
—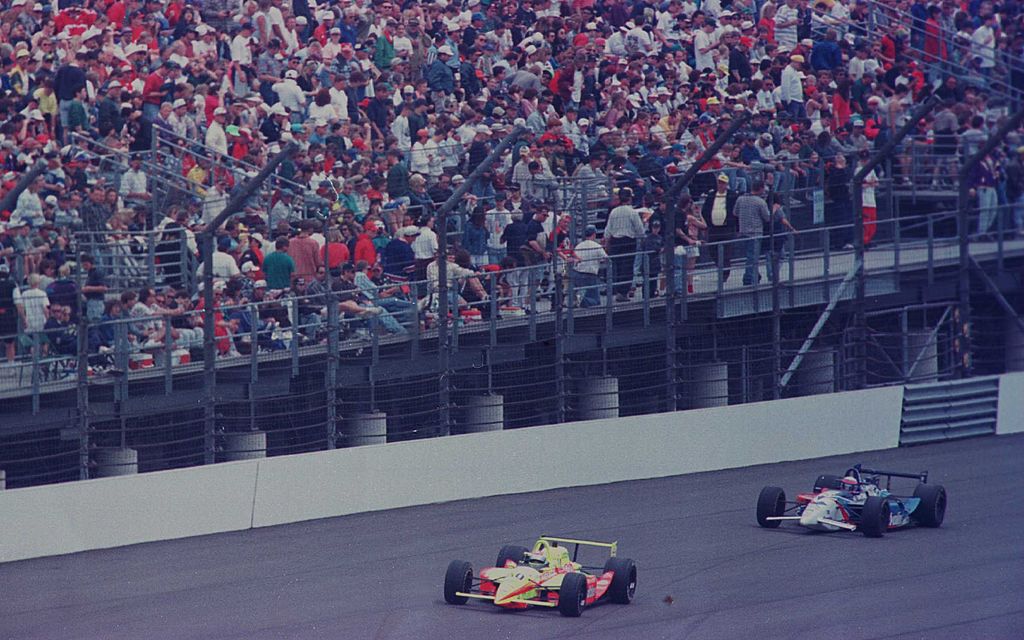 Nate Ryan, NBCSN Reporter/Writer, NASCAR TALK (@NateRyan)
There were a record 17 rookies in the field of the 1996 Indianapolis 500. There was at least one in the Indianapolis Motor Speedway's media center, too.
"Cub reporter" would be a generous description of my level of experience before traveling to the Brickyard. I'd been the auto racing beat writer at the San Bernardino County Sun for four months, covering the Long Beach Grand Prix but little else that adequately would have prepared me for the Greatest Spectacle in Racing.
But a separate trip to Chicago ahead of Memorial Day weekend allowed an opening for being in Indianapolis on race day, so I jumped at the chance given that a civil war in racing had turned the Indy 500 into an ongoing controversy that had lasted for months.
I was worried enough about parking to take a 6 a.m. shuttle bus from downtown to the track, where I arrived fretting about a morning drizzle and a gloomy forecast. The mood quickly changed, though, as I walked the property and was met by a parade of incessantly surreal scenes.
Is that really the iconic Gasoline Alley sign? Could those be the bricks that are synonymous with the track's moniker? Are these the famous garage bays that I'd seen in photos and on TV?
Everything else was a blur. I remember being in a gaggle of reporters awaiting comment from Tony Stewart after a mechanical failure (in my introduction to the essence of "Smoke," the offending part was described as "One of USAC's junk popoff valves"). I recall the stoicism of Tony George's postrace news conference (particularly when asked about the parade lap crash in the U.S. 500, the rival race he indirectly helped create). I have a vivid memory of a cramped deadline room (which is long since gone) humming with the buzz that accompanies chronicling something momentous, and in this case, unprecedented.
Mostly, though, it was about being overwhelmed by the magic of the most enchanted and mystical place in auto racing. Between NASCAR, IndyCar and Formula One (once), I've spent too many days to count at Indianapolis Motor Speedway since first setting foot there May 26, 1996. There's a point at which the constant fawning does stop (usually coinciding with a wrong turn in the labyrinth infield bringing the first chastising from a yellow-shirted security brigade that maddeningly vacillates between insouciant and overbearing).
But that underlying awe and wonder about the place never fades. My favorite prerace tradition is walking the Indy 500 grid in the final hour before the engines are started and the throngs are cleared. Wandering between the cars is like striding between America's greatest corridors of power at the intersection of business, entertainment and government. You'll see world-famous celebrities and rock stars, elected officials of prestigious offices and well-heeled CEOs whose handshakes ooze clout.
They all congregate in central Indiana on a Sunday morning in late May because it's the greatest racetrack in the world.
Even a rookie can see that.
—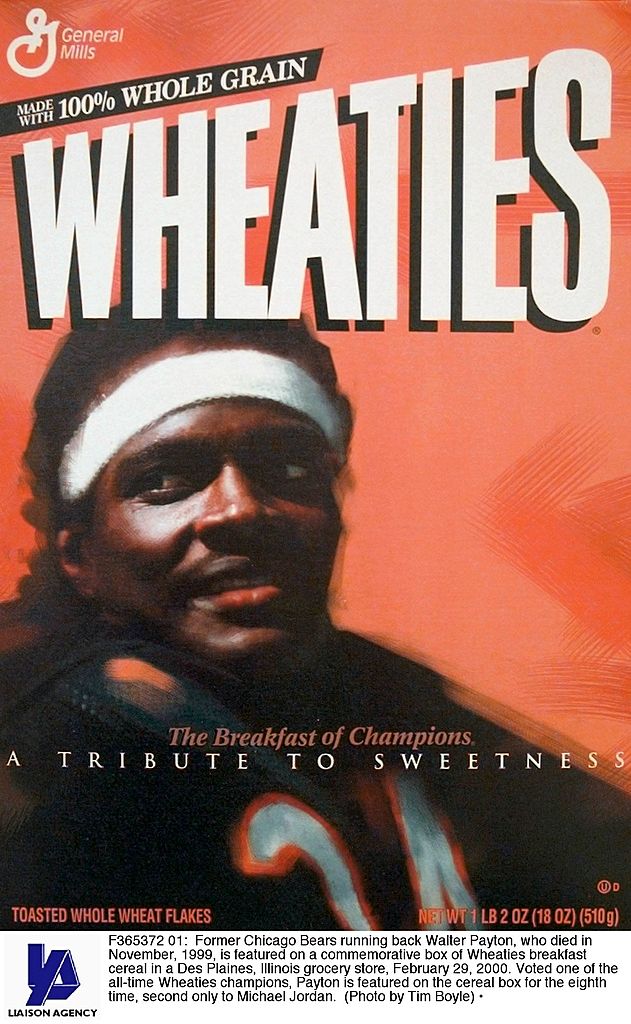 Jerry Bonkowski, Reporter/Writer, NASCAR TALK/MotorSportsTalk (@JerryBonkowski)
Given that I've covered roughly 20 Indianapolis 500s since the early 1980s, there are a number of memories I have. But two stand out in particular:
1) I believe it was 1991 or 1992 and it was "bump day" at Indianapolis Motor Speedway. It was early in the morning, maybe 9 a.m. I was walking through the pits, taking in the sights, when someone punched me in my right arm. It wasn't a hard punch, but it certainly got my attention.
I turned around and there was Chicago Bears great and future NFL Hall of Famer Walter Payton, smiling like the proverbial cat that had just swallowed the canary. He greeted me warmly and asked what was I doing there? I asked him the same thing and we started to chat.
I had covered Payton throughout his career, starting when I was a security guard who watched over the Bears' cheerleaders, the Honey Bears, in 1975. Then I moved into writing in the late 1970s and eventually became the Bears' beat writer first for a local Chicago paper, The Daily Southtown, and later as a regular NFL writer for USA Today.
I must have traveled to Halas Hall, where the Bears practiced, as well as their Soldier Field home and also when they played on the road and saw Payton several hundred times from 1975 through 1987 when he retired.
Payton and I were good friends during his career and I fell victim to some of his notorious practical jokes a few times. But it was all in good fun.
Getting back to that day at Indianapolis Motor Speedway, a number of fans kept coming up to Payton and asked for his autograph, interrupting our conversation several times. While he was his usual gracious self to the fans, it was clear he had something on his mind and he wanted to talk more one-on-one with me. He grabbed me by the arm and said to go walk down pit road towards Turn 4, where there weren't many people at yet.
We walked down there, sat on the pit road wall, and we started talking about his own racing exploits. After he retired from the NFL, Payton dabbled in sports car racing for a few years. I remember him being so relaxed and eager to talk about racing that day, not football. He asked how I was, how the family was and so forth. I asked him how his family was, as well. Then I asked him if he ever thought about climbing into an Indy car, now that his football days were over.
He laughed heartily and said his wife would kill him if he did. He said it was hard enough to convince her to let him drive a sports car.
Even though I'm a reporter, I never pulled out my notebook or recorder. We just chatted like old friends for maybe 20-25 minutes and then it was time to get moving as cars were starting to roll out onto pit road. We said our goodbyes and other pleasantries, he put on his sunglasses, said, "I'll catch you later," and away he walked.
I'd run into Payton a few more times over the next few years and he was always the friendly, vivacious guy I remembered when he wore uniform number 34. Sadly, Payton passed away far too young on Nov. 1, 1999 at the age of 45 from bile duct cancer and liver disease. When I heard the news of his passing, it hit me hard. I cried, I admit it. And for some reason, even with all the games and practices of his that I covered, the first thing I remembered was that sunny, warm day in May when the man they called "Sweetness" wasn't a superstar or fan idol, but rather, just a guy who loved racing and chose a friendly face to talk about it for a little while.
2) In 1991, I was covering my ninth consecutive Indianapolis 500 for USA Today (which I worked for from 1982-1997). I was asked by a public relations representative from Dodge whether I'd like to take a few hot laps around Indianapolis Motor Speedway with the legendary Carroll Shelby in a brand new sports car known as the Dodge Viper. The Viper was chosen to be the pace car for that year's race and, quite naturally, I jumped at the chance to ride with Shelby.
We took off and I quickly realized I was fighting a losing battle trying to keep my glasses on, as the car had its sunroof off and the wind kept wanting to take my glasses off and send them into flight. Shelby did five laps, with the fastest being somewhere in the neighborhood of 160 mph.
We almost didn't make it back to pit road as while Shelby was coming out of Turn 3, there was a garbage truck riding in the opposite direction high on the track. Fortunately, being the world-class driver and car builder that he was, Shelby just adjusted his line through the turn and we drove unharmed into the pits.
As if the ride wasn't great enough, I was smiling so broadly when I got out of the car that the Dodge PR rep first asked me how I liked the experience. Naturally, it was great! I then made an off-hand comment that I wish I could drive the Viper myself. The next thing I knew, the PR person went to his bosses and was just about to hand me the keys when the higher-ups overruled him and he profusely apologized. There went my chance.
But I held no ill will. After all, there had only been two pre-production Vipers built up to that point — and both were at the Speedway to serve in their roles as pace cars. If I had gotten a bit too excited and potentially cracked up one of the cars, well, let's just say it would have been world-wide news.
Still, it was an experience I'll never forget. When I heard Carroll had passed away on May 10, 2012 — nearly 21 years to the day of that great ride around IMS — I was having dinner. I raised my glass and toasted Shelby for not only the man he was and all he accomplished in racing, but also for giving a young reporter one of the greatest thrills of his life.
—
Daniel McFadin, Writer, NASCAR TALK (@DanielMcFadin)
The strongest feeling I remember from the 98th running of the Indianapolis 500 is exhaustion.
It took me in an instant. The previous three weeks caught up to me as soon as I clicked save on my final story of the Month of May.
Three weeks of coverage for two different publications: The Indianapolis Monthly and my sports journalism graduate program at Indiana University.
Three weeks of covering practice, the inaugural Grand Prix of Indianapolis, qualifying for the 500, Kurt Busch's attempt of the "The Double" and finally, Ryan Hunter-Reay beating Helio Castroneves by .600 seconds to win his first Indy 500.
As I started writing the story, the grandstands were empty but the sun still hung high enough in the Indiana sky that it bathed my work area in the media center. I had taken up residence in the empty glass booth that had housed ABC's commentators.
When the story was published, night had fallen and aside from me and my fellow members of the school's student news bureau, the media center was almost empty.
About eight hours earlier I had stood with other journalists on the media center's balcony overlooking the front stretch as pre-race ceremonies took place.
At some point during Jim Nabors' final performance of "Back Home in Indiana," I looked over at student bureau member Mike Guzman.
Over the previous three weeks, I had gleaned that Mike, born three years after me and six days before Al Unser Jr. won his second "500" (in 1994), had probably forgotten more about auto racing and its history than I would ever care to learn.
Mike, a native of Chicago, had tears in his eyes.
I had spent many Memorial Day weekends as a teenager watching the Indianapolis 500 from my living room in Northwest Arkansas. Memories of Danica Patrick leading the 500 in 2005 and JR Hildebrand's last turn miscue are imprinted on my mind.
In 2010, while a student at Arkansas State University, I had returned from a college media convention in Louisville and changed my degree from theatre to journalism. It was the first step in a narrow-minded goal: to get into Indiana's sports journalism master's program, just so I could have the chance to cover the Indianapolis 500.
Almost four years later, I had accomplished that goal. But there weren't tears in my eyes.
No matter how much you care, an event like the Indianapolis 500 will always mean more to someone else.
—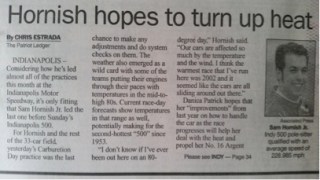 Chris Estrada, Researcher, NASCAR on NBC & MST alum (@EstradaWriting)
In 2006, I was in my sophomore year at Northeastern University in Boston. As that spring began, I started a co-op internship with the Patriot Ledger, a mid-size newspaper that covered the city's southern suburbs. My primary job was to cover local high school sports, but as the 90th Indianapolis 500 approached, I pitched the idea of going to Indy myself and chipping in my own stories. My editor gave me the go-ahead.
Up to this point, I'd been an IndyCar fan for a few years. In 2005, a now-defunct team gave me the opportunity to go up to the race at Watkins Glen and see how the media worked in that environment; they even let me knock out a few pieces for their team site. It fueled my determination to make a living covering the sport. But I had yet to experience "The Greatest Spectacle in Racing" in person.
I was thrilled to get the opportunity, and I remember driving up in my rental car to the fabled Indianapolis Motor Speedway on a bright Thursday afternoon for Media Day. After I was allowed in by one of the famous (infamous?) yellow-shirted security guards, I went into the tunnel.
It all came out at once. I couldn't help it.
"YAHOOOOOOOOOO!," I whooped from behind the wheel of my crappy hatchback.
—
At this time, the Ledger published every weekday and then did a weekend edition for Saturday and Sunday. As a result, I ended up doing a story from Carb Day that checked off the boxes: Final practice before the race, the pit stop challenge, and the concert in the infield.
Getting the driver quotes was relatively easy. The hard part was finding fans that weren't…shall we say…too spirited from the proceedings.
Carb Day is basically a giant party for the fans. From a distance, you'll see all sorts of merriment and all sorts of liquid that fuels the merriment. For diehards, it's an annual pre-500 tradition, and for casual types, it's a chance to get in on the Month of May fun without much questioning of your racing cred.
I had figured that with temperatures around 90 degrees, there wouldn't be a crazy amount of raging – or at least I'd see a few water bottles mixed in.
I was a naive boy. I didn't see one water bottle. I saw plenty of beer cans.
Eventually, I got some quotes from a few reasonably sober fans inside the party. It took a while.
—
With no more weekend stories to file, my job on Race Day was to take notes in case I wanted to revisit things for an article the following week. I made sure that I wasn't cocooned in the media center, however. I wanted to see and hear all the pomp and pageantry leading up to the green flag.
I found a perch outside. By 2006, the diminished state of the 500 and IndyCar racing in general had been well-documented. All of that never crossed my mind as I looked out upon the biggest mass of humanity I'd ever seen. They cheered for the large group of soldiers that had come home, dutifully stood silent at the playing of "Taps," and sang with Jim Nabors as he performed "Back Home Again in Indiana."
Once Mari Hulman George gave the command, the cars peeled off for pace laps. I was shocked – and delighted – to feel the thump of the engines, even from as high up as I was. I thought about putting in my foam earplugs, and then decided that I would never forgive myself if I did.
The green flag flew, and as they came back around for Lap 1, those thumps turned into full kicks to my chest, punctuated by a piercing scream of noise.
It is my belief that every human being needs to feel that once in their lives.
—
Fast forward to the final laps. The spotlight was squarely on Michael and Marco Andretti.
Michael had come out of retirement for this race and now appeared set to battle, of all people, his son for the right to lift the dreaded Andretti Curse. Save for the patriarch Mario's 1969 Indy win, this hallowed track had broken the family's heart, time and again. Was today the day that an Andretti would finally return to Victory Lane at the Brickyard?
Back outside I went. I didn't feel the broiling heat. Instead, I sensed the anticipation, the suspense, and the electricity crackling through the crowd. Everybody knew that no matter what, this was going to be big.
Michael led the field to green with 4 laps to go, and we all watched on the Jumbotrons that lined the front stretch as they navigated the 2.5-mile oval. And then when they came back, Marco made his move on his father to take the lead.
The torch had surely been passed. The 19-year-old phenom was going to do it.
But Sam Hornish Jr. had other ideas.
The Defiance, Ohio native had been my favorite IndyCar driver when I was just a fan, not a media member. In a series filled with international drivers, he was the homegrown hero. After winning his first IRL title in 2001, he defeated the mighty Team Penske the following season when they made the jump from CART. Now four years later, Hornish was on the verge of winning the world's biggest race for Penske.
Andretti had slammed the door on Hornish with two to go, and I thought the race was done.
I should've known better. Hornish closed in again. It was going to be a photo finish!
As the two rushed out of Turn 4 toward the checkered flag, I grabbed my camera. Hornish tacked inside of Andretti and made the run.
I had no chance of catching it. As the crowd roared, I had to look to the Jumbotron to see the finish.
Hornish got him. To the chagrin of the Andrettis and perhaps more than one IRL executive, the Curse was still alive. On the other side, Hornish had realized his childhood dream and in breathtaking fashion.
—
The sun was setting as I walked back to my rental car in the infield. Much of the media and the fans were long gone. The track was quiet. It was incredibly jarring, and it almost felt like the exhilarating events of the day had been a dream.
The Pagoda told me otherwise. At the top, Hornish's No. 6 was lit up as the winner.
I didn't want to leave. I had finally felt the magic that this cherished race had given the world for almost a century. It was everything I could've hoped to feel and more.
Was that a tear in my eye? It didn't fall. But it was there.
I got in the car, drove under the tunnel, and back onto 16th Street simultaneously feeling blessed and sad.
"I have to come back," I said to myself.