INDIANAPOLIS – At 48 years old, Buddy Lazier isn't just the oldest driver set to compete in this year's 100th Indianapolis 500 presented by PennGrade Motor Oil.
He's the link to several generations past, and link to the future for both himself and his family-operated team's future goals.
And he still loves the hell out of the Indianapolis Motor Speedway.
A BRIEF PRIMER ON LAZIER'S INDY PRESENCE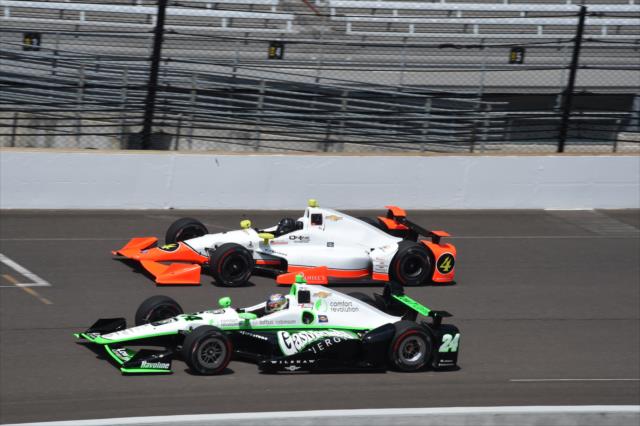 When Lazier first attempted to qualify for the Indianapolis 500 in 1989 (a mere month before I was born, and yes, I'm dating myself here), more than a third of this year's field (12 drivers: Josef Newgarden, Carlos Munoz, Alexander Rossi, Gabby Chaves, Max Chilton, Sage Karam, Conor Daly, Matthew Brabham, Bryan Clauson, Spencer Pigot, Stefan Wilson and Jack Hawksworth) weren't even born yet. Karam, pictured above, is in his third straight '500 at age 21, and the youngest driver in the field as he and Lazier ran side by side.
The first year he made the field in 1991, 25 years ago, the field included 10 present or eventual Indianapolis 500 winners: Rick Mears (who won his fourth that year), Arie Luyendyk, Al Unser Jr., Gordon Johncock, Mario Andretti, Danny Sullivan, Emerson Fittipaldi, Bobby Rahal, A.J. Foyt and Eddie Cheever Jr. It even had Brabham's dad Geoff, too. Michael Andretti, of course, famously finished second that year; Lazier was first out after a second lap accident and ended 33rd.
Lazier has been a part of this race for parts of four decades and he's celebrating the 20-year anniversary of his 1996 win this week and this year.
The desire to outperform the older, less powerful machinery at his disposal was a skill instilled in him that first year, building to his actual first time he made the race in 1991 to now as he prepares for his 19th start in the "Greatest Spectacle in Racing" in his No. 4 Lazier/Burns Racing Chevrolet. The chassis began its life as the Lotus engine test mule in late 2011 and was run by Fan Force United for Jean Alesi, and parked early, in the 2012 Indianapolis 500.
"I got my break after winning the old American IndyCar Series," Lazier reflected to NBC Sports. "When you did that, Machinist Union, the sponsors, gave you some old equipment. So I had an '87 March with two Cosworth motors. We took them with a voluntary crew to pass a rookie test in 1989. They weren't very good, but that's how I came up; it's the only way we know how. I felt that was my next step. I had won in sports car and wanted to break into IndyCar.
"I think there's a little bit of carrying that legacy to today. That is a factor. But I still feel, given that, in any race car I can run as good as any driver at the speedway."
A BETTER MONTH OF MAY THUS FAR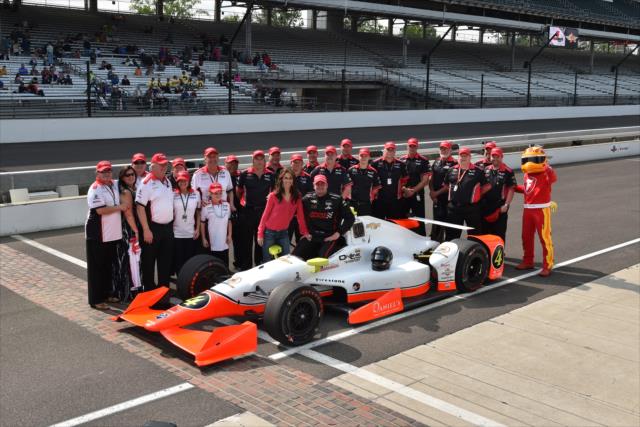 Call them bold words but there's a reason you don't see many 48-year-olds still active in IndyCar today – they don't have the fitness or training regimen needed to keep up the effort.
And Lazier, more than in any of his three previous runs the last three years with his family-operated team and additional investment from Thom Burns, has had his best – and longest – week of practice. A full 217 laps and a best speed of 227.002 mph in the pre-qualifying warmup speak volumes of how far this team has come.
This from a team that barely has made it out until late in the week each of the last three years and failed to qualify a year ago.
"When you come to Indy, you want to come with cannons… not pea shooters," Lazier laughed. "Certainly having a larger team would make it an easier effort on the driver. It adds to the challenge. For me it's about making the absolute best of what I have. We want to build it to the next class, to be in the 'unlimited' class. Right now, the goal is to be first in the budget class and build the effort.
"Thom Burns has been huge to come join us, with his resources and partners. And then Larry Curry as team manager, he's been sort of the head of the technical side this year. He's done a remarkable job. In a small team, driver and owner, managers, we all wear multiple hats. It's not like everyone else you're racing against is wearing multiple hats. It's a very serious deep field. It's phenomenal that we can do what we are. We're gaining momentum.
"The 227 lap – that was warmup session for qualifying. We made one change to try to make it better… then we qualify 222! I can tell you we know what went wrong. To make it better, we inadvertently did something that killed us.
"But my small team is doing an incredible job. The fact you can run 227… that would be first third of the field, within reach. We're getting it. It is difficult as a single-car, small team but we are right there."
BUT THE 1996 WIN LOOMS LARGER THIS YEAR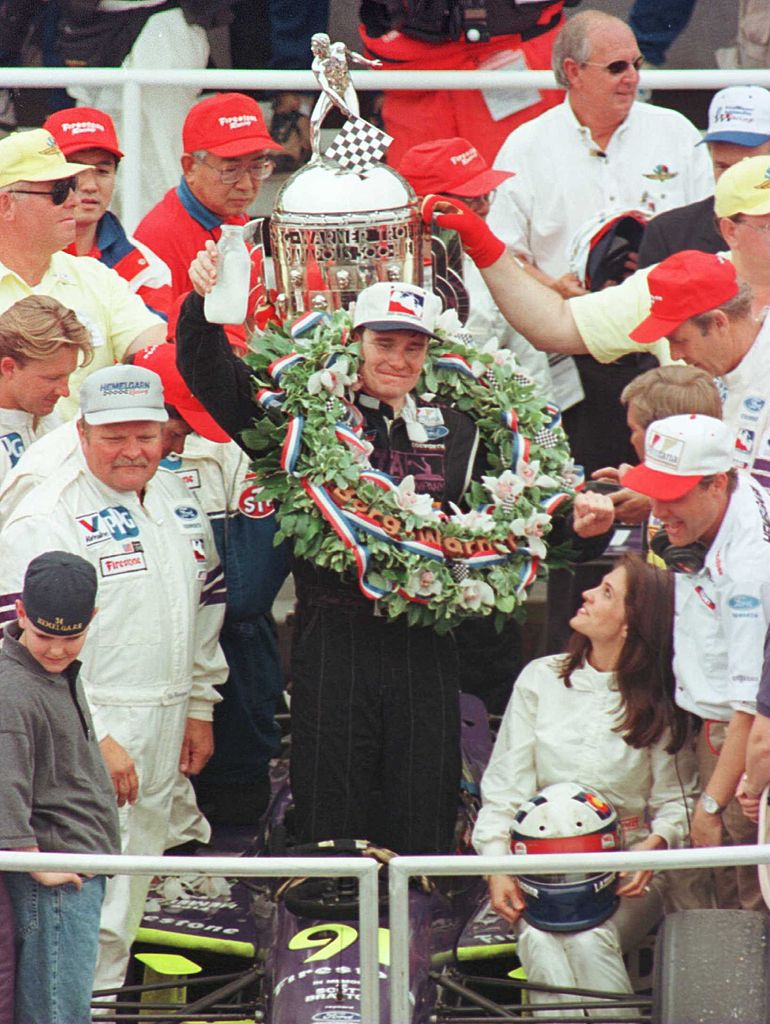 Those 1989 and 1991 years built the confidence that Lazier could hone his skills even if the machinery he had at his disposal wasn't the best.
So it took five years, and a run through a number of Buick (later Menard) V6 engines, before Lazier finally had race-winning caliber machinery at Hemelgarn Racing with a 1995 Reynard chassis and a Ford Cosworth XB engine for 1996. The CART-IRL split was just beginning and so it lessened the "names" at Indy, but it didn't lessen Lazier's desire to be there, or his hopes of victory.
There was one slight problem for Lazier going into May, 1996. His back was broken from an accident in Phoenix, and he was in agony.
But that would not defeat him or his chances.
"Obviously it was a devastating injury and accident. But the first thing for me was just to get comfortable in the car," Lazier explained. "I was in an enormous amount of pain for two-three weeks. But they had a medical jet where I could leave St. Anthony's (hospital) in Phoenix and fly back to my hometown of Vail, Col., and be under the care of surgeons in Vail, near the ski industry. We did all kinds of crazy things to heal faster.
"By the time you get to Indianapolis, it was basically that I didn't know if I would be back in a car that could win. But damn, I was gonna make the most of what I have.
"Literally when we get there at the beginning of the month I had the crutch and a back brace. The bones were healed enough. We all thought it would be safe. I had to make sure I could do compression tests. Don't put anyone at risk. But it was healing through the month. As practice went on it got better and better. I didn't need the cane and rarely used the back brace.
"It's a long race. Three hours and change. Pace ourselves and stay in the hunt. You're spending so much time adjusting to the track conditions, that you don't have much time to think about anything else.
"But by the end of the race, my back was definitely in a pretty painful state."
PUSHING THROUGH THE PAIN, AND PAST THE ILLMOR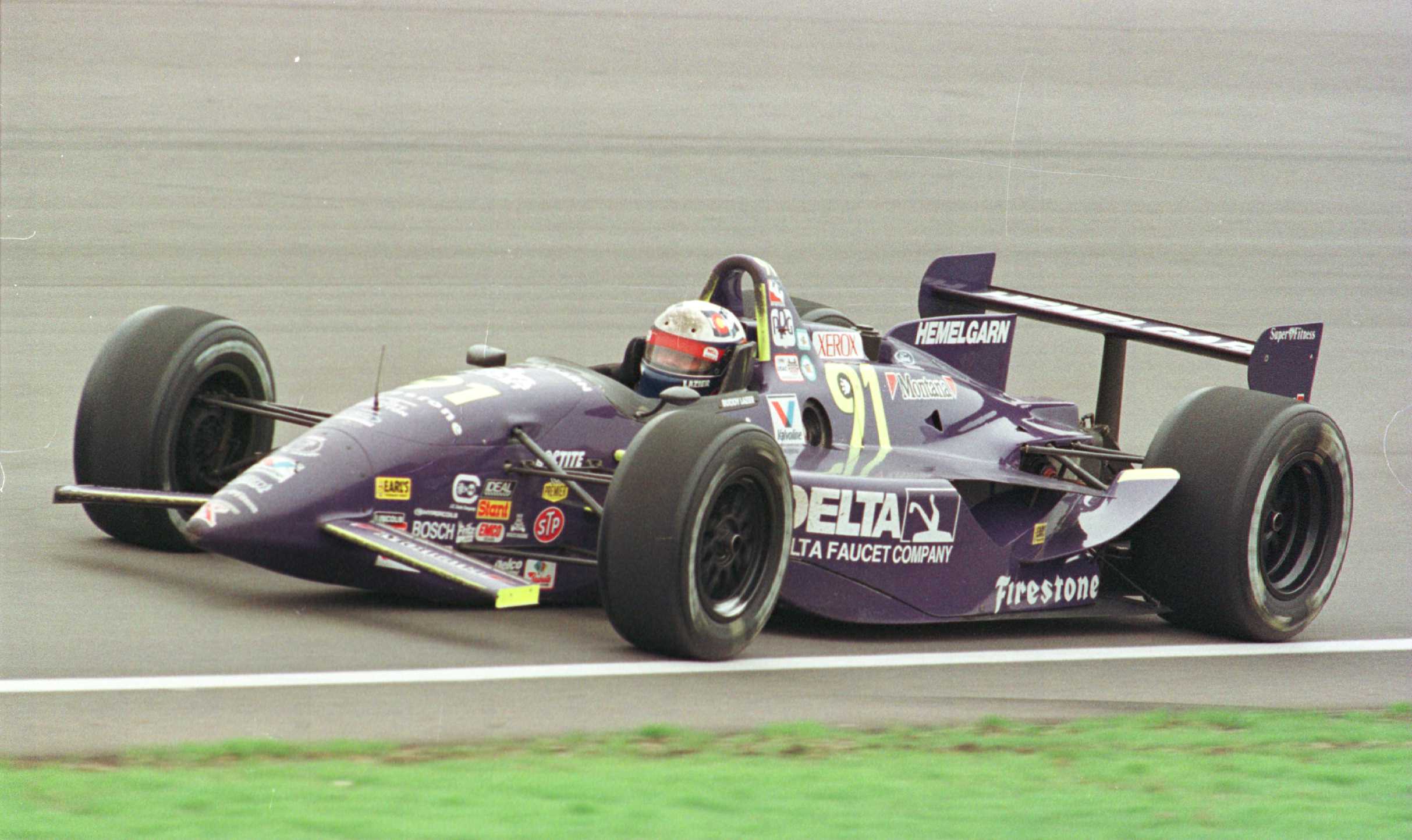 It wasn't the back pain that Lazier was worried about when trying to win the race in that memorable purple and yellow, No. 91 Delta Faucet entry for Ron Hemelgarn. It was the lone Mercedes-Illmor engine in the field, driven by Davy Jones, entered by past '500 race-winning owner Rick Galles.
Galles didn't have much more than a snowball's chance of winning the conflicting U.S. 500 at Michigan for CART with rookie Eddie Lawson – although Lawson finished a surprise, career-best sixth there – but he had one of the few good bullets to win in Indy with Jones, a veteran, and the special lump in the back that was on par with the Ford.
"It was a very special Lola (chassis) they had, and we had a special Reynard," Lazier explained. "It was Illmor against Cosworth. Goodyear against Firestone.
"All honesty, it really went down exactly according to plan. We were concerned because it was a special Illmor motor.
"When we ran at the end of the race – for the win – I thought our cars would hang in there better with the (Firestone) tires. And it did."
MEMORIES FROM THE LAZIER FAMILY
Lazier's win stands in Indy annals as the first of the IRL era but from a human and emotional drama standpoint, that 1996 year gave several of his family members and current Lazier/Burns Racing crew members their best ever Indy memories.
Courtesy of veteran PR rep Linda Mansfield in a fantastic release, here's the memories from Buddy's father Bob and future and current wife Kara Lazier about 1996: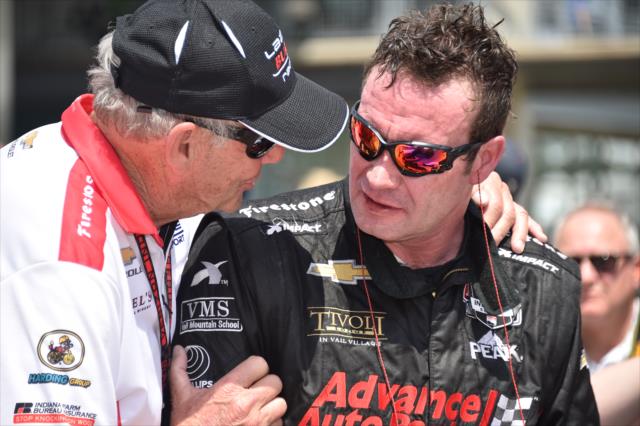 BOB LAZIER
"My favorite story at the Indianapolis 500 has nothing to do with myself, Buddy, or the team.
"In 1996 Buddy was in an accident in Phoenix and broke his back in many places. This was nine weeks before Indy. The doctor said there is no way he can run Indy; there's no way he'll even be out of bed. He was 28 and unmarried. We bought a hospital bed and set it up in the middle of our living room. I watched him struggle his way to the bathroom, which was tough. But he set up a mechanical device of cords and pulleys so he could exercise his upper body to stay in shape. It was unbelievable the amount of drive and determination he had.
"But that's not the story either.
"All of his competition had been at Indy while he was in bed, as they had test sessions in April and early May. They were all practicing, because it was the first year of the IRL.
"Only one time before that year did Buddy have a race car that was competitive, but that year he had a car that was among the best. Even with the accident and the pain he was determined to stay in perfect shape, focused on his goal.
"He got to Indy on Monday, three days after the track opened. He could not walk with a cane; he needed crutches. The team basically was trying to figure out how to be discreet about how to put him in the car, because he couldn't stand up by himself.
"We took a golf cart and put it up against the pit wall. Ten minutes later, he had made it out of the golf cart and gotten onto the pit wall. Then he carefully made it onto the sidepod of the car. Then four or five minutes later, he was finally in the car. We were all very discreet, trying to keep it under the radar, but it took him 10 or 15 minutes just to get in.
"Buddy always clears his mind for 4 or 5 minutes before he starts. He finally went out on the track, but then it took him 5 or 6 minutes to go around the first time. We thought he got lost! But racing is mental, and he was preparing himself for the challenge.
"The lap after that was double what it should be, but then he got a little faster. People were running 232s that year. The fourth lap at speed was even faster, and the fifth lap at speed he turned a 228 and change. They brought him back to the pits, made a few adjustments to the car, and he went back out and did a high 229, just 2 miles per hour and change off the pace. It was absolutely unbelievable!
"But that too is not the story.
"The story is that when he was going through his process, all of the competitors were pulling for him. When he first got on the track, it was a beehive of activity; everyone was trying to get that extra bit of speed. But when he was back in the car for the first time, they were all subconsciously or consciously watching and pulling for him, and they were happy for him.
"In a sport that's all about 'me,' that day it was all about him. After he turned that 229, it went back to being a beehive again. So for my favorite Indy 500 memory, the competitors were the story, not Buddy. What a great group of drivers we have at Indy! That is the story, and I've never told that to anyone before."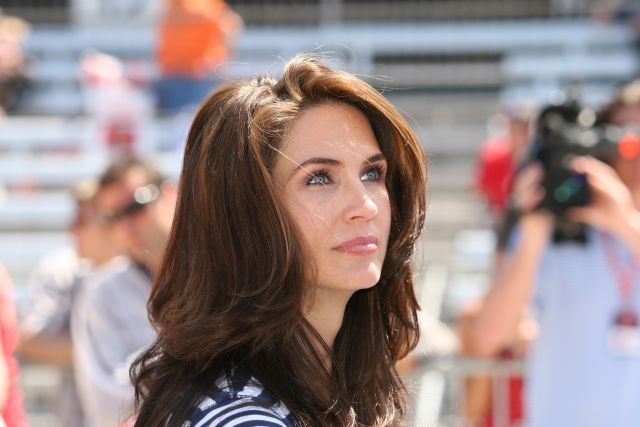 KARA LAZIER
"The things you least expect are always the most emotional, but of course my favorite Indy memory was 20 years ago this month. We'd just gotten engaged on May 1 on the top of Vail Mountain, but Buddy couldn't walk without crutches due to the Phoenix crash. We took the chair lift up to the top. He proposed, and a week later we were at Indy for the month of May. His crew said, 'Well, you better win this race to pay off that engagement ring!'
"When we arrived Dr. Bock reviewed his X-rays that he brought from the Phoenix hospital, and requested that he go to Methodist and have his back X-rayed again, and meet with their doctors. At that point they reviewed the new X-rays and said his back still looked like a hard-boiled egg that had been dropped on the ground. His sacrum was completely shattered.
"At that point the doctors said they weren't going to tell him he couldn't race, but if he had another accident now, he could become paralyzed.
"Nowadays they would never let a driver make that call, but the doctors let Buddy make the call to race. He took the chance because he knew he had a great car. He says Dr. Bock is one of his heroes because he gave him the chance to make the choice.
"I wasn't thinking about winning the race that day; I just wanted him to get through it safely. When he passed Davy Jones for the lead, it happened right in front of our pits, and I started crying. Other than having our two children, it was the most surreal event I've ever experienced, and that's definitely my favorite Indy 500 memory."
SO WHAT CAN BUDDY AND THIS CREW SHOOT FOR IN 2016? 
In realistic terms, the first finish for Lazier here since 2008 must be the first goal. But he's got a car that's he's comfortable with in traffic and a desire to still give it his all behind the wheel.
That second element is something that hasn't changed in 27 years, in 19 starts.
"For me, this car is far more similar to the Reynard era compared to the previous Dallara," he said. "With the aero changes, we've been able to get a handle on it. The car in traffic is quite good. On Monday, we didn't get the running we wanted. My car is quite a bit stronger than 221-222 (mph) we ran.
"There's something very special about threading the needle wide open, going through 1 and 2. Going through 1 at speed is unbelievable. Same thing in 2. You have to be so on your game here.
"When that car is right, I really enjoy Indianapolis from a challenge. It's the man and machine combination. You're in corners for such a long period of time.
"There's no place to hide. You're either getting with it, or you're not. It's such a special place."