INDIANAPOLIS – The Mazda Road to Indy has a double dip of content this weekend with the Indy Lights Presented by Cooper Tires at the Indianapolis Motor Speedway oval and the Pro Mazda Championship Presented by Cooper Tires and Cooper Tires USF2000 Championship Powered by Mazda at the Lucas Oil Raceway short oval in Clermont, Ind., outside Indianapolis.
Both events are on Friday; the Freedom 100 airs at noon ET and local time as part of NBCSN's Carb Day coverage. Kevin Lee, Anders Krohn and Katie Hargitt will have the call for the Freedom.
The Freedom 100 is arguably the marquee race of the year for Indy Lights, and a good springboard to the Verizon IndyCar Series – no less than 24 of the 33 starters in this year's Indianapolis 500 field have some degree of Mazda Road to Indy experience.
That being said, the randomness of the Freedom 100 has produced a variety of winners who haven't exactly gone on to huge things in IndyCar.
Here's the past winners list:
2015: Jack Harvey
2014: Gabby Chaves
2013: Peter Dempsey
2012: Esteban Guerrieri
2011: Josef Newgarden
2010: Wade Cunningham
2009: Wade Cunningham
2008: Dillon Battistini
2007: Alex Lloyd
2006: Wade Cunningham
2005: Jaime Camara
2004: Thiago Medeiros
2003: Ed Carpenter
That's three past winners in Carpenter, Newgarden and Chaves who are racing on Sunday. Harvey, Dempsey and Guerrieri have a combined zero starts; meanwhile all of Cunningham, Battistini, Camara and Medeiros had less than a season of in IndyCar.
Polesitters have been random too, with some surprises including Ethan Ringel (last year) and Ken Losch (2007) of note.
Traditionally Schmidt Peterson Motorsports has fielded strong entries at the Speedway, and that puts any of its four cars – talented sophomore RC Enerson, Pro Mazda champion Santiago Urrutia and fellow rookies Andre Negrao and Heamin Choi into contention almost from the off. Enerson, in particular, is due his first win of the year after niggling turbo issues have hampered most of his season.
Belardi Auto Racing, given its engineering strength in depth, is also a strong contender and a winner here twice previously in dramatic fashion with Chaves and Dempsey. This year they have Zach Veach, who topped the 200-mph mark during testing on Monday, and Felix Rosenqvist, who will look for a significantly better second oval start than his first at Phoenix.
Either of Enerson and Veach would make it seven winners in eight races this year. The other six thus far are, in order, Felix Serralles, Rosenqvist, Kyle Kaiser, Ed Jones, Urrutia and Dean Stoneman.
Kaiser expects to be better than both he and the Juncos Racing team were here last year. Another potential surprise is Neil Alberico, who was strong in testing despite a slight incident in the first session.
Choi, replacing Scott Anderson, is the only driver change among the 16 entered for the Freedom 100. It's the biggest field for this race since 2012, when 18 cars started – only 11 have started each of the last three years.
—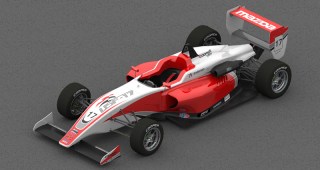 Arguably the more intriguing part of the weekend from the Pro Mazda or USF2000 perspective is the launch of the new Tatuus USF-17 car, which gets unveiled Friday morning, 9 a.m., at IMS.
It's the second new car to be unveiled at IMS in recent years, with the Dallara IL-15 Mazda having been unveiled in May 2014 ahead of its race debut for 20115.
The Pro Mazda and USF2000 races occur later in the day on Friday at IMS.
In Pro Mazda, the question is whether anyone can stop the Pato O'Ward roll of awesomeness for Team Pelfrey. The young Mexican has won five of six races to date, although teammate Aaron Telitz is a past winner at Lucas Oil Raceway in USF2000. The remaining six drivers in the field will look to end O'Ward's run of form.
USF2000 sees its field temporarily cut in half for its lone oval race of the season, down from 27 cars entered at the Angie's List Grand Prix of Indianapolis weekend to a mere 14 cars on the 0.686-mile oval.
While Cape Motorsports with Wayne Taylor Racing and Pabst Racing have three cars entered apiece – Parker Thompson and Anthony Martin have propelled Cape to four straight wins this year -known oval setup ace John Walko will likely have Victor Franzoni's car ready to go to contend.