INDIANAPOLIS – The beauty of media day for the 100th Indianapolis 500 presented by PennGrade Motor Oil is that you get a lot of interviews done. The downside of media day is that you then have to transcribe those interviews.
Alas, even though on-track activity was limited to just Indy Lights Presented by Cooper Tires practice and qualifying, it's still been a busy day at the Indianapolis Motor Speedway.
Quick notes are below:
The logo for the 101st Indy 500 and the "race to renew" were unveiled. Much, of course, is being made about the 100th running of the race and as you'd expect, the powers-that-be are concerned with the retention plan for the 101st race, which will take place May 28, 2017. A full release from IMS is linked here, while the logo is posted to the right.
Indy Lights qualifying got canceled. Not from a lack of effort. Practice was shortened from three hours – 9 a.m. to 12 p.m. – to just 90 minutes from 9 to 10:30. Juan Piedrahita led the way for Team Pelfrey. Qualifying then got through the first eight drivers before an accident for Zachary Claman De Melo and then rain hit. Carlin's Ed Jones will have the pole position, with the field set by points, over Santiago Urrutia and Kyle Kaiser. The race airs live at noon on Friday as part of NBCSN's Carb Day coverage, which begins at 11 a.m. ET.
Other lights announced. "Lights at the Brickyard" was announced late Wednesday, to tentatively run from Nov. 18 to Dec. 31. Here's that full release.
Lilly to Conor Daly's car. Lilly Diabetes joins Conor Daly's No. 18 Dale Coyne Racing Honda as co-primary sponsor. From a team release: "Lilly Diabetes of Indianapolis-based Eli Lilly and Company (LLY) will serve as co-primary sponsor of the No. 18 ShirtsForAmerica.com/Lilly Diabetes Honda, driven by Conor Daly, in the 100th Running of the Indianapolis 500 on 

Sunday, May 29

. As part of the sponsorship, Daly's No. 18 car will run a special patriotic paint scheme with a series of four stars, one colored in blue to recognize the one in four veterans who live with diabetes, which is two and a half times greater than the general population."
Newgarden "wins" media day. My colleague Jerry Bonkowski have a boat load of interviews to get through that you'll see on NBCSports.com throughout the coming days. But a quick hat tip first to the Indianapolis Star, who already has this post up on Josef Newgarden's prank as an interviewer himself.
Pennzoil, Penske host lunch. Team Penske's usual Thursday night media dinner shifted to being a lunch this afternoon to pay tribute to its partnership with Shell Pennzoil – Pennzoil adorns the No. 3 "Yelio Submarine" Chevrolet driven by Helio Castroneves – and to prepare for the 100th Indianapolis 500 race. Castroneves, Simon Pagenaud, Will Power and Juan Pablo Montoya all spoke along with Roger Penske, Tim Cindric and a key Shell executive. Penske said IndyCar has "one of the best products" and is determined for his team to win his 17th Indianapolis 500 with any of its four drivers.
So does Townsend Bell with California Pizza Kitchen. Based on the pics below, we're in for a doozy tomorrow as part of our Carb Day coverage.
Which speaking of that coverage… It runs from 11 a.m. to 3:30 p.m. on NBCSN and will feature Carb Day practice, the Indy Lights Freedom 100, and the 2016 Pit Stop Competition.
The Pit Stop Competition bracket is below: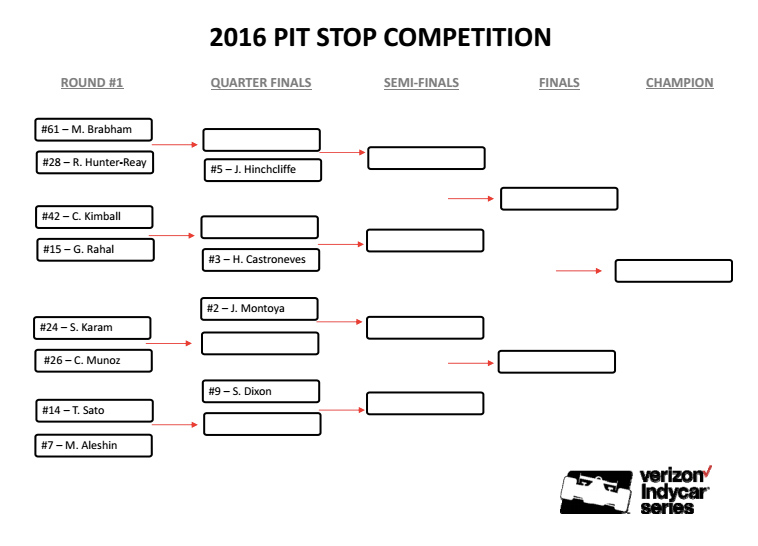 More to come from Indy later today and tomorrow.