INDIANAPOLIS — Ted Crasnick stole the show during Thursday's Indianapolis 500 media day at Indianapolis Motor Speedway.
Who?
Well, Crasnick's alter ego is IndyCar driver Josef Newgarden, who dressed up with heavy makeup, a huge fake nose and looked like something out of the 1950s — and then pretended to be a member of the media.
"I wanted to do this idea three years ago," Newgarden said. "I wanted to first do it as a yellow shirt (track security), but logistically it would have been too difficult."
Newgarden's plan finally came to fruition when ESPN agreed to tag along with him during media day for a feature that will be aired Sunday on ABC's pre-race show before the Indianapolis 500.
"ESPN and I decided together this would be a better idea to do it in the media crowd and I'd be part of the media."
Newgarden was part of the second scheduled group of drivers that came through later in the session, allowing him to transform into "Ted" for the opening segment – and with no one being the wiser.
Well, almost no one.
Crasnick/Newgarden fooled everyone – with the exception of Will Power. Even one of Newgarden's best buddies, Graham Rahal, fell for the ruse.
"Will Power was the only guy that knew it was me, and I was shocked he figured it out," Newgarden said. "No one else knew. Oriol (Servia) didn't know, Helio (Castroneves) didn't know, Graham, I don't think knew. Mikhail (Aleshin) was just awkward to talk to."
Even Newgarden's boss, Ed Carpenter, was completely in the dark.
"Ed didn't know," Newgarden said. "The one guy that probably should have known it was me didn't know it was me."
Newgarden's alter ego posed as a "reporter" from several outlets, including HarveyWorld.com, Boca Raton Senior Society, ProstateHealth.com and RVWorld.com.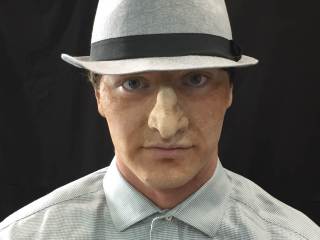 Two of "Crasnick's" most memorable exchanges were with Oriol Servia and Helio Castroneves.
"Oreo, good to meet you. You're named after a cookie, I understand," Crasnick said. … "Oreo, I love that name, it's so sweet."
To his credit, Servia played it straight and answered all of Crasnick's questions, even one that involved, uh, err, "relieving" himself in his race car during a race.
Now, Castroneves was a whole different story.
"Helio lost words about halfway through," Newgarden said with a laugh. "I've never seen him at a loss for words.
"That was the funniest part. I was asking him about peeing in the car and he was so confused about what I was asking him that he just didn't know what to say."
Check out a few hits from social media showing "Crasnick" at work:
Follow @JerryBonkowski