INDIANAPOLIS – Ah, Carb Day. A busy and crazy day of action that is so much bigger than just the final hour of practice for the Verizon IndyCar Series' 100th Indianapolis 500 presented by PennGrade Motor Oil.
It'll be easier to round up all that's happened to this point in chronological order, so we'll do that below:
—
PRE-PRACTICE
8:00 a.m. ET: Historic cars took the track for laps. Pictures are better than words here, so here's a taste of what was out.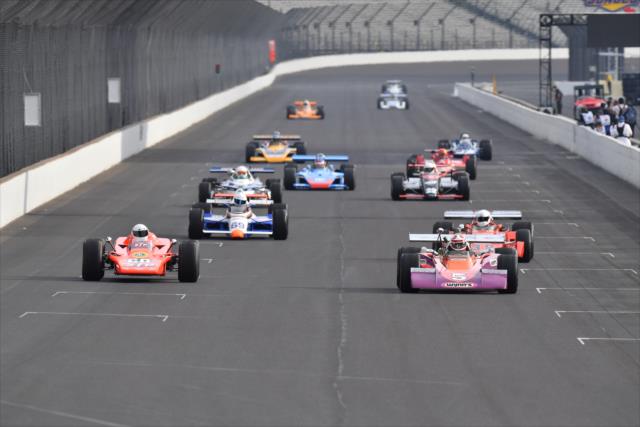 9:00 a.m. ET: The new Tatuus USF-17 car, the new car for the Cooper Tires USF2000 Championship Powered by Mazda in 2017 and the base model for the eventual new Pro Mazda Championship Presented by Cooper Tires car, the PM-18 in 2018, was unveiled on the IMS Pagoda Plaza. A link to that release is here. More information will follow in the days to come. Additionally, the first race driver for that car has been confirmed in Dutchman Rinus VK.
9:30 a.m. ET: Honda has spoken. Sort of. After its particularly strong start to the month, Honda Performance Development President Art St. Cyr held court with the media at the HPD hospitality transporter. While St. Cyr noted the hard work that has gone into the month, nothing is satisfying unless Honda can actually win on Sunday.
Said St. Cyr, "I wouldn't call it redemption. I would say we've had to work harder to catch up. To win the 100th is what we're shooting for."
10 a.m. ET: Chip was on the bricks. But on the infield side, not the track side. Chip Ganassi did his annual holding court with the media there.
10:15 a.m. ET: The field of 33 posed for their annual class photo. All but one was on time, with Alex Tagliani casually late to temporarily halt the proceedings. A round of applause and laughter occurred when Tagliani arrived. He'll start 33rd and last on Sunday in the No. 35 Alfe Heat Treating Honda for A.J. Foyt Enterprises.
10:35 a.m. ET: Sam Schmidt took laps in his modified ARROW Electronics Corvette, ahead of the Carb Day practice. It was cool to witness it again.
10:45 a.m. ET: Johnny Rutherford took laps in the 2017 Camaro SS 50th Anniversary Edition with a tribute lap ahead of the practice session. He'll retire from being the pace car driver after this year's Indianapolis 500.
10:50 a.m. ET: Two quick awards and other notes from pit lane before the session. The annual Jim Chapman Award for excellence in motorsports public relations went to Honda PR aces T.E. McHale and Dan Layton, while Dale Coyne Racing's Tim Whiting won the Clint Brawner Award, an honor for chief mechanics.
Among those present on pit lane are a couple of Gateway Motorsports Park officials, who are exploring the weekend. The track has expressed interest in a potential return for a Verizon IndyCar Series race in 2017, and the track was rumored as a last-ditch, eleventh hour replacement for Boston.
—
FINAL PRACTICE
11:00 a.m.: Final practice began with ambient temperatures of 76 degrees and track temperatures of 92 degrees Fahrenheit, per Firestone Racing. Only a half hour earlier the temperatures were 73 and 84.
Oil on the track caused a delay in the session and an early yellow flag. INDYCAR officials would add 10 minutes to the session, originally scheduled to end at noon, to now end it at 12:10 p.m. ET.
Per NBCSN's Jon Beekhuis, Marco Andretti lost time as the team changed steering arms. Meanwhile fellow NBCSN reporter Katie Hargitt also reported Conor Daly was back on track Friday after gearbox issues earlier in the week.
Just at 11:45 a.m., Pippa Mann crashed out of Turn 4. The driver of the No. 63 Susan G. Komen Honda lost control through Turn 4 and had a mix of right rear and left front damage.
It will force the Dale Coyne Racing crew to scramble to make repairs. She was checked, cleared and released from the infield care center.
After the session was complete – a typically frantic final hour of running – Tony Kanaan led the way in the No. 10 NTT Data Chip Ganassi Racing Chevrolet, by some two mph of 226.280 mph. Carlos Munoz was second in the No. 26 United Fiber & Data Honda for Andretti Autosport (224.772) with Scott Dixon third and Will Power and Ryan Hunter-Reay completing the top five.
Kanaan told Beekhuis: "I do that at end of every session. These guys have worked so hard for so long. We worked really well in that session. I was just encouraging them to keep going, then enjoy their families for one day. We have one thing to do: we can do this."
The remainder of the breakout of the session is linked here.
—
INDY LIGHTS
12:30 p.m. ET: After a slight delay the Freedom 100 is about to go on NBCSN and NBC Sports Live Extra. Kevin Lee and Anders Krohn are in the booth with Katie Hargitt and Jon Beekhuis in pit lane.
—
5:15 p.m. ET: So a lot has happened in the last five hours.
Let's start where we left off with the Freedom 100. The breakout report of that is linked here, and given the finish of it where Dean Stoneman edged Ed Jones by just 0.0024 of a second for an Indianapolis Motor Speedway record, there will definitely be more on this to come in the coming days.
From there we moved to the Carb Day TAG Heuer Pit Stop Challenge. Which was won, as it seemingly always is, by the No. 3 Pennzoil Team Penske Chevrolet crew of Helio Castroneves. We believe it's the 16th overall for Penske, and eighth for Castroneves. The No. 3 crew beat the No. 7 DOOM SMP Racing Schmidt Peterson Motorsports Honda of Mikhail Aleshin in the final.
"Just want to say thanks to everybody that put all the work in for us to get here," said Team Penske's Travis Law. "It's not just these guys here, it's the guys back in the shop right now working on the car. It means a lot for the whole team to be here.
"It's the one day we get to put a little pressure on this guy, because it comes down to the driver so much. You look at nine times he's won this. I'm thinking it's not just us. We play a pretty big role having him on our side. So I say congrats. I've got a couple new guys, their first win. So it's a pretty big deal and what a way to start the 100th and the 50th for Team Penske. It's really special."
Carb Day concert has commenced, with Journey at IMS.
Meanwhile down the road at the artist formerly known as Indianapolis Raceway Park, now known as Lucas Oil Raceway, the USF2000 and Pro Mazda championships – the first and second rungs on the Mazda Road to Indy ladder – is going through qualifying before its races.