Editor's note: Sage Karam, a past champion in both the Indy Lights Presented by Cooper Tires and Cooper Tires USF2000 Championship Powered by Mazda series who finished ninth in his first Indianapolis 500 with DRR in 2014 at age 19, will file a series of blogs for NBCSports.com this month. Here's his fourth entry, after Carb Day and with tomorrow's Indianapolis 500 now set to launch. You can read his first, second and third blogs here.  He'll run the No. 24 Gas Monkey Energy Chevrolet for Dreyer & Reinbold – Kingdom Racing. 
—
Wow, it's the weekend of the 100th Indianapolis 500. And I'm ready to go.
We had Carb Day on Friday with all 33 drivers on the track for the final one-hour practice before the big race. As it did on Monday, the No. 24 Gas Monkey Energy Chevy felt good on Carb Day. It handles great in traffic. In fact, we stopped early in practice as the car felt very good.
Now, it's the countdown for the world's biggest race. I've been waiting some nine months to get back in a race car. And last year, my race was short at Indy (went out first turn of the first lap), but I'm back and feel great about Sunday's classic race.
For the last two years, we have run the same configuration of chassis for me. I have become accustomed to it now. Now I don't have the experience of a Scott Dixon or a Tony Kanaan. I don't know if it's our car or setup, but it is good in race trim. It's the best kind of feeling I've had in a car here.
I think many of the other guys should fall off in the race. I think a lot of cars up front will fall back, and some guys don't look good in race trim. It's hard to pass. I feel like there will be a big pack. Guys who can get through the middle of corner should be good in the race.
It's funny how things change here over the course of the month. I think there was one day in practice last week we tested, and we weren't bad. I was eighth. I liked how the car was, but we made a big geometry change and then I was lost. We were 16th or 20th. The car was awful, and I couldn't pass a soul. I felt like I was in Indy Lights car and getting the doors blown off. "Man, this will be an awful month," I thought.
I told our guys that we need to go back to the car we had on Monday. We did, and right from the get-go it was better. We worked with it a bit. I was passing on demand! I could drive behind all five Andretti cars. This is a great race car. Obviously we missed it in qualifying.
After that bad day, I was telling you about being down in the dumps. I said, "Well, this stinks. I'm gonna run mid-pack and try make something out of it." Then Monday happened and it was like a light switch went on. I felt super good. When you're passing people it's incredible… I passed guys who have won this race before.
And we have a strong team too. We have 90 percent of the same crew as my first year with Dreyer & Reinbold – Kingdom Racing in 2014. We have a good pit box, right at pit in. I can just focus on squaring it up every time. The guys are working so hard.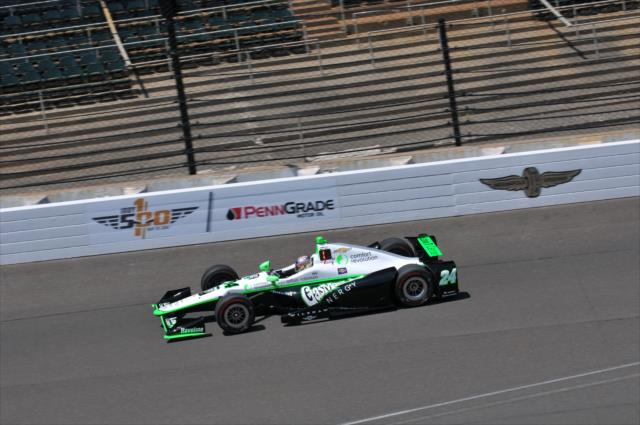 I expected to go to the finals again Friday in the Pit Stop Challenge. We got a tough call when we were put in the right lane – the asphalt lane. There wasn't any grip there and I spun the tires out of the pit stop. The crew was fast but tires spun. I feel badly for the crew because they did a great job. I thought we could win it. Penske and Ganassi always bring it. I wanted to take the top dogs down Friday.
I'm a big believer in keeping the morale up at the team. Earlier this week, I was just wiping down my mechanic's bike. He has a bike he rode to the track. I said "Hey, it's the little things. You work for me and I work for you." They love that stuff. They'll be laser sharp focused for Sunday. We can make up time in the pits. Hopefully, by halfway, I can be where I need to be.
I have a shot at this race. I've been nervous since Monday. If you actually have a chance to win this race, it's an incredible feeling. The 100th Indy 500 in general makes you feel good.
So how about becoming the youngest Indy 500 winner in history, and doing so in the 100th running of the Greatest Spectacle in Racing?"
Now that's a great story, and I hope to pull it off this Sunday.
Follow @SageKaram
Follow @DRRindycar
Follow @GasMonkeyGarage