To say Simon Pagenaud is a thinking man's driver is an understatement.
The French driver has one of the most analytical minds in the Verizon IndyCar Series. It seems like he's always thinking, always figuring out different scenarios, trying to outthink his fellow competitors.
He's certainly had a lot to think of recently. He's riding a three-race winning streak. He's part of Team Penske's 50th anniversary celebration.
But right here, right now, Pagenaud has just one race on his mind. As far as he's concerned, Belle Isle next week is 10 years away, while Texas the week after that is 20 years away.
And don't even ask Pagenaud if he's thinking about winning the IndyCar championship.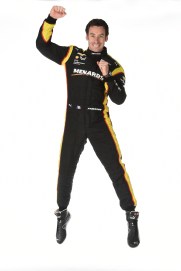 The only thing on Pagenaud's mind is winning Sunday's 100th running of the Indianapolis 500. Not only would it be the biggest win in the Frenchman's career, it would also extend team owner Roger Penske's record to 17 Indy 500 victories.
"I'm thinking about the race itself, statistics are after the race," Pagenaud told NBC Sports. "It's hard on the last lap if you think about it! I'm always focused on the task itself. Prepare the best we can and try to win.
"When you step into the car, you have to think about how to do the best job you can with your machine. It's you and your machine, you and your team, let's get the best strategy possible, make the best pit stops and make no mistakes.
"So you have to be clear-minded and focused on the task. It's a tunnel vision thing. I'm not thinking of anything else. I'm not thinking about the 50th anniversary of Team Penske, or it being the 100th running of the Indianapolis 500.
"If I was, I tell you what, they wouldn't work really well. It's about being in the moment and not thinking about anything else."
Even with his three-race winning streak (Long Beach, Birmingham Grand Prix of Indianapolis), preparations for the 500 have not gone as well as Pagenaud would like.
"It's not as good as I wanted to be honest," said Pagenaud, who will start in eighth position, the middle of Row 3 on the starting grid. "We're not as dominant as we were last year. It's been tough. It's not been easy to get speed out of the car. We've done a good job of trying, but we haven't found the speed of the Hondas."
But as concerned as Pagenaud may seem, Penske is more confident than concerned.
"Obviously he's a hot hand right now and he's shown how good he is," Penske said of Pagenaud. "That's the reason we hired him a year ago.
"I think he wasn't as happy with his performance in 2015. This is a different race. This race is wide open. It's a long-distance race. It's four different corners, lots of strategy.
"Certainly executing in the pits, you saw how good he was last year and bumped into a back marker when he was trying to make a pass there. So I think he's going to have a great chance. He's certainly excited.
"John Menard (Pagenaud's primary sponsor of Menard's Home Improvement Stores) coming on board is probably one of the great things of the month for us because John has spent a lot of time and a lot of money here over the years.
"(It was) great to see his car in the Winner Circle at the Angie's road race here a couple of weeks ago. I think (Pagenaud's) on his way to a championship. We've just got to continue to stay focused."
Winning the biggest race in the world would also help Pagenaud's countrymen.
"It's great news that there's a lot of interest (in France) in IndyCar," Pagenaud said. "They're showing races there. It's big. There's also half a large plane coming to the race from my hometown (Poitiers, France).
"I know it's an American sport, but it's a worldwide event. The last time a Frenchman won in Indy was 1920. It was Gaston Chevrolet, and I'm driving a Chevrolet! Hopefully, it's my year.
"What would it mean (if he won)? I don't know, to be honest. It wouldn't be a bad time. We're having a tough time in France right now, so a little bit of joy from the sport would be good.
"It'd be awesome to go back to France with that trophy and that ring on my finger."
Tony DiZinno contributed to this report
Follow @JerryBonkowski