INDIANAPOLIS – Some five years ago, May 29, 2011, I was less than a month shy of turning 22 years old. I'd just graduated college. I really didn't know what I was doing with my life, other than I wanted it to involve some combination of racecars and writing.
I stood along the wall in the media center, watching in aghast shock as JR Hildebrand, a rookie, hit the wall out of Turn 4 in the 100th anniversary Indianapolis 500 (but 95th running) and Dan Wheldon swept through – out of nowhere – to win the race in the No. 98 Bryan Herta Autosport Honda.
Sunday, May 29, 2016, I stood along the wall in the media center… watching in aghast shock as Alexander Rossi, a rookie, crawled at little more than a snail's pace – 179.784 mph for the last lap – to make it home to the checkered flag and win the 100th running of the Indianapolis 500 in the No. 98 Bryan Herta Autosport Honda.
OK, so technically the team name is now Andretti Herta Autosport with Curb-Agajanian. The title sponsor has changed from William Rast to NAPA Auto Parts. And this time, the rookie American driver made it home and the second and third place finishers suffered heartbreak.
But man, other than those minor technicalities, history has a damn fine way of repeating itself – even if the circumstances of how they happened couldn't be further apart.
For Rossi, who at 24 becomes the youngest and first Indianapolis 500 champion under 25 since Juan Pablo Montoya in 2000 – and supplants Montoya as champion of this race – he might agree that heading into the 2016 season he really didn't know what he was doing with his life, other than he wanted to be racing and not on the sidelines.
Much as Wheldon, the 2005 IndyCar and Indianapolis 500 champion, entered the two-timer club on a shock one-off win that year, Rossi became the first rookie to win in 15 years thanks to a perfect run on fuel strategy that saw him miraculously hit his fuel number to make it home 36 laps without a final stop.
Yet the final stint is but the latest chapter in the incredible story of how team and driver even came together before this season began, under abnormal circumstances.
Little more than three months ago, Rossi didn't have a ride. Any ride.
And Bryan Herta barely had a team, after a reportedly ghastly sponsor loss.
Rossi was well positioned for a long overdue full-season seat in Formula 1, before Indonesian rookie Rio Haryanto bought it out from underneath him at Manor.
Meanwhile the driver Herta had done nearly everything he could to keep during the offseason – Gabby Chaves – would become a casualty of the situation through no fault of his own as Herta and Michael Andretti made an 11th hour deal to partner for this year and get Rossi on board. Herta was asked whether he found him but it was Andretti who had.
"We followed his career all the way through when he was in Formula 1 and Formula 3 even, all the way through," Andretti said post-race. "He was our hot, young American prospect to be in Formula 1. He finally achieved his goal last year, which was awesome."
Alas, it led to some consternation because it meant Chaves, the 2015 race and series rookie-of-the-year, was left sidelined and Rossi, a guy who hadn't always given off the impression he wanted to be in IndyCar first, had a coveted spot at one of IndyCar's three most competitive and storied franchises.
"It's amazing. I got to say, we had such a weird off-season," Herta explained post-race. "This partnership with Michael and his group kind of came out of a set of bad circumstances. I told him on the parade lap there, I said: 'Thank you so much.' Without him, I'd have been watching this one on TV."
Frankly, it was controversial at the time. I'm not sure I helped matters any with a preseason column I wrote where I wondered about whether Rossi's focus would be fully in IndyCar, given the substantial competition and his decision to balance his commitments with a reserve role at Manor in F1.
Yet what I realize today, as I decide what flavor of humble pie to order and what coffee choice I should pick from Alaska Coffee Roasting – one of Rossi's long-time sponsors – is that I have only just understood how good of a driver Alexander Rossi truly is.
It's not that I didn't see what he could do in his European junior formula career. Far from it.
When you consider that Rossi moved his life away from America in pursuit of his Formula 1 dreams – not an easy decision, nor an easy journey – it was always going to take time to make an impression. And I'm sure that being, really, the only legit American abroad in pursuit of F1 didn't help matters either… he had the pressure of an entire country's hopes and dreams riding on his shoulders.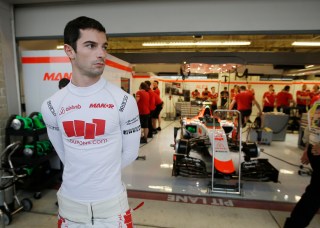 When he finally made it to his five grand prix starts with Manor last year, I was overjoyed. He had had several would-be grand prix debuts pulled out from under him through no fault of his own – as many as five in 2014. Among other solid drives, he recorded arguably the most memorable 12th place finish in recent memory at Circuit of The Americas, in Austin, at his home grand prix.
"That's a long journey," Rossi said.
Then it all stopped, abruptly. And to me, and to others in the IndyCar paddock at the start of the season, it initially felt like Rossi's trip here was merely a stopgap on the way back to F1.
But what has followed in the last three months has been a tour de force of determination, improvement and – most importantly – a relentless focus to succeed and silence the doubters.
Quickly, Rossi and his family have begun to understand just how deep the IndyCar field is. His dad Pieter has been by his side at every opportunity to understand it as well. Andretti Autosport's early season struggles bared that out.
But signs were evident they were eventually going to be a factor from the first oval race at Phoenix and the most recent race at the Angie's List Grand Prix of Indianapolis.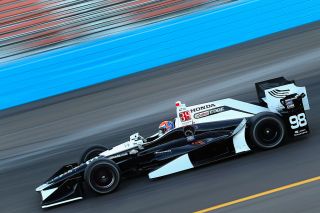 He'd run top-10 most of the day in Phoenix before shuffling back on pit stops and incurring a late-race puncture in his first ever-oval event. At the latter event, Rossi set race fastest lap and spoke of how the expectations had shifted to where he was now disappointed with 10th, when a month earlier 10th would have been a good result.
"Really the Indy GP for us was a big step forward in terms of confidence, kind of a general understanding of where we were at," Rossi said.
"To carry that forward into all the practice, qualifying, and now this, it's phenomenal. It's just a huge testament to the great people I have around me."
Then Rossi arrived at the Indianapolis oval and took to the place like a duck to water.
Rossi just delivered one of the best months in recent Indy history for a rookie, if not one of the best ones overall. His lines were clean and consistent all month; his speed right on par with his teammates.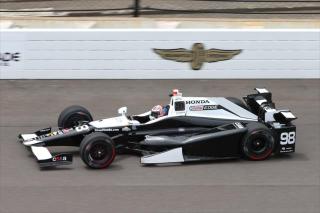 You simply don't come to the Indianapolis Motor Speedway as a first-timer – for your second-ever oval start – and rock up, run a clean, consistent month, then win the race on debut.
Yet Rossi did, aided by the combination of the five-car team, an ace engineer in Tom German who'd won this race twice before with Team Penske (Gil de Ferran in 2003, Sam Hornish Jr. in 2006), Herta's strategy and a calm, levelheaded focus throughout the month to not be distracted by the magnitude of the place, the magnitude of the moment.
With tears flowing inside his helmet as he crossed the line Sunday, and with the world that had followed his path to F1 in tears as the American kid they rooted for along with him, only then could the magnitude of what was achieved be able to sink in.
"It won't sink in for a while. I don't want it to," Rossi said.
"I want to enjoy this moment, enjoy it with the people around me. It's obviously a huge honor and privilege, something I'm going to carry with a great sense of responsibility.
"We need to really push this forward. It was an incredible event for the hundredth running of the Indy 500. We need to do everything in our power to continue the momentum forward, make it even bigger next year."
In one answer to one question, Rossi has just suddenly shifted the narrative.
For a Californian who adopted the European lifestyle in living over there for nearly a decade, he's come home to Indianapolis, back to the U.S. To mention the words "next year" in the press conference is huge.
It creates the impression that in just three months, Indy has made a positive impact on Rossi after all. His first month of May was different – certainly – than most race events but once in the car, he knew he could deliver.
"It was busy. I was very happy to get in the racecar at 12:03 today," Rossi laughed and admitted post-race. "Finally I can go do this and I don't have to talk about it anymore, but here I am talking about it."
He also headed into the race knowing he could win. He probably should have made the Fast Nine Shootout last weekend, bumped out only by a one-second gap when Mikhail Aleshin snuck in, but he knew early on a win from 11th was possible.
"Every time I get in a racecar, I want to win. I was incredibly disappointed with 11th. A lot of people were expecting me to be happy with it. There was a bit of criticism that I wasn't happy with 11th as a rookie. Well, I'm here to win. That's the goal I have every single time I get in a racecar," he said.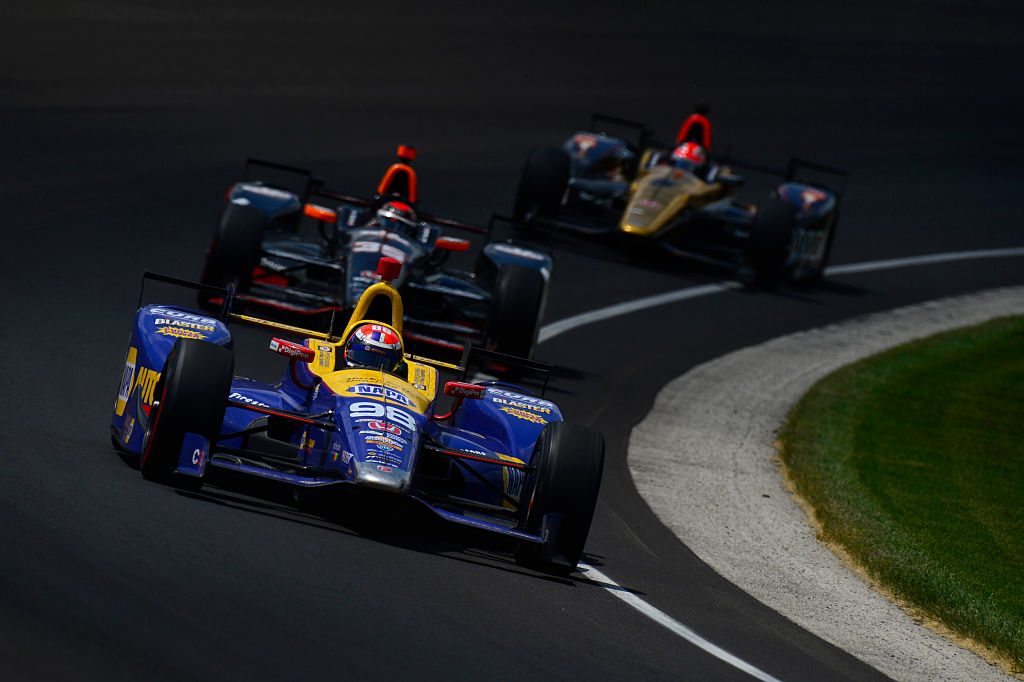 From Lap 5, Rossi thought he had a car that could pull off the upset.
"Probably Lap 5, if I'm honest. I had a bit of a conservative start. I was able to overtake cars. I was overtaking big cars," he said.
"I knew if that was the case, we definitely had the opportunity to go forward. There were a couple setbacks we had, pit stops that put us back. We had to come forward again. Every time we fell back, we were able to come forward. I knew we were strong, the pace was there, we were able to pass cars, follow cars. It wasn't much of an issue.
"That's why I mentioned the emotional rollercoaster because I knew we had a car that was good enough to win. When you see yourself on the pylon, 29th, whatever, you're like, 'This isn't great.'
"Yeah, I mean, it was kind of through the whole race. I just made sure the overtakes I did were necessary and strong.
"It was a culmination of a lot of things that got us there."
And that takes us back to the final stint, and after Rossi had had a taste of the lead for the first time on Lap 122 and again from Lap 129 to 137, he had two pit stops to make it home, and Herta's call to pit on Lap 164 was the winning one.
It would only work if the race stayed green – which it did.
One by one the would-be contenders around him fell by the wayside. Teammates Ryan Hunter-Reay and Townsend Bell crashed on pit road. JR Hildebrand hit Helio Castroneves' rear wheel pod. James Hinchcliffe and Tony Kanaan were close-ish in terms of their car potential but fell back late.
And then Carlos Munoz and Josef Newgarden, arguably the two strongest cars in the field late on, peeled off in the final five laps needing a splash of fuel.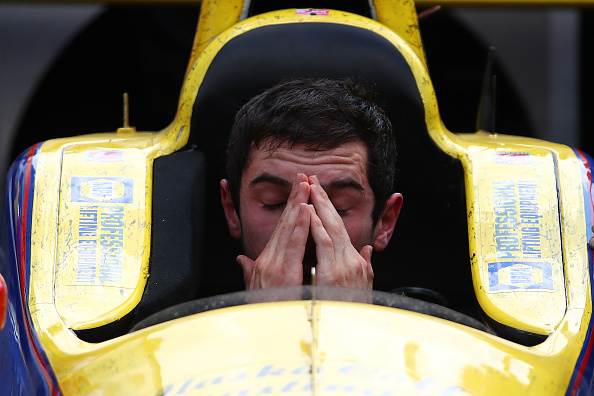 Rossi didn't, and that fuel saving job he delivered in the last stint will enter Indianapolis lore in the annals of history. Herta's sage advice is what helped get him there.
"It was just patience. Bryan kept reminding me the way we were going to win this race was by hitting the fuel number," Rossi explained. "It was very difficult because obviously I had at the time cars in front of me that I knew I was quicker than.
"Throughout the whole race we were overtaking cars. It was very hard to then not do that, look big picture.
"I wouldn't have been able to do that without Bryan on the radio and offering the support and wisdom that I needed."
Shock was the word of the day as it happened. But indeed, it happened.
"Did I imagine it would happen? No," Rossi said.
"Did I want it to happen and was I working for it to happen? Absolutely. I was glad we were able to make it all come true."